On Saturday, B.C. becomes the first province in Canada to offer universal coverage for prescription contraceptives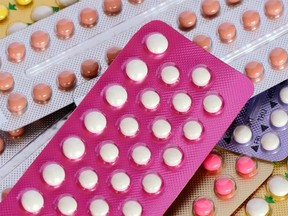 B.C. PharmaCare covers the full cost of contraceptives such as the pill as of April 1, 2023.
No fooling: Contraception is free across British Columbia starting April 1.
On Saturday, B.C. becomes the first province in Canada to offer universal coverage for prescription contraceptives, in what the Ministry of Health describes as "a milestone for gender equity in B.C., as costs will no longer be a barrier for people to make choices about their reproductive and sexual health."
Start your day with a roundup of B.C.-focused news and opinion delivered straight to your inbox at 7 a.m., Monday to Friday.
By clicking on the sign up button you consent to receive the above newsletter from Postmedia Network Inc. You may unsubscribe any time by clicking on the unsubscribe link at the bottom of our emails or any newsletter. Postmedia Network Inc. | 365 Bloor Street East, Toronto, Ontario, M4W 3L4 | 416-383-2300
Thanks for signing up!
A welcome email is on its way. If you don't see it, please check your junk folder.
The next issue of Sunrise presented by Vancouver Sun will soon be in your inbox.
Anyone can get a prescription from a doctor, nurse practitioner or midwife at a walk-in clinic, hospital or through a street nurse program.
When taken to a pharmacy along with the B.C. Services Card, the prescription will be filled and the pharmacy reimbursed directly through PharmaCare. Soon, pharmacists will be able to prescribe the contraceptives as part of an expanded scope of practice for those health professionals.
The plan covers the full cost of more than 60 common birth-control methods, such as hormonal pills that generally cost up to $25 a month of $300 a year. Other alternatives such as hormone injections cost up to $180 a year, while hormonal or copper IUDs range from $75 to $500.
Other methods covered include subdermal implants and levonorgestrel, also known as the morning-after pill.
The B.C. Ministry of Health says the plan will cost roughly $119 million over the next three years.
"Universal coverage of prescription contraceptives means that people will face fewer obstacles in taking charge of their reproductive health," said the Ministry of Health in a reminder about the plan Friday.
For more about the plan, go to the ministry website, or see the full list of what's covered here.
For more health news and content around diseases, conditions, wellness, healthy living, drugs, treatments and more, head to Healthing.ca – a member of the Postmedia Network.