From UFC to Bellator, here's everything you need to know to bet on mixed martial arts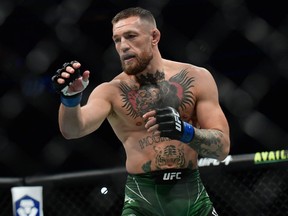 Jul 10, 2021; Las Vegas, Nevada, USA; Conor McGregor fights Dustin Poirier during UFC 264 at T-Mobile Arena.
Photo by Gary A. Vasquez-USA TODAY Sports
This article was created by Sports Interaction. Postmedia may earn an affiliate commission through our links on this page.
Mixed Martial Arts have grown exponentially over the last two decades thanks to the emergence of promotions like UFC and Bellator. MMA fighters Conor McGregor, Jon Jones and Amanada Nunes are some of the most recognizable athletes in North America and top-level MMA fights now generate as much interest as any major sporting event.
MMA is a great option for sports bettors because there are usually multiple fights back-to-back on the same night and you can wager on a variety of things from the moneyline to parlays and futures bets.
Here's everything you need to know to bet on MMA in Canada.
MMA moneyline betting
Moneyline betting is the most popular option for any sport because of its simplicity. This is a bet on who you think will win the fight.

In the example, Alex Pereira is listed at +105 on the moneyline and Israel Adesanya is -130, making Adesanya the favourite to win.
That means you would need to bet $130 on Adesanya to win $100. If you place a $100 bet on Pereira and he wins, you would earn $105 profit.
Total rounds
MMA fights are usually scheduled for either three rounds or five, but of course, fights can end early with a knockout or submission. Betting on the total rounds is an Over/Under bet on how long the fight will last.
Over 2.5 (-160)
Under 2.5 (+125)
In the example, oddsmakers have set the total rounds at 2.5. The sportsbook thinks it is more likely the fight will last three or more rounds because the Over is priced at-160.
If the fight lasts three or more rounds and you bet the Over, you would need to wager $160 to earn $100. If you take the Under and the fight ends in the first two rounds, a $100 bet would earn you $125.
Parlays
A parlay is a bet on multiple fight outcomes, which all need to be correct to win the wager. Parlays are very popular in MMA betting because most promotions like UFC and Bellator have fight cards that feature four to five main fights in one night.
If you think Adesanya and McGregor will each win their respective fight, parlaying them together increases the payout if both fighters are victorious. This risk is higher in this type of bet, but so is the reward.
MMA futures betting
Do you think McGregor still has what it takes to win? In that case, a futures bet could be the way to go. Futures bets are popular in MMA because fights can be scheduled several months in advance.

The example above is a fight between McGregor and Michael Chandler, which is slated to happen at a date yet to be determined. The odds for this fight will continually shift, so if you think McGregor will be more heavily favoured closer to the fight, get in early and bet on him now.
If for some reason the fight doesn't happen this year, bets will be voided and your money is refunded.
MMA betting tips and strategies
To bet on UFC, Bellator and more, make sure to check out Sports Interaction for a complete list of MMA odds.
After looking at the odds and deciding what fight you want to bet on, the next step is to study the fighters. What are the strengths and weaknesses of each fighter? What fighting style do they prefer? Have there been injury issues? Is one of the fighters moving up or down weight classes?
If it's two defensive fighters matching up, keep in mind the fight could last longer and betting the Over on the total rounds might be the smart move. Likewise, if it's two aggressive fighters, the Under could be the play because the fight is more likely to end early with a knockout or submission.
Parlays can be a great way to increase your payout. They are trickier to win, but if you are very confident in two or more fighters, parlaying the outcomes together will increase your payout if all of your picks are correct.
Most importantly, keep track of your bets and stay within your limits. Never bet more than you can afford to lose.
March Madness 2023: Final Four odds and schedule

What are sports betting odds and how do they work?
This article was written by Sports Interaction. Sports Interaction's content provides information that helps readers navigate the new landscape of sports betting in Canada.
Please confirm the betting laws and regulations in your jurisdiction as they vary from province to province and country to country. The site is not associated with nor is it endorsed by any professional or collegiate league, association or team.
Information in the above article is for entertainment purposes only and is not targeted to under 19 audiences. Using this information to contravene any law is prohibited. Visit the Responsible Gaming Council's Safer Play to keep gambling safe and fun.