Notice for the Postmedia Network
This website uses cookies to personalize your content (including ads), and allows us to analyze our traffic. Read more about cookies here. By continuing to use our site, you agree to our Terms of Service and Privacy Policy.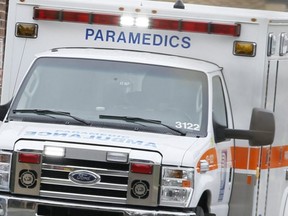 A Toronto ambulance.
Photo by Veronica Henri
A body was recovered from Lake Ontario on Saturday afternoon in Scarborough's east end.
Police and paramedics were called at 1:44 p.m. after a male body was located at Rouge Beach near Lawrence Ave. E. and Rouge Hills Dr.
Paramedics say they don't have the age of the victim nor do they know how long the body was in the water.
Police say the investigation is ongoing.
RECOMMENDED VIDEO