"I believe it's time for the young bloods to take over," Vilay Douangpanya says. She's left the N.D.G. restaurant in good shape for the new owner.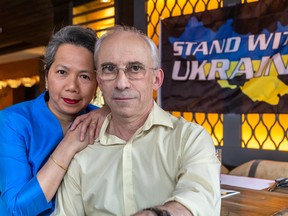 Vilay Douangpanya, owner/chef of Pick Thai, has sold the restaurant because "It's time to take a break." Her husband, Vitaly Kudish, says food is her passion.

Photo by Dave Sidaway

/

Montreal Gazette
The Montreal culinary community has lost one of its finest: Vilay Douangpanya is hanging up her apron after running N.D.G.'s Pick Thai since starting it nine years ago.
Friday will be Douangpanya's last day on the job. She has sold Pick Thai to Sameth Seang, owner of the Nokoraya sushi restaurant in Vaudreuil-Dorion, with the proviso that all Douangpanya's staff and dishes would be retained.
Sign up to receive daily headline news from the Montreal Gazette, a division of Postmedia Network Inc.
By clicking on the sign up button you consent to receive the above newsletter from Postmedia Network Inc. You may unsubscribe any time by clicking on the unsubscribe link at the bottom of our emails. Postmedia Network Inc. | 365 Bloor Street East, Toronto, Ontario, M4W 3L4 | 416-383-2300
Thanks for signing up!
A welcome email is on its way. If you don't see it, please check your junk folder.
The next issue of Montreal Gazette Headline News will soon be in your inbox.
"My customers and staff have been so loyal to me and I will dearly miss them, but I'm just so exhausted and burned out," Douangpanya says. "I really need a break now."
That shouldn't come as a shock. Douangpanya, 57, brought new meaning to hands-on ownership. She was not only the chef, but also took care of every detail from the major to the minor, from handling décor to purchasing all the wares and ingredients. And she was tireless, often working 12-hour days, seven days a week.
With that kind of attention to detail, it is no accident that she has taken Thai cuisine in the city to another level.
The irony is that Douangpanya, who has lived here since 1980, was born in Laos, although Laotian and Thai food do have a lot in common, including ingredients, spices and cooking methods.
"I just felt it was time for me to go. We never know what tomorrow may bring," she says. "But I also believe it's time for the young bloods to take over and to take on something challenging like this. The good news is that I've left the restaurant in good shape and that it has been busier than ever. So I'm not worried."
The COVID-19 pandemic really took its toll on her. When restaurants were forced to shut down, she offered takeout to her customers but barely managed to stay afloat. When she was allowed to open again for in-house dining, she was at the ready, even though she was under-staffed.
"It was so tough during those times, but I was just so committed to making sure the restaurant would survive," Douangpanya says. "Now that I believe the restaurant will be in good hands, I want to make sure I can keep going, too."
Throughout the last two and a half pandemic years, she had been bordering on obsessive in her concern with sanitary issues at the restaurant. Prior to starting Pick Thai, Douangpanya worked as a recovery-room nurse at the Jewish General Hospital for 14 years.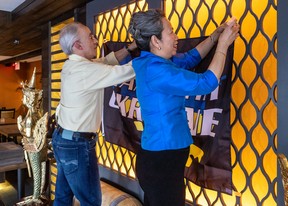 Vilay Douangpanya, owner/chef of Pick Thai resto, and her husband, Vitaly Kudish, but up a banner in support of Ukraine.

Photo by Dave Sidaway

/

Montreal Gazette
As her husband, Victor Kudish, has pointed out, the Pick Thai kitchen is almost as aseptic as a hospital operating room. He should know; he's an anesthesiologist and met Douangpanya at the hospital.
"Her passion has always been for the food and cleanliness over profit," he says.
"I love having this passion and making people happy," she says. "That has always driven me and kept me going."
Her passion extends to philanthropic efforts over profits. Last March, Douangpanya, so moved by the plight of Ukrainians after the Russian invasion of their country, decided to donate Pick Thai's net proceeds from Tuesday sales to Ukrainian relief efforts through the Red Cross. And it has continued through to this week, and to date, she has donated more than $15,000.
Kudish insisted at the time that his wife's decision had little to do with his Ukrainian roots: "I could have been from any part of the world, and Vilay would still be moved to make this kind of donation. This doesn't surprise me at all. Money is secondary to her. She's all heart."
Douangpanya downplayed her donations: "Really, this is no big deal on my part. How can anyone not be moved watching hospitals and homes and families being bombed? Watching these images is heartbreaking enough, so I just can't imagine what it would be like living like that."
Still concerned about COVID risks, Douangpanya has no plans to travel any time soon. And apart from cooking and gardening at her Montreal West home, she isn't planning on embarking on a new hobby.
"My heart will always be in this business," she says. "Maybe in the future, I could get involved in something. I could certainly help others with their restaurants, but not as an owner. I take that responsibility of owning too seriously, worrying all the time about the welfare of my workers and making ends meet.
"I am a calm person, but the stress of running a restaurant, particularly over the last few years, can test the nerves of even the calmest. Still, the restaurant world is in my blood, and I will miss it."
bbrownstein@postmedia.com
twitter.com/billbrownstein