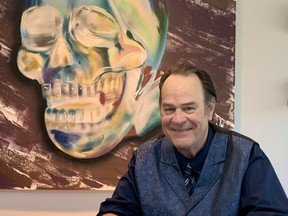 Award-winning actor and businessman Dan Aykroyd
Reviews and recommendations are unbiased and products are independently selected. Postmedia may earn an affiliate commission from purchases made through links on this page.
Canadian legend and Oscar nominee Dan Aykroyd is one of Canada's most famous sons, an icon whose career is timeless. In person he is one of the kindest people you can ever meet, welcoming and warm. Just recently, Aykroyd sat and shared fond holiday memories including favourite foods he enjoyed while growing up in the family farmhouse in Kingston, Ont., a home that was the basis for the film, Ghostbusters, in which he was the co-creator.
Sitting in the corporate offices of the Crystal Head vodka company recently, Aykroyd talked about growing up in a very unique, Canadian home: Aykroyd's family legacy is based on the paranormal, as his great-grandfather, Samuel Aykroyd, was a dentist-turned spiritualist and his dad, Peter, wrote A History of Ghosts – the book that inspired Aykroyd's mega-hit movie.
As the Canadian national soccer teams head to their respective FIFA World Cups, Derek Van Diest is on the scene to cover all the action. Expect expert insights and analysis in your inbox daily throughout the tournaments, and weekly on Thursdays for the rest of the season.
By clicking on the sign up button you consent to receive the above newsletter from Postmedia Network Inc. You may unsubscribe any time by clicking on the unsubscribe link at the bottom of our emails. Postmedia Network Inc. | 365 Bloor Street East, Toronto, Ontario, M4W 3L4 | 416-383-2300
Thanks for signing up!
A welcome email is on its way. If you don't see it, please check your junk folder.
The next issue of Corner Kicks with Derek Van Diest will soon be in your inbox.
Akyroyd, who refers to himself as a "working actor," is matter-of-fact when he states "of course I believe in ghosts. We believe in life after death, life in the outer realms and beyond."
But what many may not be aware of is Aykroyd's connection to Canada's culinary identity: His mother's sister, Aunt Helen, was the famous Helen Gougeon, a cookbook author (Good Food) and leading authority on Canadian cuisine.
"She was kinda the Julia Child of Canada," said Aykroyd, adding "she was a very famous media star back in the late '50s and '60s, a lovely, beautiful woman and a great chef who knew Julia Child."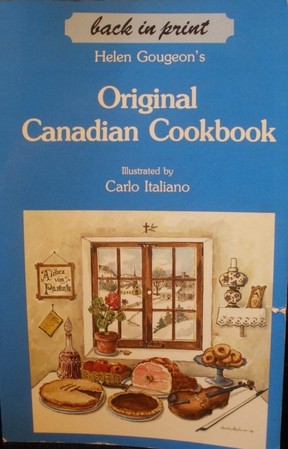 Helen Gougeon cookbook – Amazon.ca
Photo by supplied
Research shows Ottawa-born Helen Gougeon, who passed away in her late 70s, was not only a cookbook author but a food journalist and radio and TV personality who was a true pioneer in promoting Canada's culinary identity.
RECOMMENDED VIDEO
But it was his mother Lorraine's cooking that Aykroyd remembers vividly – especially her tourtiere. "I remember my mother's tourtiere for New Year's Eve, this pork and beef pie with delicate pastry, with chili relish on the side," he said, beaming at the memories. "She was famous for making it, as was her sister, Helen."
Aykroyd recalls wintry days, when the house was immersed in the aroma of holiday baking and cooking, and fireplaces burned brightly. "My favourite memories are of the big sleigh ride over from Wolfe Island, the big Dray horses doing the pulling. I remember this big, old-fashioned hayride through a blizzard, and coming home to a beautiful pot of soup on the fire, and just that feeling of getting together with friends and family."
Wherever he travels in the world, memories of growing up in Kingston, being proudly Canadian, are his bedrock: "I love my country, I love being Canadian, I love when I go around the world I get to say I'm a proud Canadian," said the Order of Ontario and Order of Canada recipient.
Aykroyd says his future holds new films and new adventures. And for this he is truly grateful, crediting those who have made his life so joyful: "I have worked with great collaborators and great people … at this point in my life, I am feeling immensely grateful to do what I want. And fun doing it."
Culinary students set new standards for creating award-winning gingerbread houses

Cue the carrots for holiday entertaining inspiration

'Tastes Like Schitt: The Unofficial Schitt's Creek Cookbook' a delicious success
On his Crystal Head Vodka and Signal Hill Whisky
Aykroyd is especially proud of just how Canadian these spirits are – the products are crafted from ingredients that span the country, from sweet Ontario corn, wheat and barley from out West to Chatham peaches and the "sweet waters of Newfoundland," all used in the creation of the various spirits. The latest creation, the black bottle named Onyx, is crafted, says Aykroyd, from the "premium Blue Weber agave mash and sourced from a single farm in Mexico."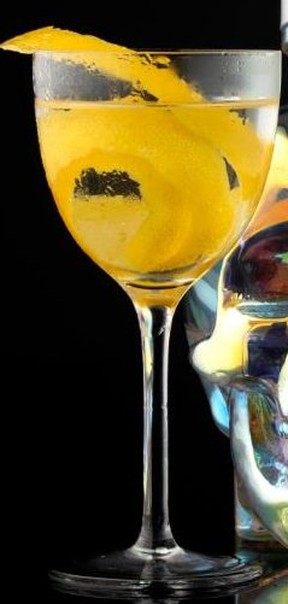 Crystal Head Martini – supplied
Dan Aykroyd's Lemon Peel Martini
2 oz. vodka
½ oz. dry vermouth
Lemon Peel
Add all ingredients into a mixing glass with ice. Stir until ice cold. Strain into a frozen martini glass and zest with lemon peel by twisting over cocktail. Garnish with a lemon peel butterfly.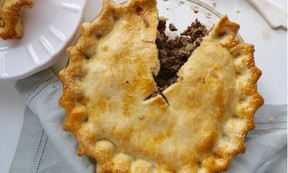 Traditional Tourtiere – Food Network Canada
supplied
Traditional Tourtiere
You can't get more Canadian than this traditional French-Canadian meat pie whose origins hail from Quebec. This recipe, adapted from a Food Network Canada recipe, was most likely served in the Aykroyd household. (foodnetwork.ca)
2½ cups all-purpose flour
1 tsp. baking powder
1 tsp. salt
¼ cup EACH lard and butter
½ cup ice water
1 egg, beaten
Filling
1 tsp. olive oil
1 small onion, chopped
1 clove garlic, minced
1 lb. EACH ground pork and ground veal
1½ tsp. salt
1 tsp. black pepper
1 tsp. celery salt
½ tsp. allspice
1 tsp. cinnamon
½ tsp. summer savoury
¼ tsp. ground cloves
½ cup beef or vegetable stock
½ cup breadcrumbs
PASTRY: In a large bowl combine flour, baking powder, and salt. Rub lard and butter into flour mixture until it is size of peas. Slowly add water 1 Tbsp. at a time, until dough comes together. Dump dough on a lightly floured surface and shape into two discs. Wrap in plastic wrap and chill in fridge for 1 hour.
FILLING: While dough is chilling, in a large non-stick frying pan heat oil over medium heat. Add onion and cook until starting to soften, about 3 minutes. Add garlic and cook, 1 minute. Add ground pork and veal and cook until no pink remains, breaking meat up with a wooden spoon as it cooks. Add the spices, salt and stock. Cook until almost all liquid has been absorbed, about 2 minutes. Stir in breadcrumbs and let cool.
Preheat oven to 375°F. Roll out one disc of pastry to a 10-inch circle. Lay in a 9-inch pie tin. Add cooled filling. In a small bowl, lightly beat egg. Brush egg wash all over pie crust. Roll out other disc of pastry (about 10-inch circle) and top pie. Crimp sides together and brush egg over top of pie. (Cut out any decorative motifs with dough scraps and set on top of crust.) Bake until pastry is golden brown and filling is bubbling, about 1 hour.