Highlights of training camp include getting to play against his big brother Arber and then scoring a goal in Red vs. White scrimmage.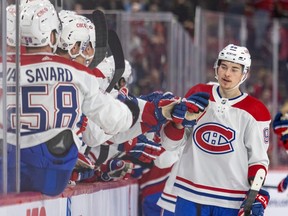 Florian Xhekaj is congratulated by Canadiens teammates after scoring a goal in Sunday's Red vs. White scrimmage at the Bell Centre.

Photo by John Mahoney

/

Montreal Gazette
Florian Xhekaj should have some added motivation this season with the OHL's Brantford Bulldogs.
Xhekaj — selected by the Canadiens in the fourth round (101st overall) of this year's NHL Draft — scored a goal during Sunday's annual Red vs. White scrimmage in front of close to a full house at the Bell Centre. Xhekaj's White team lost 4-3 in a shootout to the Red team, but it was a day the 19-year-old left-winger will never forget.
"It's super-special," Xhekaj said about the experience after the scrimmage. "Even going out there for warmups I was just looking around. I was like: Wow! This is insane. I've never played in front of 21,000 (fans). It's awesome."
Shortly after Xhekaj met with the media, the Canadiens announced he was one of four players being sent back to their junior teams from training camp. The others are forward Cedrick Guindon and goalies Quentin Miller and Jan Spunar.
It's not a surprise that Xhekaj was returned to the Bulldogs because of his age, where he was drafted and the fact that at 6-foot-2 and 175 pounds he will need to gain some strength and weight to play the rugged role the Canadiens hope he can bring to the NHL one day. In 68 games last season with the Bulldogs — who have moved from Hamilton to Brantford — Xhekaj had 13-12-25 totals and 76 penalty minutes.
Nick Bobrov, the Canadiens' co-director of amateur scouting, calls Xhekaj "a unicorn."
By signing up you consent to receive the above newsletter from Postmedia Network Inc.
Thanks for signing up!
A welcome email is on its way. If you don't see it, please check your junk folder.
The next issue of Road to the Cup will soon be in your inbox.
Before learning he was being sent back to the Bulldogs, Xhekaj said taking part in training camp and playing in the Red vs. White scrimmage was a great experience for him.
"The pace was super-fast," he said. "Just learning off the older guys, talking with them a lot and just gaining experience. The small things, the attention to detail and just how focused they are on the ice and the little plays they make."
A highlight of training camp was Xhekaj getting to play against his older brother, Arber, in a recent scrimmage at the CN Sports Complex in Brossard. Last season, the 6-foot-4, 238-pound Arber had 5-8-13 totals and 101 penalty minutes as a rookie NHL defenceman with the Canadiens.
"It was cool," Florian said about playing against his brother. "We were battling a bit out there. Not too many shifts against each other, but it was cool."
Arber, 22, also enjoyed that experience playing against his little brother.
"It was great," said Arber, who didn't take part in Sunday's Red vs. White scrimmage. "He blocked one of my shots, so I wasn't too happy about that.
"It's our dream come true for two brothers to even be getting to this level is amazing," Arber added. "But to be in the same organization, it's a blessing for us."
Arber watched his brother play in Sunday's Red vs. White scrimmage and their parents were also at the Bell Centre. The family dream is that they will one day play together in the NHL with the Canadiens.
"I'm my own player," Florian said when asked about being in his brother's shadow. "I'm my own personality. I think people will see that as they watch me play more. I just think I have my own game. We have a little bit of the same playing style, but I'm a forward, he's defence."
Did his big brother give him any advice before the Red vs. White scrimmage?
"He just said play your game out there," Florian said. "He said stay calm. The nerves were a little up going out there in front of 21,000 (fans), but he just said stay calm, play your game, so that's what I tried to do."
The Canadiens will play their first of six preseason games Monday when the New Jersey Devils visit the Bell Centre (7 p.m., RDS, TSN 690 Radio, 98.5 FM).
scowan@postmedia.com
twitter.com/StuCowan1
Stu Cowan: Canadiens' scrimmage a family affair for Mike Matheson

Stu Cowan: Canadiens becoming a family affair for the Xhekaj brothers

Stu Cowan: Canadiens' Arber Xhekaj learned key lessons from his mother

Mother of Canadiens' Arber Xhekaj doesn't like watching him fight