Early results have Coalition Avenir Québec candidates leading in Fabre, Laval-des-Rapides, Mille-Îles and Sainte-Rose.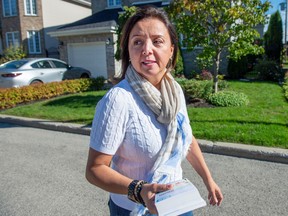 CAQ candidate Alice Abou-Khalil is shown canvassing in Fabre riding, where early results had her in the lead.

Photo by Peter McCabe

/

MONTREAL GAZETTE
For live coverage of election day, please tap here.
Sign up to receive daily headline news from the Montreal Gazette, a division of Postmedia Network Inc.
By clicking on the sign up button you consent to receive the above newsletter from Postmedia Network Inc. You may unsubscribe any time by clicking on the unsubscribe link at the bottom of our emails. Postmedia Network Inc. | 365 Bloor Street East, Toronto, Ontario, M4W 3L4 | 416-383-2300
Thanks for signing up!
A welcome email is on its way. If you don't see it, please check your junk folder.
The next issue of Montreal Gazette Headline News will soon be in your inbox.
François Legault's Coalition Avenir Québec is on track to capture at least four of six Laval seats in Monday's provincial election and complete a stunning reversal from 2018 as the party marches toward a majority government.
As of 8:52 p.m., CAQ candidates were leading in Fabre, Laval-des-Rapides, Mille-Îles and Sainte-Rose, results compiled by Élections Québec showed.
Chomedey and Vimont bucked the trend, with preliminary results showing Liberal candidates narrowly edging out their CAQ opponents in both ridings.
A CAQ majority in Laval would mark a drastic change from four years ago, when the Liberals captured five seats on the island. Christopher Skeete, in Sainte-Rose, was the only CAQ candidate to win a seat locally in 2018.
ftomesco@postmedia.com
Tap here for complete Quebec election coverage