Growing intelligence leaks give credibility to the allegation that India is behind the killing of a Canadian citizen
Get the latest from Carson Jerema straight to your inbox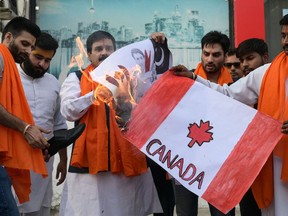 Activists of Shiv Sena Taksali set on fire banners depicting Canada's national flag and Prime Minister Justin Trudeau during a rally along a street in Amritsar on September 23, 2023. (Photo by NARINDER NANU/AFP via Getty Images)
Surely now, even the Trudeau Liberals will start to take national security seriously. If indeed the Indian government was behind the killing of a Canadian citizen, it proves yet again that the idea that Canada is much too enlightened to concern itself with something as unsophisticated as security is nothing but a fantasy.
Universal health care, a whole pile of "humility and audacity" and all the "honest broker" nonsense the Liberals can muster won't stop foreign adversaries from harassing, kidnapping or murdering Canadians.
The Liberals have spent their time in office dismissing worries over national defence and foreign interference, ignoring intelligence advice and branding anyone who questions Prime Minister Justin Trudeau's approach as traitorous and un-Canadian. Presuming India is responsible, if the killing of Sikh separatist (and alleged terrorist) Hardeep Singh Nijjar within Canadian borders is enough to force Trudeau to take the security of the country he governs seriously, it is a change of mindset that is to be welcomed.
Unfortunately, the obvious partisan interest the Liberals have in aggressively opposing India — that Sikh Canadians are an important voting bloc — and Trudeau's own history of subordinating foreign policy to domestic partisan concerns, has only bred skepticism.
But the fact the government cannot be trusted on issues such as this does not mean the allegations are untrue. A growing number of security leaks suggests there could be more to the claims against India than simply the prime minister's own naked self-interest. The downside is that the details are still far too thin to convince anyone who wasn't already convinced.
We know now that the intelligence, according to reports by CBC and Associated Press, "includes communications involving Indian officials themselves, including Indian diplomats present in Canada." Some of this intelligence came from a Five Eyes ally, which the New York Times reported Saturday was the United States, though no specifics of what the intelligence entails has been made public.
While Indian Prime Minister Narendra Modi's government has called the accusation "absurd," and has denied any evidence was shared with it, a Canadian official told Bloomberg that "communications and phone numbers" of those believed to be connected to the killing was, in fact, shared with India.
What becomes immediately obvious about these leaks is that none of them amount to definitive evidence, or even just evidence, of the Indian government's involvement in Nijjar's killing. Without any concrete facts, "Trudeau's central proposition" that "agents" of the Indian government are linked to the killing, "remains unverifiable and unfalsifiable," as columnist Terry Glavin put it on Sunday.
The government could (and should) dispel all doubt and provide specifics, as other governments have done when building a case against another country accused of killing one of its citizens. Transparency would assure Canadians that Ottawa is not abusing the issue for partisan gain, and going public with details may force the Americans to more fully endorse the Canadian point of view.
The suggestion, including incredibly from at least one journalism professor, that reporters should not ask for evidence because intelligence is not supposed to be shared is ridiculous beyond belief. Somewhere along the way, large segments of the political and media class just decided to define left-wing activism as journalism, and berate reporters who question a Liberal prime minister.
Asking for proof is not pushing a conspiracy theory and the words "national security" are not some sort of sorcerer's incantation that protects against scrutiny. Accepting a prime minister's unsupported word as the truth is not responsible journalism, no matter how many professors, or left-wing activist-reporters think it so.
When it comes to India, as with much else, all the government has done until now is behave in a manner that raises suspicions. Trudeau's dramatic speech in the House of Commons that alleged a "potential link between agents of the Government of India and the killing of a Canadian citizen" was followed by repeated refusals to offer more substance.
On Thursday, just hours before the nature of the intelligence was published by CBC, Trudeau responded to questions by deferring to Canada's "rigorous" legal processes. If Trudeau, a true unreliable narrator if there ever was one, was just going to default to the stock answer that the investigation is in the hands of the police and the courts, then why make his speech in the House? Why the aggressive approach?
Clearly, a little more transparency on the part of the government is in order.
In any case, it all comes back to how uninterested the government is in national security.
An element that stands out when comparing the Chinese election interference allegations that consumed the government earlier this year, and the suspected Indian assassination of a Canadian citizen, is that in both instances, the Canadian government had a history of not taking warnings from the Canadian Security Intelligence Service seriously enough.
The government was warned for years about Chinese election interference ahead of the 2019 and 2021 elections, warnings that were apparently ignored.
Similarly, the federal government prevented a "major intervention in 2017 to shut down rapidly growing Indian intelligence networks in Vancouver that were monitoring and targeting the Sikh community, according to a confidential Canadian foreign interference review," investigative journalist Sam Cooper reported at The Bureau. In that instance, the Liberals were worried about what the Modi government might think.
The prime minister can make Canadians safer from foreign threats simply by opening his eyes.
National Post
Sabrina Maddeaux: Trudeau Liberals shrugged for years as foreign interference multiplied

Michael Higgins: Does Trudeau have what it takes to wage diplomatic war with India?
Get the latest from Carson Jerema straight to your inbox