Data provided in the response list 67 actively leased properties across Canada and in five in other countries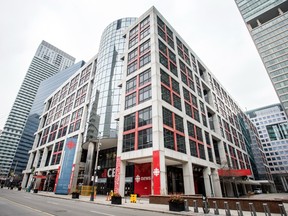 The CBC's most valuable property by far is the corporation's Toronto Broadcast Centre at 250 Front St. West, valued at $313.8 million.
Photo by Peter J Thompson / National Post
The CBC owns nearly half a billion dollars in real estate holdings, according to recently released documents, with more than two-thirds of the value comprised of its expansive downtown Toronto broadcasting centre.
A response to a May 2023 order paper question submitted by Conservative MP Adam Chambers about the government-owned broadcaster lists 12 corporation-owned properties across the country, a portfolio worth $444,414,469.
But the corporation's most valuable property by far is the CBC's Toronto Broadcast Centre at 250 Front St. West, valued at $313.8 million.
The 13-floor, 1.7-million sq. ft. facility, opened in 1992, is the CBC's primary broadcasting, production and master control facility for their national English-language operations.
The CBC's corporate headquarters are located at the its Ottawa production centre, occupying several floors of a leased building on Queen St. near O'Connor St. just steps from Parliament Hill.
The CBC's broadcast centre in Vancouver ranks as the corporation's second most valuable property. Built in 1975 and renovated 14 years ago, it is valued at $99 million.
The CBC Manitoba Broadcast Centre at 541 Portage Ave. in Winnipeg is valued at $11.7 million.
Other CBC facilities worth over $1 million include its facilities in St. John's ($4.4 million), Yellowknife ($3.1 million), Fredericton ($2.8 million), Charlottetown ($2.6 million), Saguenay ($2.5 million) Whitehorse ($1.8 million) and a second facility in Winnipeg worth $1.5 million.
Only two properties are valued at under $1 million: CBC's studios in Thunder Bay, assessed at $537,000, and the corporation's facility in Rankin Inlet, Nunavut, worth $314,600.
The CBC also leases space at 72 properties around the world, in addition to its leased Ottawa headquarters, that include regional offices, bureaus and studios across Canada. The lease values were redacted from the response on the basis of commercial confidentiality.
When asked about the leases and their value, CBC spokesperson Leon Mar maintained that the information needed to be kept private.
"As indicated in the document, the Government has withheld the information because lease payments are considered sensitive third-party commercial information," Mar wrote in an email.
Data provided in the response list 67 actively leased properties across Canada and in five in other countries.
Franco Terrazzano, federal director of the Canadian Taxpayers' Federation, said that in the interests of transparency, the CBC should be more open about their leasing costs.
"It sure seems the CBC is spending way more on its buildings than competitors spend, but what value do taxpayers get for all these properties?" he said.
"Taxpayers have every right to question why we're paying for all these CBC buildings in Canada and in other countries."
Internationally, the CBC leases two offices in the United States, one in the U.K., one in India and one in France.
The CBC's New York bureau is located on 3rd Avenue in Midtown Manhattan. Its Washington, D.C. bureau occupies leased office space at the National Press Building, just down the road from the White House.
The Paris bureau is located on Avenue de Wagram just down the road from the Arc de Triomphe, CBC's India bureau is in western Mumbai, and its London bureau occupies space in the West End.
The response also noted the CBC's two recently closed bureaus in Beijing and Moscow, but it provided no information on lease costs.
Here in Canada, most of the CBC's regional offices are leased, including three separate facilities in Montreal.
CBC's Maison Radio-Canada on René-Lévesque Boulevard East recently reopened in a new and smaller location in a leased building just west of its previous, much larger home.
According to the CBC's most recent annual report, the broadcaster received $1.24 billion in funding from the federal government.
That's in addition to the $42 million — paid out over two years in $21 million installments — granted to the CBC to "offset revenues losses related to the ongoing impact of the COVID-19 pandemic" announced in last year's fall economic statement.
Conrad Black: Canada needs a strong and unbiased public broadcaster

CBC employees were paid $16M in bonuses in 2022 — an average of about $14,000 per worker
"Why does the CBC need to lease these properties in far-flung countries, let alone multiple properties in smaller Canadian towns, and how much is all of this costing taxpayers?" Terrazzano said.
"The CBC costs taxpayers more than $1 billion every year, so at the very least it owes Canadians full transparency."
• Email: bpassifiume@postmedia.com | X: @bryanpassifiume
Our website is the place for the latest breaking news, exclusive scoops, longreads and provocative commentary. Please bookmark nationalpost.com and sign up for our daily newsletter, Posted, here.