"Let us walk this bridge together in that good way with peace and love and kindness."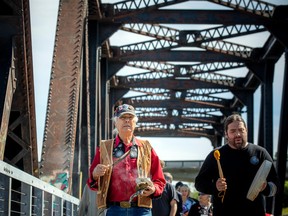 Elder Peter Decontie of Kitigan Zibi Anishinabeg leads the initial procession across the Chief William Commanda Bridge during the official opening Saturday.

Photo by Ashley Fraser

/

Postmedia
Almost 30,000 people crossed the Chief William Commanda Bridge in the first week after it opened in August, Mayor Mark Sutcliffe told a ceremony held Saturday to celebrate the completion of the infrastructure project.
More than 7,500 people crossed the bridge's multi-use pathway in a single day, said Sutcliffe, who estimated that he had already run across the bridge 30 times.
"This bridge embodies so much about what I love about our community, what I love about Ottawa," Sutcliffe told the official opening ceremony.
"It connects communities, it connects Ottawa and Gatineau, it facilitates active transportation, it's being enjoyed by cyclists and commuters and recreational users and runners and pedestrians and visitors and tourists."
Sutcliffe was joined by Hull-Aylmer MP Greg Fergus, three Ottawa councillors and a host of Indigenous leaders and elders to celebrate the official opening of the bridge, which was renamed for legendary Algonquin Chief William Commanda.
Commanda's granddaughter, University of Ottawa Chancellor Claudette Commanda, led the group on a walk across the Ottawa River on a postcard afternoon.
"Let us walk this bridge together in that good way with peace and love and kindness," Commanda said. "Let's celebrate who William Commanda was; let's celebrate his legacy of peace and harmony, love and kindness."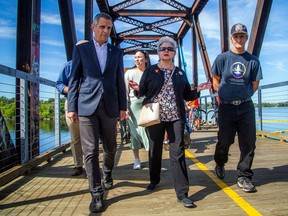 Mayor Mark Sutcliffe walks with Claudette Commanda, the granddaughter of Chief William Commanda, and other dignitaries and guests for the official opening of the Chief William Commanda Bridge on Saturday.

Photo by Ashley Fraser

/

Postmedia
Kitigan Zibi council member Frankie Cote, William Commanda's great grandson, said his famous forebear had been an expert canoe maker, which made him a builder of bridges since that was once the only way to cross the Ottawa River.
"It's so fitting it's being named after him because he was a bridge-builder before there was a bridge," Cote said.
Algonquins of Pikwakanagan First Nation Chief Greg Sarazin called the opening of the Commanda bridge deeply symbolic, noting that Algonquins were now divided into communities north and south of the Ottawa River.
"It could be said this bridge and walkway symbolically rejoins our Algonquin nation," Sarazin said.
The $22.6-million project to revitalize and repurpose the decrepit old rail bridge was financed by the City of Ottawa with the help of $8.6 million from the federal government.
Previously known as the Prince of Wales Bridge, it was officially renamed last year for Commanda, who died in August 2011 at age 97.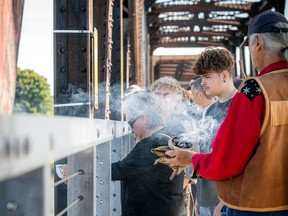 Claudette Commanda gives offerings to the Ottawa River in honour of her late grandfather, Chief William Commanda, during the official opening ceremony named in tribute to him.

Photo by Ashley Fraser

/

Postmedia
William Commanda called for forgiveness and reconciliation despite facing hardship and racism in his own life.
Born on the Kitigan Zibi reserve on Nov. 11, 1913, one of seven children, Commanda said he grew up hungry and escaped residential school only by hiding in a bush.
He overcame alcoholism as a young man and worked as a guide, logger and trapper, becoming an expert birch bark canoe maker. He guided his community as chief for two decades between 1951 and 1970 and fought for recognition of Indigenous rights.
Commanda was devoted to living simply and in harmony with nature. He attended the 1991 Rio Earth Summit and called on the Canadian government to return Chaudière Falls, a sacred meeting place for Indigenous peoples, to its natural state.
Fluent in English, French and Algonquin, Commanda founded a peace organization called Circle of Nations, which advocated reconciliation and forgiveness. He met with the Dalai Lama, Nelson Mandela and a host of Canadian political leaders.
During his lifetime, Commanda was awarded the key to the city and an honorary doctorate from the University of Ottawa, and he was made an officer of the Order of Canada in 2008.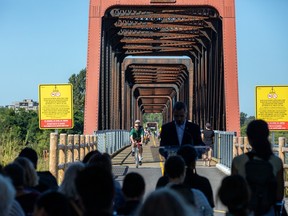 The official opening of the Chief William Commanda Bridge took place Saturday.

Photo by Ashley Fraser

/

Postmedia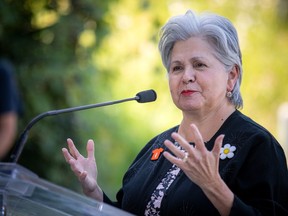 Claudette Commanda, the granddaughter of Chief William Commanda, addresses the crowd at Saturday's official opening ceremony for the bridge.

Photo by Ashley Fraser

/

Postmedia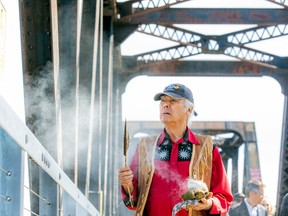 Elder Peter Decontie of Kitigan Zibi Anishinabeg leads the group across the Chief William Commanda Bridge during the official opening ceremony on Saturday.

Photo by Ashley Fraser

/

Postmedia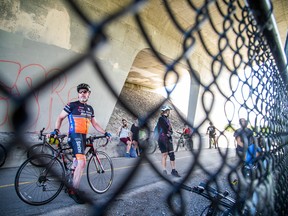 Commuting cyclists and pedestrians make use of the Chief William Commanda Bridge over the Ottawa River on Saturday.

Photo by Ashley Fraser

/

Postmedia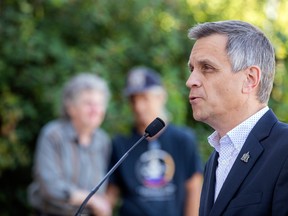 Mayor Mark Sutcliffe delivers his remarks during the official opening ceremony for the Chief William Commanda Bridge on Saturday.

Photo by Ashley Fraser

/

Postmedia