With all due respect, sir, 'partisanship' was not the problem. Everything else was the problem
Get the latest from Chris Selley straight to your inbox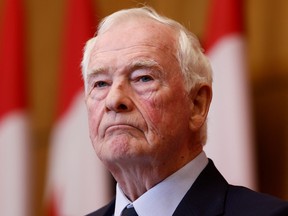 David Johnston, former special rapporteur on foreign interference, holds a press conference about his findings and recommendations in Ottawa, on May 23, 2023.
Photo by Blair Gable/Reuters
David Johnston threw in his special rapporteur's towel late Friday afternoon, presumably eliciting a huge sigh of relief from just about everyone who admired him before he took the job of investigating foreign interference into Canadian elections. His performance on that job was a shambles, evincing sub-zero understanding of modern politics and a most unbecoming belief that conflicts of interest aren't conflicts of interest when they involve people of such high quality as Laurentian cottage-owners and retired Supreme Court judges.
Johnston will be 82 years old in a few days, and seems to have all the faculties necessary for an enjoyable retirement. For multiple reasons, he never should have accepted the appointment in the first place. By bowing out early, if belatedly, he will likely ensure this unfortunate affair goes down as merely a footnote to his record in public service.
But still. Good grief. Judging from his resignation letter to Prime Minister Justin Trudeau, Johnston still doesn't seem to understand what the problem was. At all.
The trouble begins in the very first sentence: "My objective was to help build trust in our democratic institutions."
Critics say David Johnston was compromised by his deep affection for China

David Johnston resigns as special rapporteur into foreign interference
Was it, now? Because, see, I thought the open question was whether those institutions — specifically the ones designed to keep foreign money and influence away from our election campaigns — were deserving of trust.
Things get no better in the second sentence: "I have concluded that, given the highly partisan atmosphere around my appointment and work, my leadership has had the opposite effect."
Soon after the letter landed, Bloc Québécois leader Yves-François Blanchet applauded Johnston's "dignified" decision. NDP leader Jagmeet Singh credited Johnston for having "done the right thing." Former Conservative leader Erin O'Toole called Johnston an "exceptional Canadian" and praised his "extraordinary … service to our country." Even no-holds-barred Conservative leader Pierre Poilievre framed the issue semi-sympathetically, arguing Trudeau "destroyed the reputation of a former Governor General."
So no, partisanship was not the problem.
The problem was that Trudeau appointed someone in a clear conflict-of-interest position with his family — and that Johnston accepted. The problem was the job itself — people have some idea what a public inquiry looks like, none at all what a special rapporteur's rapports look like — and the absurdly quick timeline on which Johnston was meant to operate, especially considering he has no known extensive background in national security.
Because Johnston is well-liked by people in all parties, it seems the Trudeau gang assumed his word would carry the day — bipartisanship being the closest thing to non-partisanship that partisans can imagine. But most Canadians aren't partisan. And most Canadians, unlike most of the Laurentian Elite, understand what a conflict of interest looks like.
In this case, it doesn't mean "you've violated the Conflict of Interest Act." It simply means "your interests are conflicted." To my mind, Johnston's conflicts of interest with the Trudeaus pale in comparison to the conflict of interest he triggered when seeking an opinion that he was not in a conflict of interest: He asked retired Supreme Court justice Frank Iobucci, a self-described close friend, to sign off on that.
The problem is Johnston wrote a very strange interim report that, at its strangest, explicitly exonerated Liberal MP Han Dong of Chinese-collaboration allegations published by Global News without explaining what underpinned this exoneration.
In his resignation, Johnston suggested Trudeau appoint a replacement with "national security experience." It's an interesting idea, in hindsight. An unbiased national-security expert no one had ever heard of might well have made a better special rapporteur than a man best known for general rectitude.
But that junk sailed long ago. Pretty much everything Justin Trudeau's government touches nowadays turns instantaneously to dog crap. What sane, halfway credible person would even consider replacing Johnston?
The problem, ultimately, was that this wasn't the full public inquiry we clearly need. If the Liberals still don't want to go there on principle, at this point — thank goodness — they might have to out of sheer necessity.
Get the latest from Chris Selley straight to your inbox