Investigators have previously said the source of the outbreak almost certainly came from a central kitchen used by the 11 daycares at the root of the outbreak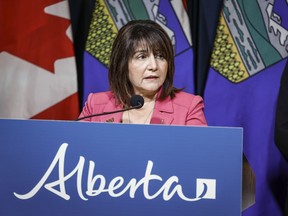 Alberta Health Minister Adriana LaGrange speaks to the media about an E. coli outbreak linked to multiple Calgary daycares in Calgary on Tuesday, Sept. 12, 2023.

Photo by Jeff McIntosh

/

The Canadian Press
CALGARY — The City of Calgary says it has charged a catering company and school lunch delivery service provider at the centre of an E. coli outbreak affecting several daycares.
The city alleges Fueling Minds Inc. had been providing third-party food services to five Calgary child-care centres not owned by the company without a proper licence.
Article content
The corporation and its two directors have each been charged under the municipal business licensing bylaw for operating without a business licence for a total of 12 charges.
Article content
Related Stories
Thirty-seven kids hospitalized: The E. coli outbreak that has raged through nearly a dozen Calgary daycares

Calgary kids on dialysis after E. coli outbreak at city daycares
They could face a total fine of up to $120,000.
Investigators have previously said the source of the outbreak almost certainly came from the central kitchen used by the 11 daycares at the root of the outbreak.
Dozens of children have been hospitalized and hundreds more have fallen ill.
Our website is the place for the latest breaking news, exclusive scoops, longreads and provocative commentary. Please bookmark nationalpost.com and sign up for our daily newsletter, Posted, here.
Article content