The polling took place in the days following an announcement by Trudeau alleging Indian government could be behind the killing of a Sikh leader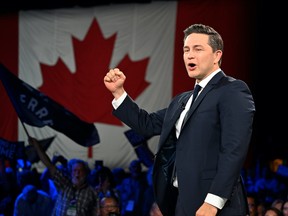 Conservative Leader Pierre Poilievre speaks to delegates at the Conservative Party Convention, Friday, September 8, 2023 in Quebec City.
Photo by THE CANADIAN PRESS/Jacques Boissinot
The Conservatives have maintained their summer lead in the polls, according to fresh numbers from Leger.
Leger has released the findings of an online survey conducted over the weekend with more than 1,600 Canadian respondents.
Article content
Among decided voters, Tory Leader Pierre Poilievre's party has the support of 39 per cent of respondents, which is 12 points ahead of the federal Liberals.
Article content
Related Stories
'Nice try pretending you're not a poindexter': Inside the thoughts of Poilievre's discarded glasses

Liberals recycling election promises now that they have 'plummeted in the polls': Poilievre
The poll suggests a shift of just a few points toward the Tories from a month before, while the Bloc Quebecois has fallen seven points to tie the Liberals at 29 per cent support among Quebec voters.
The polling took place in the days following a bombshell announcement by Prime Minister Justin Trudeau alleging that the Indian government could be behind the killing of a Sikh leader near Vancouver.
Results were weighted for demographics, language and region, and cannot be assigned a margin of error because online surveys are not considered truly random samples.
The online polling was conducted Sept. 22 to 24, shortly after the Liberals unveiled new housing policies after bleeding support to the Tories, who have maintained a lead in Leger polling since late May.
The new results involved a Canadian sample of 1,652 people, and of those eligible to vote, nearly 16 per cent said they were undecided.
Article content
The poll found 26 per cent of respondents believe Poilievre would be the best person to serve as prime minister, compared with 20 per cent opting for Trudeau and 14 per cent choosing NDP leader Jagmeet Singh.
Just one-third of those respondents say they're satisfied with Trudeau's government, a result similar to that of a month ago. In that time, the percentage of those surveyed reporting concern over losing their job has dropped five points, to 33 per cent.
The polling also heard from 1,000 Americans, who reported feeling slightly more confident about their household finances, with those living between paycheques making up 42 per cent of American respondents compared to 46 per cent of Canadians polled.
Of Americans polled, 52 per cent disapproved of U.S. President Joe Biden, similar to a month ago.
Our website is the place for the latest breaking news, exclusive scoops, longreads and provocative commentary. Please bookmark nationalpost.com and sign up for our daily newsletter, Posted, here.
Article content