Leader Éric Duhaime laments "the greatest democratic distortion of the century."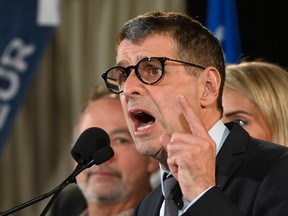 "We got roughly the same number of votes as the Liberal Party of Quebec, but they got (more than) 20 seats and we have zero," Conservative Leader Éric Duhaime told supporters in Lac-Delage.

Photo by Bernard Brault

/

The Canadian Press
For live coverage of election day, please tap here.
Sign up to receive daily headline news from the Montreal Gazette, a division of Postmedia Network Inc.
By clicking on the sign up button you consent to receive the above newsletter from Postmedia Network Inc. You may unsubscribe any time by clicking on the unsubscribe link at the bottom of our emails. Postmedia Network Inc. | 365 Bloor Street East, Toronto, Ontario, M4W 3L4 | 416-383-2300
Thanks for signing up!
A welcome email is on its way. If you don't see it, please check your junk folder.
The next issue of Montreal Gazette Headline News will soon be in your inbox.
LAC-DELAGE — Despite not winning any seats in the National Assembly, Conservative Party of Quebec Leader Éric Duhaime claimed a victory Monday night.
"All the other opposition parties lost votes; we're the only opposition party rising tonight," Duhaime told cheering supporters at this lakeside resort north of Quebec City.
"We got roughly the same number of votes as the Liberal Party of Quebec, but they got (more than) 20 seats and we have zero."
With the Coalition Avenir Québec projected to form the next government, Duhaime claimed a moral victory, with his party earning more than 13 per cent of the popular vote — comparable to the other three opposition parties.
Duhaime said the Conservatives mounted a "David versus Goliath" campaign, with fewer resources than their opponents and having to build the party from nothing just two years ago.
He said he was proud to have made a difference in the campaign. Now the Conservatives will be granted more resources, as parties are given public funding based on how many votes they earn.
Duhaime said his party deserved better, noting it polled second in many ridings. But because Conservative support was concentrated in the Quebec City region, where the CAQ is also strong, it faced an uphill battle getting candidates elected.
"We're facing the greatest democratic distortion of the century, but we can't be too pessimistic," Duhaime said. "This was just the first period — becoming a main party, which we accomplished in spades. The second period starts tomorrow: getting ready for the next election."
Duhaime's campaign was marked by nearly daily 5 p.m. rallies, mostly in small towns, with hundreds of supporters. The largest rally took place midway through the campaign at the Centre Vidéotron in Quebec City, where roughly 2,500 supporters assembled. Overall, his party held 30 rallies during the campaign, amassing 12,000 people altogether.
"We had the greatest number of people at our rallies; none of the other parties were able to accomplish that," Duhaime said.
The party's campaign focused on hyper-local issues in the Quebec City area and its suburbs.
The party pledged to do away with a controversial tramway project and offer free public transit in the capital region. It said it would axe the CAQ plan to build a tunnel between Lévis and Quebec City and build another bridge instead.
The so-called third link was one of Duhaime's main campaign topics. He hammered away at the issue almost daily, calling on CAQ Leader François Legault to make public studies conducted by Transport Quebec.
Duhaime, a former Quebec City radio host, drew support from blue-collar loyalists of so-called shock radio, as well as opponents of COVID-19 restrictions. He also gained popularity among Quebec City's traditional conservative voters, many of whom expressed disillusionment with the CAQ and its perceived betrayal of more right-wing friendly promises like smaller government and tax cuts.
"He gave my mother hope because she thought there was no future for me, because I'm not vaccinated," said Laval resident Mélisse Boisvert, who made the trip to gather with other supporters. "But people like him show that you don't have to be vaccinated, that I'm not nothing."
She said she was "big time disappointed" with the result, but "you can't lose hope."
The Conservative Party campaign rarely travelled more than an hour outside Quebec City, save for trips to Montreal for the TV leaders debates and a final campaign rally in Pointe-Claire on Saturday night to court the anglophone vote. To that end, he pledged to repeal Bill 96, the CAQ government's language law, and replace it with legislation he said would not roll back the rights of the historic English-speaking minority.
Hoping to cash in on anger within the non-francophone community — and on the presumed collapse of the Liberal Party's voter base — Duhaime tried to convince anglophones his party would give them a true voice in the National Assembly, and would aim to unite English- and French-speakers. His last appeal was made by way of a bilingual speech to supporters at the Hilton hotel in Pointe-Claire.
"Francophone, anglophone, allophone, you are all Quebecers," Duhaime told the crowd. "Here, you are all essential. We don't care what year your ancestors came, or what year you came to Quebec."
Other campaign pledges included help for renters in the form of cheques, 120 km/h highway speed limits, and big tax cuts.
He urged anglophones to abandon their traditional support for the Liberals, saying the threat of sovereignty was no longer an issue.
"That debate has past; there is no referendum anymore, and because of that old division, you were voting Liberal forever, and the other parties didn't want to talk to you," he said.
Duhaime's campaign was not without its missteps. He spent roughly a week answering for his past financial mismanagement, when it was discovered he owed back taxes dating several years on properties he owned in the Quebec City area.
Toward the end of the campaign, Duhaime seemed to be panicking in his own riding after a poll showed him trailing CAQ incumbent Sylvain Lévesque. He urged supporters to converge on his Chauveau riding to knock on doors and work the phones in the hours leading up to election day.
In the end, Lévesque was re-elected by more than 5,000 votes.
Despite the disappointing results, Duhaime said he intends to remain as party leader, as he committed to a 10-year term when he took the helm less than two years ago.
jmagder@postmedia.com
twitter.com/jasonmagder