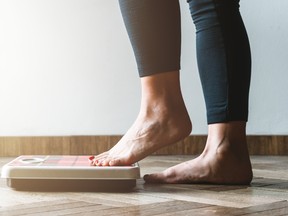 A woman weighing herself on a scale.
Getty Images
Reviews and recommendations are unbiased and products are independently selected. Postmedia may earn an affiliate commission from purchases made through links on this page.
Women who live to age 90, 95 or even 100 experience what's known as "exceptional longevity."
An analysis published last month found one factor linking those long lives: Maintaining a stable body weight over decades.
The study, published in the Journals of Gerontology: Series A, looked at data about 54,437 women from the Women's Health Initiative, a long-term study that began in the 1990s. The women studied were born on or before Feb. 19, 1932, and the researchers looked at their weight when they began the program, in Year 3, and in Year 10 of the program, then followed up on their survival status as of Feb. 19, 2022.
They found that the women whose body weight stayed stable over the years had 1.2 and 2 times the odds of surviving to 90 and beyond than those who lost weight.
Women who lost five percent or more of their body weight over the first three years studied had 33 percent lower odds of surviving to 90, 35 percent lower odds of surviving to 95 and 38 percent lower odds of surviving to 100 than their counterparts whose weight remained stable.
One factor associated with longer lives was whether a woman had intentionally lost weight. Those who unintentionally dropped pounds had 51 percent lower odds of survival to age 90 compared with others in the study. The researchers write that gaining weight over the study period "was not significantly associated with survival" to an extended age.
The study doesn't just suggest that weight stability might be able to predict longevity, the researchers write. They also note that "blanket recommendations for weight loss in older women are unlikely to lead to better survival to advanced ages."
More research needs to be done, they write, especially to tease out the connections between health problems and weight loss and among a more diverse racial and ethnic population.
For more health news and content around diseases, conditions, wellness, healthy living, drugs, treatments and more, head to Healthing.ca – a member of the Postmedia Network.