The application is expected to be heard later this year.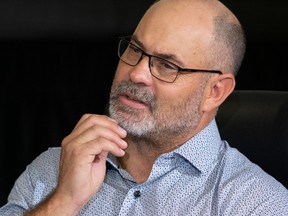 Saskatchewan resident and trucking company owner Chris Barber is charged with mischief, counselling to commit the offence of disobey court order and counselling to commit the offence of obstruct police in connection with the convoy protest that occupied part of downtown Ottawa last winter.

Photo by Adrian Wyld

/

The Canadian Press
Convoy protest leader Chris Barber has filed a stay-of-proceedings motion to end his mischief and obstruct police case on the grounds that his Charter rights were trampled in an extreme breach of privacy and abuse of process.
Barber's private texts — all 4,000 pages of records — were filed in public court by the Crown and accessed by the media before even his lawyer received it in disclosure.
Sign up to receive daily headline news from Ottawa Citizen, a division of Postmedia Network Inc.
By clicking on the sign up button you consent to receive the above newsletter from Postmedia Network Inc. You may unsubscribe any time by clicking on the unsubscribe link at the bottom of our emails or any newsletter. Postmedia Network Inc. | 365 Bloor Street East, Toronto, Ontario, M4W 3L4 | 416-383-2300
Thanks for signing up!
A welcome email is on its way. If you don't see it, please check your junk folder.
The next issue of Ottawa Citizen Headline News will soon be in your inbox.
Barber, 47, says the release of his private communications, some of which ended up on the television news, caused him intense distress.
"All of my personal messages being provided to the public and the press has caused me serious stress and anxiety. It caused a lot of harm to my marriage," Barber said in a statement to this newspaper.
"The phone data included very private and personal conversations with my ex-wife about our child, conversations with my business contacts and even my lawyer," Barber said.
"I was floored to hear that the Crown released all that to the public totally unvetted. I heard about my private messages for the first time by reading an article on CTV News … I felt my privacy so betrayed by the government on things that had nothing to do with the convoy."
The private phone records have since been sealed and Barber's lawyer, Diane Magas, has filed an application to stay the mischief-and-obstruction case on the grounds of Charter rights breaches.
In the application, which is expected to be heard later this year, Magas argues Barber's right to privacy was severely breached and the scope of Ontario Provincial Police's search was over-broad and unreasonable. "The search warrant obtained without reasonable grounds was a fishing expedition and a serious Charter violation," Magas said in the stay application.
The affidavit filed by police to obtain a search warrant for Barber's devices contained "misleading evidence and untruth, as well as irrelevant and inflammatory information," according to the stay application.
"The Crown's conduct in disclosing private communications, including solicitor-and-client privileged communications, to the public that is irrelevant to the prosecution involves unfairness or vexatious of such a degree that it contravenes fundamental notions of justice and undermines the integrity of the judicial process," Magas said in the application filed in court.
"The administration of justice must be kept from disrepute caused by unacceptable state conduct of offending 'our notions of fair play and decency. The prejudice caused by the abuse in question will be manifested, perpetuated or aggravated through the conduct of the trial, and no other remedy is reasonably capable of removing that prejudice than a stay of proceedings."
At a 2022 bail hearing, the convoy protest leader told court his "organizing days are over" and he wanted only to go home to his acreage in Swift Current, Sask.
After spending a night at the notorious Ottawa police cellblock, Barber was granted bail on conditions that he leave town within 24 hours, go home and never support the protest again.
Barber, who owns a trucking company, agreed with the bail conditions that he could no longer support the protest verbally, on TV or online. Barber, who employs four other drivers, put up a $100,000 bond to secure his bail.
His conditions require him to live at home until his case winds through the criminal justice system.
Barber is charged with mischief, counselling to commit the offence of disobey court order and counselling to commit the offence of obstruct police.
If the case goes to trial and Barber is found guilty, Ottawa's Crown Attorney Office is expected to seek a prison term of more than two years for "tormenting the city" in a criminal manner and for inciting protesters to break the law.
Magas, who secured bail for Barber last year, told court her client could not possibly be responsible for the actions of others during the protest.
At the time, Assistant Ottawa Crown Attorney Moiz Karimjee said the impact of the protest had been significant and called homicide detective Chris Benson to testify about it.
In the end, the judge concluded that Barber — who doesn't have a criminal record — posed no substantial threat to the public and granted the convoy leader bail.
The judge said she learned nothing from Benson's testimony that she hadn't already read in the newspaper.
"I don't know what else I'm supposed to be learning here?" Ontario Court Justice Julie Bourgeois said at the hours-long bail hearing.
As part of his bail conditions, Barber must check in with Benson by phone, and he is forbidden from communicating with other convoy leaders. He's allowed only to return to Ottawa for meetings with his lawyer or for court hearings.
He was ordered to not have any contact — outside legal proceedings — with fellow convoy protest leaders Tamara Lich and Patrick King.