OBX boasts a whole lot of charm and natural splendour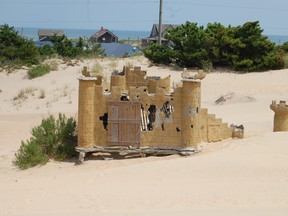 This quirky old remnant from a defunct mini-putt course at Jockey's Ridge State Park draws plenty of tourists to the dunes. Depending on the winds, sometimes it is completely covered with sand. Laura Shantora Nelles/Toronto Sun
Reviews and recommendations are unbiased and products are independently selected. Postmedia may earn an affiliate commission from purchases made through links on this page.
Away from the bustle of other beachy destinations, Outer Banks, North Carolina boasts a whole lot of charm and natural splendour.
It's a place where all your coastal dreams are sure to come true.
If your dream job is "beach" and sun, salt and sand are your jam, you don't have to look far to find a spot to stretch out on. Communities lining the barrier islands are home to plentiful sandy paradises, perfect for everything from lounging to surfing.
If the beach isn't the only thing on your bucket list, there are lots of other things to do that don't require a towel.
You can drive or fly to reach the Outer Banks (referred to locally as OBX). The advantage to driving is it makes it a lot easier to get around the various communities. My rental got plenty of miles on it as I traversed the main artery, NC 12. My first stop was in Duck, where I took in my inaugural taste of salty sea air — and fresh fish tacos, the fish of the day was tuna — while sitting outside facing the ocean at NC Coast Grill & Bar.
GO WILD
Much of Outer Banks is undeveloped and unspoiled, thanks to federal and state protected lands. My first evening, I hopped aboard the Magic Bus (a souped-up school bus with rustic charm) for a tour of protected wildlife area Alligator River.
Driver Angel and guide Peggy (who actually lives on the Alligator River Wildlife Preserve) took us around the refuge where we were treated to sights of alligators, blue herons, a turtle, and seven black bears. While we didn't end up seeing any, we also watched for Barred owls and the elusive and endangered red wolves, reintroduced to the area after nearly becoming extinct. We also toured a locale that was once a logging community, and later a moonshine mecca, known as Buffalo City, where we learned the history of local bootlegging operations.
Your noon-hour look at what's happening in Toronto and beyond.
By clicking on the sign up button you consent to receive the above newsletter from Postmedia Network Inc. You may unsubscribe any time by clicking on the unsubscribe link at the bottom of our emails or any newsletter. Postmedia Network Inc. | 365 Bloor Street East, Toronto, Ontario, M4W 3L4 | 416-383-2300
Thanks for signing up!
A welcome email is on its way. If you don't see it, please check your junk folder.
The next issue of Your Midday Sun will soon be in your inbox.
That evening, I discovered OBX has a quiet nightlife. Many places close after dinner, so my hunt for a late meal took me to a spot called Goombays. There I dug into a hearty bowl of Cajun crab soup and fish and chips — not the beer-battered slab of haddock or halibut you might be used to, these were small pieces of light, flaky fish, battered in a crispy coating.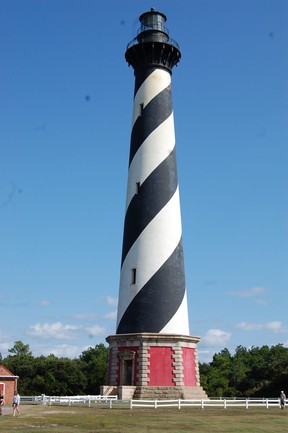 The Cape Hatteras Lighthouse at the Cape Hatteras National Seashore in Outer Banks is not currently open for climbing, but its grounds are a perfect spot for a picnic. Laura Shantora Nelles/Toronto Sun
ROAD TRIP
On Thursday, I left my hotel, Shutters on the Banks, in Kill Devil Hills, and headed for the Cape Hatteras National Seashore. In the neighbouring town of Nags Head was my first stop, Bodie Island Lighthouse. This black-and-white-striped lighthouse is open for climbing. Nearby is sandy Coquina Beach, a great place to stretch out.
My next visit was Pea Island. The drive along the highway is lush with vegetation and greenery as Pea Island is a wildlife refuge. I popped in at the visitor's centre to buy a hat, as I had forgotten mine, and found Peggy from the Magic Bus working inside. She directed me to one of my favourite places I visited on the trip — a little pond full of freshwater turtles! As a self-proclaimed Turtle Nerd(le), I was delighted to see an abundance of turtles, swimming, sunning and popping their little faces out of the water.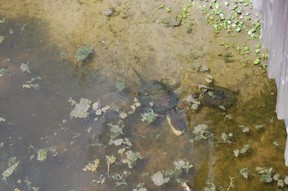 A pair of freshwater turtles are seen in a pond near the Pea Island Wildlife Refuge Visitors Center in Outer Banks, North Carolina. Laura Shantora Nelles/Toronto Sun
Chicamacomico Life-Saving Station Historic Site was my next destination. The Life-Saving stations pre-date the modern-day Coast Guard, and once dotted the Outer Banks at every seven miles. Each Thursday in summer, Chicamacomico hosts a historical reenactment demonstrating a 19th-century rescue operation. Our host, retired Coast Guard Capt. Carl, gave the finer points on boating (first rule: keep the water outside the boat!) and some history of the Coast Guard, followed by the reenactment, which involves a lot of digging, ropes and even a tiny cannon. One lucky kid from the crowd gets "rescued" by the team. This is the only place in the U.S. that puts on these demos.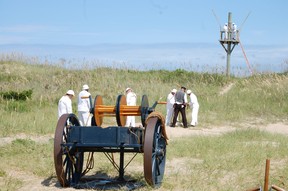 Volunteers perform a historical reenactment of a rescue at the Chicamacomico Life-Saving Station in Rodanthe, Outer Banks, North Carolina. Laura Shantora Nelles/Toronto Sun
At the southern end of Hatteras Island, I visited the Cape Hatteras Lighthouse. Also black and white, the stripes are swirled. The lighthouse is not presently open to climb, but there is a museum on the grounds.
As I drove through Hatteras enjoying the sights of the village, I noticed the atmosphere was different from the northern areas of Outer Banks. Quirky little shops, like one called Pirate Stuff, and small restaurants are the norm here. As the young people say, it's a whole vibe. I popped into a bookshop where a shelf was dedicated to local authors and stories set in OBX. Another shelf housed "beach reads."
I finally stopped for a bite at the delicious Diamond Shoals Restaurant in Buxton. Being my first time in the South, I sampled hush puppies (tasty!) and chowder to start. Crab cakes, my main, were absolutely perfect, light, fluffy and fresh.
Beachside homes are seen on Hatteras Island in Outer Banks. Many homes in the area are large enough to accommodate groups and families. Laura Shantora Nelles/Toronto Sun
CURTAIN CALL
That evening, I headed into the town of Manteo (pronounce Manteo like a Toronto person: "Man-e-o") where I was swept back to 1587 in a theatrical rendition of local legend The Lost Colony. The play, which is performed outdoors, features an ensemble of college students decked out in Elizabethan finery. It tells the story of the English who sailed to North America and set up a colony on what is now Roanoke Island. After befriending local Native American Manteo, the group forms a colony named Virginia, after Elizabeth I, England's "virgin queen." For various reasons, the site of the village is later abandoned, and when a ship returns to Virginia from England three years later, everyone has disappeared. The play theorizes what may have happened to the townsfolk.
The production is excellent — lighting, sound, music, and choreography are all top-notch. The show has been running since 1937 and executive director Chuck Still explained how the performance was recently reimagined to include Native American actors, stunning animal costumes, and new ways of engaging modern audiences.
A monument commemorates the first flight by Wilbur and Orville Wright in Kill Devil Hills, Outer Banks, North Carolina. Laura Shantora Nelles/Toronto Sun
TAKE FLIGHT
Friday morning, I checked out of Shutters and headed across the street to the Wright Brothers National Memorial. North Carolina is home to the "first flight" in history, thanks to the ever-blowing winds on OBX. A monument sits atop the hill, which is open for entry. My guide, Jessica, from local non-profit Outer Banks Forever, pointed out markers in the grass where each of the first four flights landed. We entered the museum and took in the life-size recreation of the Wright Brothers' original glider.
HOME SWEET HOME
Many visitors to OBX travel with a group, so rental homes are the norm, as they're often more economical. Some even offer services like grocery delivery. I visited the newly opened 36-bedroom Kill Devil Hills Resort. Property owner Chris, who used to live in Toronto, explained the space as a destination wedding locale, or venue for corporate retreats. Every room has its own TV, there are multiple kitchens and lounge areas, a movie theatre, pool, and an elevator for accessibility. One of the property managers, Carl, recommended I check out a fascinating find on his front lawn in Manteo, the "mother vine" — North America's oldest grape vine.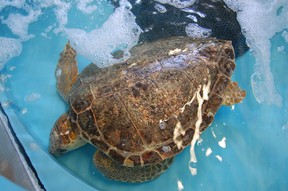 An injured sea turtle is cared for in a tank at the STAR Centre at the North Carolina Aquarium on Roanoke Island. Laura Shantora Nelles/Toronto Sun
TURTLE-Y AWESOME
That afternoon I visited the NC Aquarium on Roanoke Island. The facility is home to the STAR Center, which rehabilitates and re-releases injured sea turtles. Only three turtles were in care when I arrived, but the facility and its many volunteers from Network for Endangered Sea Turtles (NEST) have extra pools and containers at the ready for larger numbers. Nearly all sea turtle species are endangered and they take a very long time to reach maturity, so it is critical to aid turtles who are injured or have suffered cold stunning. Kids can learn more about treating sick or injured turtles through a charming interactive exhibit where a toy turtle can be examined, treated and re-released.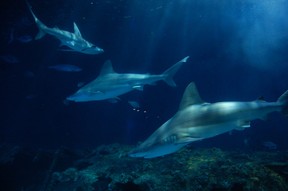 Sharks swim in their habitat at the North Carolina Aquarium on Roanoke Island. Laura Shantora Nelles/Toronto Sun
After a quick stop in my room at the newly renovated Hotel Manteo, I headed downtown for dinner. The fish taco salad at Ortega'z was outrageously good (fish of the day was mahi) and the margarita was one of the best I've had. That evening, I took a walking tour of Manteo hosted by the town's former top cop, Francis D'Ambra, who has an encyclopedic knowledge of local history and plenty of interesting tales from his time on the job. His account of accompanying Richard Gere and Diane Lane during the filming of Nights in Rodanthe elicited plenty of chuckles.
Following the tour, I popped in at NouVines wine bar, which features an excellent wine list, live music, and a fascinating story behind its rustic wooden bar that was once on Al Capone's boat. (I recommend doing the Alligator River wildlife tour first, then come here, and it'll all come together.)
In downtown Manteo on Saturday morning, I visited some shops where I met one of the three town cats, Lulu, and meandered over to the Farmers Market. I spotted Chief D'Ambra and his granddaughter selling grape preserves, made from none other than the Mother Vine.
Back in Nags Head, I toured the dunes at Jockey's Ridge State Park with my guide, Ranger Justin, and Craig from Friends of Jockey's Ridge. We visited the Maritime forest, a quiet sound-front beach, and a quirky local attraction, an old 'sand castle' from a now-defunct mini-putt. As the sands are always shifting in the ever-present winds, the castle is sometimes buried. Hang gliding is available on-site where you can take to the windy skies. One very unique hang-gliding experience on offer is a replica of the Wright Brothers glider, crafted by the same recreationist who made the one at the memorial. Craig later showed me a beach just across Hwy. 12 from Jockey's Ridge where there is plenty of free parking. Many surfers were out catching a wave.
Dinner that evening was also in Nags Head, at the Sugar Creek Soundfront Restaurant, a popular eatery overlooking the Roanoke Sound, which Aaron Tuell from the Outer Banks Visitors Bureau says is a hot spot for catching the sunset, perfect for wrapping up a week at the beach.
IF YOU GO
Get more information at outerbanks.org.