Internal report cites competition with other higher-paying law enforcement jobs for shortage of officers and figures show a sharp job in court closures or delays as a result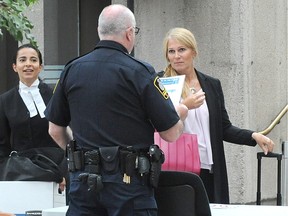 A B.C. sheriff screens people entering the Vancouver Law Courts in 2020, during the COVID-19 pandemic.

Photo by NICK PROCAYLO

/

PNG
During criminal trials in B.C. courtrooms, there are usually one or two uniformed sheriffs present, along with the judge, lawyers, court clerk and accused.
These sheriffs are armed and usually sit within two quick strides of the accused, ready to protect the judge, other staff and the public. They also escort the accused in and out of the prisoner's dock, help to manage juries, and remind the public that coffee and cellphones aren't allowed in the gallery.
Article content
Article content
When they're absent, some trials can't take place.
A years-long shortage of sheriffs across B.C. has affected dozens of courtrooms this year.
According to figures released Tuesday by the Attorney General Ministry, which oversees the B.C. Sheriff Service, only six courtrooms were closed or had delays from 2018 to 2022 due to sheriff shortages. But so far this year, there have been 88 such closures or delays, resulting in cases being adjourned or rescheduled.
About half the closures or delays this year — 46 — have been at Surrey provincial court, 24 at the Abbotsford courthouse, and 10 at the Port Coquitlam courthouse.
"This is definitely a critical (issue) and it requires urgency," said Scott Morishita, president of the B.C. branch of the Canadian Bar Association. "Having a fully and properly functioning justice system requires investment. If we don't have enough sheriffs, we can't have the court hearings."
Uncompetitive pay and benefits are partly to blame for the recruitment and retention issues, according to a July 2023 report by provincial human resource researchers that included information from focus groups with sheriffs. The report also cited poor leadership and a toxic workplace that includes bullying and sexual harassment.
By signing up you consent to receive the above newsletter from Postmedia Network Inc.
Thanks for signing up!
A welcome email is on its way. If you don't see it, please check your junk folder.
The next issue of Sunrise will soon be in your inbox.
Article content
Article content
"There are numerous instances where courtrooms throughout the province have operated without a deputy sheriff present," said the report, which made 62 recommendations. "If this situation continues unchecked, it could lead to court closures and limited access to justice for British Columbians."
Attorney General Niki Sharma wasn't available for an interview but in an email said the province was "instituting a more competitive pay and benefits framework for sheriffs."
She didn't provide details.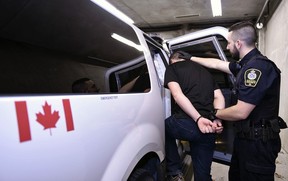 A B.C. sheriff escorts a prisoner in 2017. The B.C. Sheriff Service, which escorts prisoners among courthouses and jails, provides courtroom security, and a variety of other court-related services, is very shorthanded.

Photo by B.C. Sheriff Service

/

B.C. government
Deputy sheriffs generally start at $68,000 a year and in five years top out at $77,000, which a union representative notes is $36,000 less than what other law enforcement agencies pay. Sheriff trainees need 14 weeks of training at the Justice Institute of B.C., a process that takes about six to eight months and costs the province $47,000 for each recruit.
The report's No. 1 recommendation is to improve pay and benefits. Sheriffs who contributed to the report said annual salaries of $85,000 to $95,000 is needed to retain staff.
Low pay is the complaint the B.C. General Employees' Union hears most from its members, said president Stephanie Smith.
Article content
"Our members are extremely frustrated," she said.
Smith said she agrees with the report's recommendations calling for an increase in pay because other law enforcement agencies pay more and are also recruiting.
"People will go where they'll earn more money."
Smith said she has had meetings recently with Sharma to discuss recruitment and retention and that the province is now providing a $10,000-a-year retention bonus.
Shauna Quigley, who worked for 24 years as a deputy sheriff in Kelowna, Vernon and Salmon Arm, says pay equity would help attract and keep sheriffs in the job.
"When I started, all we had were issued were handcuffs," she said. "Now they have guns, flak vests, batons, pepper spray, tasers" as well as ammunition for the guns, the same 35 pounds of equipment issued to police officers.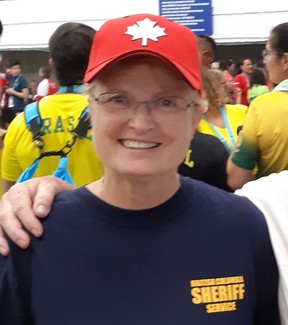 Former B.C. Sheriff Shauna Quigley at the World Police and Fire Games in 2023. The job had gotten more dangerous with little change in pay, she says.

Photo by Dan Quigley

/

Handout
Sheriffs transport and guard volatile prisoners as well as monitor participants in emotionally charged family court cases.
"The level of violence and the danger has gone up, but the pay remains the same," she said.
Past reviews of the system, including one by an SFU criminologist in 2008, came to similar conclusions as the latest report. The report said the number of applications for sheriff positions has "significantly declined" in recent years, noting that three training sessions are held each year with room for 24 students and they are typically half-full or less.
Article content
It said that 11.7 per cent of deputy sheriffs left their jobs in the 2022-23 fiscal year that ended March 31 — about two per cent higher than the attrition rate for the B.C. Public Service.
When he was attorney general in 2017, David Eby raised pay and increased funding but shortages continued, according to the report.
The voluntary resignation rate was 7.33 per cent in fiscal year 2022-23, more than double the rate in 2015-16, according to the report. About 22 per cent of those who resigned this past fiscal year were under the age of 30.
The shortages affect the justice system but also the remaining sheriffs, who have to work harder and longer, leading to stress, burnout and more sick leave and overtime, the report said.
The report noted that, as of April 2023, constables working for the Vancouver, Abbotsford and New Westminster police departments top out at $111,700 after five years, while RCMP constables get $106,600. Federal corrections officers top out at $84,000 after five years and Canada Border Services Agency officers at $89,000.
Article content
"I can make more money swinging a hammer somewhere," said another.
The report said the B.C. Sheriff Service offers competitive benefits, job stability and work-life balance.
Unlike police, sheriffs typically work Monday to Friday with no night shifts.
Focus groups told researchers an estimated 40 to 50 per cent of sheriffs have a second job.
slazaruk@postmedia.com
x.com/SusanLazaruk
Bookmark our website and support our journalism: Don't miss the news you need to know — add VancouverSun.com and TheProvince.com to your bookmarks and sign up for our newsletters here.
You can also support our journalism by becoming a digital subscriber: For just $14 a month, you can get unlimited, ad-lite get unlimited, ad-lite access to The Vancouver Sun, The Province, National Post and 13 other Canadian news sites. Support us by subscribing today: The Vancouver Sun | The Province.
Article content