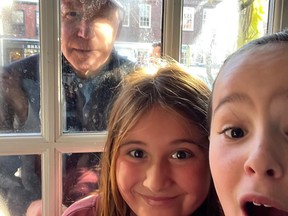 U.S. President Joe Biden looks through window to pose for selfie with two girls.

Photo by Nantucket Current

/

Instagram
U.S. President Joe Biden has been flamed in recent weeks for his interactions with the public, particularly those who are not yet old enough to vote.
Last month, Biden gave a teenage girl dating advice, even though she or her mother weren't looking for any. And this past weekend, he got really up close and personal with two girls.
As the Canadian national soccer teams head to their respective FIFA World Cups, Derek Van Diest is on the scene to cover all the action. Expect expert insights and analysis in your inbox daily throughout the tournaments, and weekly on Thursdays for the rest of the season.
By clicking on the sign up button you consent to receive the above newsletter from Postmedia Network Inc. You may unsubscribe any time by clicking on the unsubscribe link at the bottom of our emails. Postmedia Network Inc. | 365 Bloor Street East, Toronto, Ontario, M4W 3L4 | 416-383-2300
Thanks for signing up!
A welcome email is on its way. If you don't see it, please check your junk folder.
The next issue of Corner Kicks with Derek Van Diest will soon be in your inbox.
Biden was with his family on the island of Nantucket, walking along the main strip, when two girls in a juice shop saw him and started squealing like it was 2014, and he was a member of One Direction.
"There's Joe! Oh my God, hi!" one of the children can be heard screaming as the president walked down the street, sipping a drink through a straw, according to the video on Nantucket Current's Instagram feed.
Biden could have easily strolled right on by, but instead, he stopped, approached the store window and took an up-really-really-close-and-personal look inside the window to see who was fangirling inside.
The president bent low and bowed his head before he removed his sunglasses, waved and flashed a smile. Some found the video pretty adorable and generous of the president.
"Terrific President! His interaction response, showing sensitively & warmth," one person wrote on Twitter.
RECOMMENDED VIDEO
The consensus, though, was that Biden was slightly terrifying.
"This is so creepy," wrote one person commented on the post.
Another added, "If you see this man looking at you through a window…RUN!"
As Joe Biden turns 80, Americans ask 'What's too old?'

Joe Biden appears to fall asleep during interview

ELDER: Facts no longer matter when Biden speaks mistruths