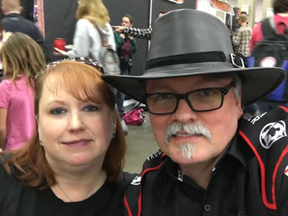 The good Rev. David Evans and his wife Kristie led a double life as swingers.

Photo by SUPPLIED

/

BRITTNEY LONG
Pastor David Evans had some peculiar predilections for a man of the cloth.
The Ada, Oklahoma minister liked sex, and the kinkier it was, the better.
From our newsroom to your inbox at noon, the latest headlines, stories, opinion and photos from the Toronto Sun.
By clicking on the sign up button you consent to receive the above newsletter from Postmedia Network Inc. You may unsubscribe any time by clicking on the unsubscribe link at the bottom of our emails. Postmedia Network Inc. | 365 Bloor Street East, Toronto, Ontario, M4W 3L4 | 416-383-2300
Thanks for signing up!
A welcome email is on its way. If you don't see it, please check your junk folder.
The next issue of Your Midday Sun will soon be in your inbox.
For more than 30 years, the raunchy Reverand and his wife Kristie led a double life. Fire and brimstone Bible punchers by day, sex-crazed swingers by night.
Kristie even bragged she could wear any man out. But did she have a choice in the lurid scenarios she claimed were the wicked machinations of her husband?

THREESOME FOR JESUS. Harmony Free Will Baptist Church where preacher David Evans did his thing. HARMONY FREE WILL BAPTIST CHURCH
During the couple's nocturnal antics at one group sex session at Motel 8, Kristie Evans met Kahlil Square. Rev. Evans wasn't clued in that his wife and the much younger Square were having a serious sexual affair.
On March 22, 2021, someone slipped into the couple's home through an unlocked door while they were sleeping. The playboy preacher was shot to death in his bed, his bride was unharmed.
After the shock and tears began to lift, disturbing stories about Rev. David Evans and his wife began to emerge. They were not the melancholy or funny anecdotes that often follow the death of a beloved figure.
The details were down and dirty, more Penthouse Forum than Old Testament.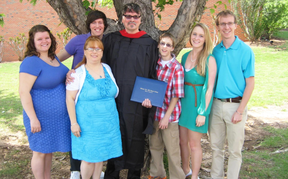 FAMILY SECRETS: Rev. David Evans and family. SUPPLIED/ BRITTNEY LONG
Court documents revealed the Evans' were dedicated swingers with a particular fondness for orgies and group sex.
Evidence included private Facebook messages between the deceased pastor and his wife, obtained by NBC News. In one, David Evans called his wife a "frigid b—-." Her crime was refusing to have sex with other swingers.
What the reverend didn't realize was that his wife was allegedly hot and heavy with Kahlil Square, 27. At some point in early 2021, Kristie Evans decided the preacher had to go.
For her part, Kristie Evans would later tell reporters she tried to leave her perverted, control-freak husband. He reacted by pressing a handgun to her head as she talked to her daughter on the phone.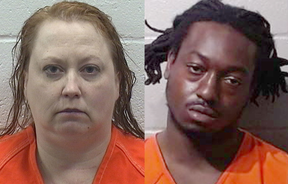 Kristie Evans and Kahlil Square. She bragged she was so good at sex, any man would kill for her. HANDOUT/ OBI
The minister also appeared to delight in watching his wife have sex with other men — lots of them. She would later claim he forced her to have sex with between 50 and 100 men, often in multiples.
"There wasn't a whole lot of talk. It was just sex," she said, adding her husband found like-minded horndogs via Craigslist.
Kristie Evans was at her limit. She allegedly convinced Square it was time to turn Pastor David Evans into a grease spot. She was accused of giving Square the gun and the bullets to boot. The minister was done like dinner.
Homicide detectives almost always start by looking at the people closest to murder victims. That meant Kristie Evans.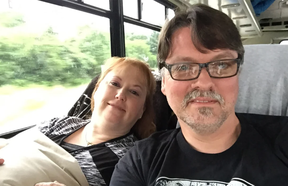 Rev. David Evans forced his wife Kristie to have group sex with 50 to 100 different men. SUPPLIED/ BRITTNEY LONG
In April, she pleaded guilty to eliminating the stalwart of the Harmony Freewill Baptist Church. And in August, she was sentenced to life in prison but with the possibility of parole.
Family, friends and Evans' lawyer, Joi Miskel were "shocked and disappointed" with the sentence.
Miskel told KTEN that Evans "already served her sentence for 30 years of abuse."
While the judge told the court that Evans' "remorse is real and it was from the very beginning," he also pointed to letters she wrote to her lover Kahlil Square and another inmate from prison as evidence to the contrary.
Of note were her claims that she could "wear a man out" and "any man would have done it (killed) for me after I got through with him."
Her lawyer pinned the bodacious talk on Kristie Evans' decades of degradation at the hands of her husband. She was conditioned to seek "positive feedback from her husband when she would perform sexually for him."
Daughter Brittney Long said in a statement: "My mom spent three decades of her life caged and controlled. (My mother said) more than once that she still prefers her life now to the life she had been living since 1991."
"After thirty years, she knew it was to the point that it was either her life or his life, so my mom did what it took to survive."
Kristie Evans lawyer added that the pastor was no better than a pimp.
"For the last five years, he pretty much farmed her out and had men have sex with her, sometimes multiples at a time and she had no choice in it," Miskel said. "They humiliated her, degraded her. She felt like she couldn't get out of the situation."
Square, her lover and alleged partner crime, has been charged with first-degree murder. He has pleaded not guilty.
bhunter@postmedia.com
@HunterTOSun