Special rapporteur's personal and professional connections go back decades: 'He's obviously both in love with and infatuated by the PRC'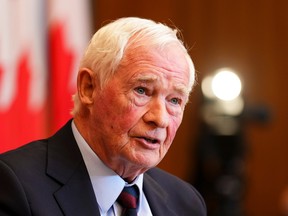 David Johnston, Independent Special Rapporteur on Foreign Interference, presents his first report in Ottawa on May 23.

Photo by Sean Kilpatrick

/

The Canadian Press
David Johnston mentioned it repeatedly in speeches and media interviews, a source of pride and an emblem of his family's closeness to an important nation.
Three of the former governor general's five daughters spent at least part of their university years studying in China, he would note, one of them learning to speak Mandarin.
"Johnston said frankly that he has also noticed some changes in his daughters after staying in China," said a China News Service account of a 2013 speech. "They are more curious, they know how to think critically, and their thinking and vision are more broadened."
But the Johnston children's ties to Chinese post-secondary education form just one part of their father's decades-long, enthusiastic embrace of the People's Republic of China (PRC).
As the top administrator at two major universities, then the Queen's representative in Canada, he visited China a dozen times, helped set up a Confucius Institute branch and other co-operative ventures with Chinese universities, encouraged engagement with China even after it detained two seemingly innocent Canadians, and talked of one college there being his "home away from home."
David Johnston resigns as special rapporteur into foreign interference

Johnston tells MPs he will not step down, will continue investigation into foreign interference
Johnston met with President Xi Jinping literally at the same time that a Nobel-winning Chinese dissident died of cancer while under guard, later touting the "warm welcome" he received from Xi.
An abiding affection for one of the world's great civilizations is nothing scandalous in and of itself. But with Johnston resigning as the Liberal government's independent special rapporteur on foreign election interference Friday amid growing controversy, his extensive China connections raise a nagging question. Could he ever have been an impartial arbiter on an issue that puts Beijing front and centre?
Johnston's initial report, advising against holding a public inquiry on interference and downplaying media reports of Beijing's meddling, only heightened that concern.
His ties to Prime Minister Justin Trudeau and the Pierre Elliott Trudeau Foundation — mired in controversy over a donation from Beijing-linked business people — have been the main focus of charges that the 81-year-old is less than an independent rapporteur. But Johnston also acted as an adviser for and was appointed governor general by previous Conservative governments during a highly distinguished, largely non-partisan career.
The China links are arguably more relevant. For some Beijing critics, at least, they point to an undeniable bias.
"Unless Johnston is a superhuman, he can't be objective in addressing the questions of Chinese interference and influence in Canada," said Ivy Li of the group Canadian Friends of Hong Kong in an interview before Johnston resigned.
"He's obviously both in love with and infatuated by the PRC. When you are madly in love with someone, you want to be close to that person. You want to be loved by that person. You won't do anything to jeopardize the relationship and you can't see, or don't want to see, the ugly side of that person."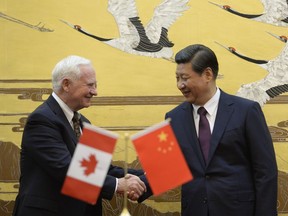 Canada's Governor General David Johnston shakes hands with Chinese President Xi Jinping after a signing ceremony at the Great Hall of the People in Beijing on October 18, 2013.

Photo by KOTA ENDO

/

AFP/Getty Images
In some ways, Johnston's fondness for the country was typical of many Canadians in the wake of China's opening up to the outside world and to freer enterprise in the 1980s. The economic miracle engineered by the Chinese Communist Party lifted tens of millions from poverty and made the country a trading colossus, giving Canada both a rich new market for its goods and services and a source of inexpensive consumer products.
All of that raised hopes of a political liberalization, too, another reason to engage with what was until recently the world's most-populous nation.
In fact, China has grown increasingly autocratic since Xi took power in 2013, while reports of its interference in Canada date back even further, notes Mehmet Tohti of the Uyghur Rights Advocacy Project. Yet Johnston's perspective on China didn't seem to change markedly, he charged.
"Many people had that kind of optimistic view of China, and many of them changed that: 'This is not the China I was hoping for, it's completely different,' " said Tohti. "He should be the last person to do this (rapporteur) job."
But Valérie Gervais, a spokesman for Johnston, said the report he released is itself proof he is anything but biased in favour of China or against exposing its malign actions in Canada.
"The independent special rapporteur has been very clear that the Peoples Republic of China is working in hostile and clandestine ways to undermine Canada's democratic institutions," said Gervais. "This hostile behaviour is unacceptable and must be stopped."
"His work has already identified serious gaps in Canada's national security infrastructure which must be urgently addressed to detect, deter and combat foreign interference by the PRC and others."
Gervais did not respond to questions about whether his views on engagement have changed, but said all his trips were paid for by his employers at the time.
Johnston has said his first visit to China came in 1981 while principal of McGill University, when he arranged a "medical exchange" deal between the Montreal school and the Peking Union Medical College.
It was the beginning of what he would later describe as 30-plus years of fascination with the country. Johnston told Chinese reporters before his 2013 visit as governor general he had a "long-standing affection with the Chinese people" and a "very personal interest" in the nation. An article on the Chongquing University website during a 2017 China trip quotes him as saying he had a "profound Chinese complex."
By 1999 he was president of the University of Waterloo and again visiting China and building connections. Those included setting up a sort of satellite campus at Nanjing University — the Sino-Canadian College — and a branch of China's Confucius Institute at Waterloo-affiliated Renison College. Though promoted by Beijing as an apolitical exporter of Chinese language and culture, the institute is widely accused in the West of being a covert instrument of propaganda and possibly even espionage.
While governor general, Johnston described Nanjing University as being like his "alma mater" or "home away from home," according to China News Service.
Meanwhile, as one of the world's top engineering-focused universities, Waterloo developed another China-related distinction. From 2006 to 2017 (Johnston left in 2010) its faculty members published more than 100 papers in collaboration with Chinese military scientists, the fourth most of any university in the world, according to a 2018 report by the Australian Strategic Policy Institute. McGill came in at number 10 on the international list (just behind the University of Toronto).
Amid concern that such links were helping empower the military of a geopolitical rival, the federal government recently said it would stop funding Canadian research that involves People's Liberation Army scientists.
As he pursued academic co-operation with China on one level, Johnston's children followed suit on another. Debbie studied at Zeijing and Nanjing Universities, Alex spent two years at Beijing Language and Culture University and Hangzhou University, while Jenifer spent eight months at Fudan University as part a Master's degree at Queen's University, their father said in a 2013 speech.
When you are madly in love with someone, you want to be close to that person
Johnston became governor general in 2010, as then-Prime Minister Stephen Harper's government pursued increased trade with Beijing -— much like administrations throughout the Western world. Harper's vice-regal representative seemed to be on board with that goal.
In a speech during his 2013 visit to China, Johnston extolled the ties already forged, said there was "so much to gain" from tighter connections and urged broadening "our mutual comprehension." He said he was "delighted" by the warmth and cordiality of Xi's greeting.
Johnston travelled to China again in 2017, meeting once more with Xi. Also on the trip was then-NDP Leader Tom Mulcair, who recently recalled a chilling incident during the state dinner with the president. Xi abruptly left the event and returned later, at which point the Canadians noticed that their electronic devices no longer worked, Mulcair recalled in a column for CTV. It turned out that as they dined, Nobel-winning dissident Liu Xiabo had died of cancer while under guard.
Canada's then-ambassador to China, John McCallum, has said Johnston spent 10 minutes earlier raising concerns about Liu's treatment with Xi. But publicly the governor general — albeit restricted by his largely ceremonial role — said little about the dissident. In a press release, Johnston praised Xi's "warm welcome," and two paragraphs later said he was "deeply saddened" by Liu's death.
For many Canadians, excitement about an opening-up, liberalizing China finally turned sour four years ago after Canada arrested a Huawei executive under its extradition treaty with the U.S. In response, China detained in spartan conditions Canadians Michael Spavor and Michael Kovrig, while elevating the punishment for alleged Canadian drug dealer Robert Schellenberg from 15 years in jail to death.
Prime Minister Justin Trudeau, himself a proponent of closer ties with China, decried what he called arbitrary imprisonments. Others branded it hostage diplomacy.
Asked about the incident on Business News Network in January 2019, Johnston admitted Canada was in a "difficult position" but pitched more, not less engagement with Beijing.
"The rise of the East is very real — China, India, other countries in Asia are advancing," he told BNN. "It's important that Canada not only diversifies outside of our own borders but well beyond the United States and be able to embrace those rising economies … and be able to conduct business relations with cultures that are dramatically different than our own and in some cases government structures that are dramatically different than our own."