Column: City staff want to enable construction of thousands of rental homes that have been approved but not built.
Get the latest from Dan Fumano straight to your inbox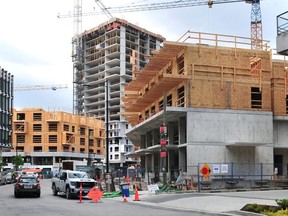 Residential construction at the River District.

Photo by NICK PROCAYLO

/

00101225A
In recent years, Vancouver city hall has crafted policies to encourage private-sector developers to build more market and below-market rental homes. The good news, city staff say, is many developers now want to build this housing.
The bad news, they say, is the current financial environment. Soaring construction costs and interest rates means it's harder to get projects built.
Article content
Article content
City figures show 70 rental projects have been approved — including about 8,350 market rentals and 1,150 below-market homes — and have not begun construction.
Now, Vancouver's planning department is proposing policy amendments they say could boost building of thousands of needed market and below-market rentals. The trade-off is making the below-market homes less affordable and loosening rent-control rules.
The proposal, released Wednesday, will be unpopular with some.
But city staff say the below-market rental policies approved in 2017 are not working in today's environment. And, they say, increasing starting rents for below-market units and changing the rent-control mechanism will be worthwhile if it means these homes actually get built.
The city has policies meant to push for-profit developers to build projects combining about 80 per cent market rental housing with 20 per cent below-market units.
This started with a moderate income rental housing pilot project in 2017, but similar below-market rental policies were included in subsequent plans affecting neighbourhoods in every corner of the city.
By signing up you consent to receive the above newsletter from Postmedia Network Inc.
Thanks for signing up!
A welcome email is on its way. If you don't see it, please check your junk folder.
The next issue of Informed Opinion will soon be in your inbox.
Article content
Article content
"But all of them use a slightly different approach to how we structure below-market (rentals), and it's a little bit crazy-making, frankly," said Dan Garrison, Vancouver's director of housing policy.
Next week, council will consider staff's proposal to align these below-market policies to make projects easier for staff to process and more viable for builders to finance and build.
The changes to starting rents would vary depending on unit types and when specific projects were approved.
In certain cases, the new starting rents could be marginally lower than what was previously approved.
But in most cases, the proposed policy would mean higher starting rents in below-market units. It could mean rents as much as 13 per cent higher, with some two-bedrooms increasing to $1,818 a month from the previous limit of $1,600 a month.
"We're trying to shift to a standardized program that's creating thousands of units. There's about 15,000 or 16,000 units of rental housing trying to move through this pipeline," Garrison said.
The original 2017 pilot capped starting rents using a formula based on median renter incomes at that time. Now, staff propose changing the policies so all below-market units are set at 20 per cent less than citywide average rents calculated by the Canada Mortgage and Housing Corporation.
Article content
When the pilot launched in 2017, initially "the development industry was excited," Garrison said. "Because of the amount of height and density, they thought: 'Oh you're finally trying to work with us on delivering an affordable rental product, and we're interested.'"
But that initial surge of interest did not produce the desired results. After the city received 60 applications from developers for the 2017 pilot project, only 16 projects went ahead. Nine projects are under construction, and none have been completed.
Many projects were abandoned because developers couldn't get financing from lenders because of the rent limits, this week's staff report says.
Staff also recommend loosening the allowable rent increases for below-market units.
The pilot program did not allow annual increases to "reflect changes in renter incomes or market conditions such as inflation or rising operating costs," the staff report says.
In hindsight, that rent-control design was "a mistake," Garrison said. "But … that's the purpose of a pilot. We tried something out. Some aspects of it went well, others didn't work."
Article content
Now, staff propose allowing rents to adjust when tenants turn over, to 20 per cent above the current average.
This would allow rents to change over time as market conditions change, but with discounts "permanently secured for the life of the building," said Jessie Singer, a housing policy planner with the city.
These projects were never intended to be deeply affordable for very low-income renters, Singer said, but for moderate incomes — defined in the 2017 pilot as households earning between $30,000 and $80,000.
The housing crisis will require different programs to serve different populations, Singer said. But, she said, if city hall can make this program work, so that private developers are building thousands of below-market rentals over the coming years without city funding, then planners can focus on more deeply affordable housing, which typically requires direct government funding.
Coincidentally, the staff report was released one day after the provincial government announced new housing-production targets for 10 B.C. municipalities. This includes a target of 28,900 net new homes for Vancouver, with most expected to be rentals.
Article content
Responding to news of the targets, ABC Vancouver Mayor Ken Sim wrote on social media that his city will introduce "bold new steps so Vancouverites have attainable homes they can afford to live in."
Every member of Vancouver's council has stated a commitment to boosting housing supply, especially rentals.
For some, a proposal that make rents less affordable is tough to swallow. Anti-poverty activist and former Vancouver Coun. Jean Swanson doesn't think developers should get "a whole bunch of concessions to make expensive rental housing."
Garrison acknowledged: "There will likely be a range of opinions around this."
But, he said: "We'd rather have these projects get built."
dfumano@postmedia.com
twitter.com/fumano
Stay up to date with the latest news from Vancouver City Hall: Click here to read more stories from Dan Fumano or sign up here to have them emailed straight to your inbox.
Related Stories
Dan Fumano: Vancouver business community questions scrapping of Economic Commission

Dan Fumano: B.C. cabinet ministers peppered with housing-related woes at UBCM

'A united voice': Metro Vancouver mayors band together for transit funding appeal
Bookmark our website and support our journalism: Don't miss the news you need to know — add VancouverSun.com and TheProvince.com to your bookmarks and sign up for our newsletters here.
You can also support our journalism by becoming a digital subscriber: For just $14 a month, you can get unlimited ad-lite access to The Vancouver Sun, The Province, National Post and 13 other Canadian news sites. Support us by subscribing today: The Vancouver Sun | The Province.
Article content