"The people of Ottawa have a clear choice between Catherine's vision for Ottawa and my vision for Ottawa," Sutcliffe told this newspaper's editorial board.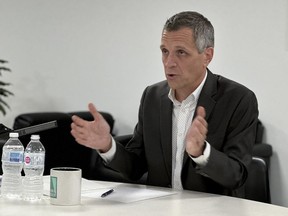 Mayoral candidate Mark Sutcliffe sat down with this newspaper's editorial board on Tuesday, Sep. 27, 2022.

Photo by ERROL MCGIHON

/

Postmedia
Mayoral candidate Mark Sutcliffe makes a clear distinction between the paths he and Catherine McKenney are taking, in what he describes as essentially a two-person race for the city's top job.
His is that of the balanced conciliator willing to listen to and work with others, regardless of where on the political spectrum they call home. His tenure, he promises, will not see a polarizing "Sutcliffe Club" on city council, of the sort for which Mayor Jim Watson was frequently criticized. The path he's walking, then, is straight down the middle of the road, a road where pedestrians, cyclists, motorists and public-transit users will somehow sort out their differences without a war being waged on one or the other.
Sign up to receive daily headline news from Ottawa Citizen, a division of Postmedia Network Inc.
By clicking on the sign up button you consent to receive the above newsletter from Postmedia Network Inc. You may unsubscribe any time by clicking on the unsubscribe link at the bottom of our emails. Postmedia Network Inc. | 365 Bloor Street East, Toronto, Ontario, M4W 3L4 | 416-383-2300
Thanks for signing up!
A welcome email is on its way. If you don't see it, please check your junk folder.
The next issue of Ottawa Citizen Headline News will soon be in your inbox.
By contrast, the path McKenney is on, he believes, represents a "hard left turn," despite what Sutcliffe claims are more recent efforts by the "activist" McKenney to appeal to centrist voters.
"The people of Ottawa have a clear choice between Catherine's vision for Ottawa and my vision for Ottawa," he said Tuesday in a 75-minute discussion with this newspaper's editorial board.
Sutcliffe also told this newspaper he:
Sutcliffe's platform includes about 120 promises to fix LRT, improve roads, hire more police and paramedics and address homelessness, mental health and housing issues, among other initiatives, while at the same time keeping taxes low.
"There's a lot of anxiety about the future of Ottawa. There's a lot of immediate anxiety around issues like affordability and the future of downtown and the future of our economy, and housing, and other issues like that," he said, arguing those problems need a balanced, practical approach.
"I think the platform that Catherine is proposing is one that is going to be expensive. It's going to result in bigger tax increases."
McKenney (who uses they/them pronouns) has promised to spend $250 million over the next four years to improve Ottawa's cycling network. They have also vowed to end chronic and family homelessness in Ottawa during their first term; freeze public transit fares — and make it free to those 17 and younger, and move Ottawa to net zero emissions by 2050.
Indeed, it appears that Sutcliffe's fundamental differences with McKenney were a factor in his decision in June to run for the top job. He denied the suggestion that Watson or anyone else put him up to running, conceding only that numerous people over the years have suggested he run for office.
"If you'd asked me, in March or April, I would have said, 'I will probably never run for office. I'm happy with the life I have now.' But increasingly, I heard more and more concerns about the future of Ottawa, and I saw a race that was shaping up without a strong, balanced approach being on the table."
That balanced approach would not, for example, borrow $250 million for bike lanes, a swipe at McKenney's plan.
"It's a great idea to think 'Let's make Ottawa a world-class cycling city.' But we have a lot of winter in Ottawa. And we have a lot of roads that need repairing. And we have to make choices. If you're investing $250 million in bike lanes, you're not investing somewhere else. That's just a reality."
On Tuesday, he said that he thought he could keep tax increases low by finding efficiencies and improvements in the city's operations without job losses or "cutting significantly into the services that people want and care about."
Sutcliffe reiterated that he would not be a "big projects" type of mayor.
"I have kids — maybe someday I'll have grandkids — and I want them to grow up in the same kind of city I grew up in, that was safe and affordable."
Sutcliffe's vision for Ottawa isn't what a lot of people would describe as particularly "visionary." That is, it's safe rather than imaginative, more cautious than daring. It is, in a word, very Ottawa. And he's right that voters have a choice of two very different paths.
bdeachman@postmedia.com
Beyond the big three, Ottawa's mayoral hopefuls struggle to be heard

Ottawa mayoral candidate Mark Sutcliffe on transportation plan: 'I'm not going to declare war on cars'