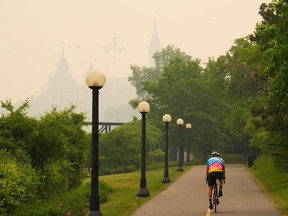 A cyclist rides as smoke from wildfires in Ontario and Quebec obscures Parliament Hill in Ottawa on Tuesday, June 6, 2023. What seems evident is the role that climate change plays in all this. People need to push the people they voted for to make changes.

Photo by Sean Kilpatrick

/

The Canadian Press
An acquaintance remarked to me on Wednesday as we entered a ByWard Market deli to grab a lunchtime sandwich: "It's kind of weird to be wearing a mask outside and then taking it off when going inside a store."
It did feel a little strange. After acclimatizing ourselves to wearing masks, especially indoors, to mitigate a global pandemic from which we've only recently and cautiously been emerging, another threat has been making us reach for those same masks again: the smog from the wildfires that are burning across Canada.
Wednesday, incidentally, was national "Clean Air Day."
There's no single cause of the fires. According to Environment Canada senior climatologist David Phillips, many are started by lightning, although that particular season is still weeks away from its peak. Others are man-made, some no doubt on purpose; others through accident, ignorance or neglect, or changing human practices, the latter including, for example, building homes within forests but without proper fire-retardant materials. Phillips estimates a 60/40 split, depending on the region and time of year, but admits he doesn't know on which side the various causes fall.
"If it was red heat for nature and green heat for people, well, then we could work this out," he says.
At the University of Guelph's Climate & Ecosystem Dynamics Research Lab, associate professor Ze'ev Gedalof estimates that about one-third of the fires in the Ottawa area are man-made.
What seems evident, though, is the role that climate change plays in all this.
Climate change itself doesn't cause fires, but it creates conditions that can increase their frequency, size and intensity, similar to how extreme weather events that formerly struck just once every century or so — floods, for example — are now occurring more often. Research done by the University of California found that a one-degree Celsius increase in temperature increases the frequency of lightning strikes by 12 per cent.
"Climate change doesn't trigger it," says Phillips, "but it makes it worse. And that's the issue here."
As I ate my sandwich Wednesday, I thought that an outdoor meal might not have been the best idea. I'd noticed runners out and about and considered the wisdom of that activity. I love a good campfire, but I know they're not healthy. What about this Canada-wide campfire?
Elisabeth Gilmore, associate professor of Environmental Engineering and Public Policy at Carleton University, warns of the health hazards posed by the fine particulate matter from wildfires.
"The studies are incredibly clear on this," she says. "Fine particulate matter affects the health of everyone, healthy or not.
"What most of us can do is stay indoors and avoid exercising," she adds. "You can wear a mask. These aren't necessarily things that you want to be doing, but air pollution is very dangerous."
Children and the elderly are particularly susceptible, but so, too, are those with pre-existing health conditions, those who work outdoors, and people, such as Ottawa's homeless population, who can't stay indoors or simply turn on a HEPA filter.
Officials have been also urging residents to take steps to protect themselves (wear a mask, stay inside, drink water) and the most vulnerable, and to raise awareness of things like the air quality index, so that others can make informed decisions.
These are the sorts of clarion calls we've been hearing for years, and a line of Ebenezer Scrooge's came to mind when I heard about children's birthday parties being moved indoors this week: "Are these the shadows of the things that will be, or are they shadows of things that may be, only?"
It increasingly feels like the former. Gedalof points out that it would already take many decades for the planet to right itself, even if humans immediately ceased burning fossil fuels. "We're out of equilibrium with the radiative forcing caused by greenhouse gases." In other words, things are going to get worse before they get better.
But no one I spoke with, including Gedalof, seemed ready to give up. There are things that can be done, but they require change, both in behaviour and political will. Public transit plays a role, as does planning our urban growth. Phillips recommends more provincial burn bans and monitoring traffic in potential hotspots. Forest management practices need to change, as do building requirements.
"With a longer, more severe fire season, and more people building in the wildland/urban interface, we need to do things like use metal roofs," says Gedalof. "Don't stack your firewood against your house, trim the branches that overlean your house.
"We all want more trees," he adds, "and we want to see the energy savings that come with having them, but that also comes with an increased risk."
Locally, there are actions residents can take to help mitigate what's happening. You can plant trees on your property, says Alice Irene Whittaker, executive director of Ecology Ottawa, and ensure that existing ones aren't cut down, if possible. But perhaps more significantly, they should remind elected officials that this is important.
Ottawa's urban forest management plan, Whittaker notes, says that the city needs 40 per cent canopy tree cover.
"Not just for the city, but for every neighbourhood," she says. "So reaching out to your councillor and saying, 'Make sure that the urban forest management plan is fully funded and that it's implemented' is really one of the most powerful things that individual residents can do: speak up and express how important it is."
And it is.
We need to take responsibility and tell the people we elected to make our lives better to do the same.
Visit https://ottawa.ca/en/city-hall/mayor-and-city-councillors to find out who your councillor is.
Visit https://www.ola.org/en/members/current to find out who your Ontario MPP is.
Visit https://www.ourcommons.ca/members/en/search to find out who your federal MP is.
Deachman: Forget the Sens. Ottawa's real sports drama is unfolding on its pickleball courts

Deachman: Almost every farmer has vacated the once vibrant ByWard Market. How do we get them back?