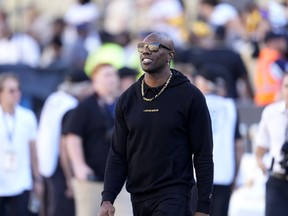 Retired NFL football player Terrell Owens greets Colorado players before an NCAA college football game against Nebraska, Saturday, Sept. 9, 2023, in Boulder, Colo.

Photo by David Zalubowski

/

THE ASSOCIATED PRESS
One of Trevon Hamlet's core memories from attending the University of Colorado is living on campus his freshman year and being able to count on one hand how many Black people he'd see in a day.
Hamlet, who played lacrosse at Colorado from 2014-19 and still lives in the area, was the only Black person on his team in a school where African American students made up less than 2% of the population. He said a lot of those Black students were athletes.
Article content
Article content
Four years after Hamlet graduated, Colorado's student makeup doesn't look much different. But football coach Deion Sanders has turned the Boulder campus into an unexpected cultural phenomenon, where the vivacity and early success of the team has forced the attention of even those who don't watch college football, with a lot of support coming from the Black community.
"There's so much Blackness that's involved in this, and it's the biggest story in the country," Hamlet said. "Although you have standard supporters from CU, you have so many different people that are now getting behind this, and it feels like there's people getting behind the Black community. Deion's really promoting the Black community. I feel like it's our turn."
Black creators are posting about Colorado football online. Black people all over the country are wearing Buffaloes gear and rooting for the team despite having no connection to Colorado other than pride and support for what Sanders is doing. Kids have tried to peek over the gates near the Buffaloes' practice facility for a glimpse at it all.
Article content
More than 7 million people watched the Buffaloes upset last year's national championship runner-up TCU in their season opener on Sept. 2, the most-watched college football game that day.
Colorado's first three games of the season were rated 77% higher among Black viewers than anywhere else in the country, according to data provided by ESPN research. Black viewers made up 23% of the audience for those games, compared with 15% for non-Colorado games.
Then-No. 10 Oregon handed the Buffaloes their first loss in a 42-6 rout last Saturday that knocked the Buffaloes out of the AP Top 25. Looking at their schedule, more setbacks are likely — but Black support for Sanders and Colorado is as much about culture and representation as it is wins and losses. That game was the most-watched of the 2023 season, drawing 10.4 million viewers on ABC, and the Buffaloes have a highly anticipated matchup against No. 8 Southern California coming up Saturday.
Former athletes and celebrities have made appearances at Colorado's Folsom Field — from Pro Football Hall of Famers Michael Irvin and Terrell Owens to Kawhi Leonard and Kyle Lowry of the NBA. Before the rivalry game against Colorado State, Sanders walked out with the Grammy-winning rapper Lil Wayne.
Article content
"We don't really have very much of a Black community," said Reiland Rabaka, the director of the Center for African and African American Studies at Colorado. Boulder has an African American population of 1.1%. "I've been here for nearly 20 years. I've never seen anything like this."
Sanders, the former football and baseball star, has embraced stardom in a way unlike other athletes since he wore flashy sunglasses and layers of chains in his playing days, and he has carried that aura with him as a coach. He speaks with a pastoral vibrato and has a contemporary-yet-principled coaching style, and he makes headlines with idiosyncratic sayings like: "I'm not a monument. I'm a moment."
Sanders has also been vocal about issues that affect the Black community — including the need for more attention and resources to be poured into historically Black colleges and universities — and about his mission to inject a new culture into Colorado football. He's made it clear that he's not changing, no matter the amount of criticism that his coaching style has received.
"Not everybody wants to hear the truth all the time, but he tells the truth," said Washington Commanders offensive coordinator Eric Bieniemy, a tailback at Colorado from 1987-90 and still the Buffaloes' career rushing leader. "And the only thing he's doing, he's helping those young men by teaching them at an early age what accountability is about. And so that's what I admire about him."
Article content
Colorado won four conference championships from 1989-91 and 2001, as well as a national title in 1990. That was the last time that Darian Hagan, Colorado's quarterback from 1988-1991, had seen so much excitement around the program before Sanders' arrival.
"I have a 78-year-old aunt, and she calls me after every game telling me how proud she is of our program and of Sanders," Hagan said. "Just to have a 78-year-old woman staying up late to watch football games, it tells you a lot about people and the belief that we have in him."
Sanders' early Colorado tenure conjures memories of pioneering college basketball coach John Thompson, whose Georgetown Hoyas were an anomaly on a predominantly white campus but garnered the unwavering support of the hip-hop and Black community.
The 6-foot-10 Thompson became the first Black coach to win an NCAA Division I basketball championship and was just as outspoken on social issues.
Sanders' Buffaloes aren't in the championship neighborhood yet, but like what happened at Georgetown, the momentum building at Colorado transcends sports.
Article content
"I was a DePaul fan growing up and I rooted for them," said Randall Crutcher, a former Creighton basketball player from the Chicago area. "But not when they played against John Thompson. I rooted for Georgetown. I'm rooting for the Black team."
Crutcher lives in an Omaha suburb and became a Nebraska football fan after attending college in the state, but he rooted against the Cornhuskers when they played the Buffaloes.
Colorado hired Sanders last December to turn around a dormant program that won one game in 2022. Sanders was coming off three successful seasons as the head coach at Jackson State, leading the Tigers to consecutive Southwestern Athletic Conference titles and putting a national spotlight on HBCUs and their culture.
For Hamlet, Sanders represents an assuagement of the stereotypes of what Black men can to do achieve success.
"Being in a school that's predominantly white, I've always felt that I had to change who I am to be successful," Hamlet said. "It's so nice to see a Black man do what he's doing — have so much influence, have so much power, so much authenticity — that shows that our culture does not have to be modified to be great."
Article content
Rabaka said Black people can see part of themselves in Sanders, who was raised in Fort Myers, Florida, mostly by his mother, and his ability to transform his life through sports.
What also will continue to resonate with people is Sanders' commitment to building up the Black community outside of football and embracing the same ideals of hip-hop culture, Rabaka added.
"Instead of dissing these young kids that come out of very similar conditions as Coach Prime did, he actually embraces them and just is challenging us to use our platforms progressively," Rabaka said. "So don't just help yourself, how about helping somebody else? And that fits in with the hip-hop aesthetic whenever we say, 'Each one teach one.' That's very basic to old school hip-hop culture."
___
AP Sports Writers Cliff Brunt and Joe Reedy contributed to this report.
___
AP college football: https://apnews.com/hub/college-football and https://apnews.com/hub/ap-top-25-college-football-poll
Article content