At best, politics is about bringing people together to find a solution. This is not what I saw at Ottawa City Hall in the last few years.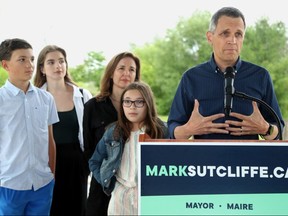 Mark Sutcliff, surrounded by his family, was the mayor last week. Announced the candidacy of.
Photo: Julie Oliver / Post Media
Finally, Ottawa has an interesting mayoral race. Mark Satcliff's candidacy for broadcasters, entrepreneurs, and community volunteers is either a person who doesn't share the worldview of progressive city council member Catherine McKenny, or former mayor Bob Chiarelli, 80, who is his political affair. It's an attractive option for anyone who thinks they're past the prime minister.
Years of hosting talk radio, Sutcliffe is familiar to many Ottawans who know him as a fair and informed interviewer. , Not only that. Serial entrepreneur Sutcliff has started many businesses, including the Ottawa Business Journal. He is a member of many community committees and chairs the United Way and Ottawa Trade Committees. Although he is new to politics, Sutcliff has been fully engaged in city life for decades.
Now, Sutcliff wants to add the mayor to his resume. He said in an interview his decision to carry out was something he didn't expect to take. By resigning Mayor Jim Watson, Sutcliff envisioned that some city council members would vie for open work. In the end, they didn't, and Sutcliff felt the need for a wise centrist in the race.
Sutcliff's obvious weakness is that he has never been elected to power and now wants to start with the city's top jobs. The new candidate has no election experience, but points out that he has leadership experience in the business and voluntary sectors. Over the years he has tracked urban issues in detail, interviewed politicians, and held election debates.
At best, politics is to bring people together to find a solution. This has not been seen in the last few years at Ottawa City Hall. The mayor ignited a split council rather than trying to constructively involve people who were not on the team.
Sutcliff wants to change that tone. It has been postponed for a long time. He has established himself as a nonpartisan leader with the willingness and ability to work with all councilors. It's almost the definition of the mayor's job. In his bright, middle-class style, Sutcliffe was often a booster in his hometown during his journalistic career. That's not a bad thing for the mayor.
Although there is no detailed platform yet, Sutcliff has identified some important areas of interest. He wants a safe, reliable and affordable city. This is a simple statement that he is interested in the cause of the crime, wants the LRT to actually work, and does not want a significant tax increase.
It is not yet clear how he will achieve these goals. Crime is a complex issue and the mayor does not run the light rail. Inflation also affects the cost of the city, and controlling taxes is a major challenge as some areas, such as road repairs, are underfunded.
Sutcliff's campaign announcement showed some political knowledge. While he lived in the West Wellington district, the candidate chose to make his presentation in Kanata. He emphasized that he listens to suburban and local voters. Support from these regions is the key to winning the October elections.
Sutcliff has always balanced optimism and realism. Yes, there is a problem in the city, but Sutcliff believes we can work together to solve the problem. If he is elected mayor, that's what he wants to do. This is a refreshing change from a veteran councilor, who says the city hall's operations are very confusing and will take eight years to fix.
Sutcliff represents an important demographic of Ottawa, a city that is particularly well-stocked with non-partisan rational people. This is especially true at the local government level. We all want a city that works efficiently and a leader who can bring out the best in us.
If Mark Sutcliff can convince voters to support him, he could restore people's confidence in urban politics. It is urgently needed.
Randall Denry is an Ottawa political critic and writer. Contact him at randalldenley1@gmail.com
Daily headline news from Ottawa Citizen, a division of Postmedia Network Inc. Please sign up to receive. By clicking the
sign-up button, you agree to receive the above newsletter from Postmedia Network Inc. You can unsubscribe at any time by clicking the unsubscribe link at the bottom of the email. Postmedia Network Inc. | 365 Bloor Street East, Toronto, Ontario, M4W 3L4 | 416-383-2300
Thank you for registering.
A welcome email has been sent. If you don't see it, check your junk folder.
The next issue of Ottawa CitizenHeadlineNews will arrive in your inbox shortly.