Supervised injection sites do save some lives. But the positives must be weighed against the collective damage suffered by everyone else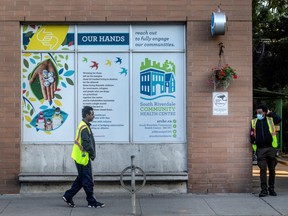 Security guards outside of The South Riverdale Community Health Centre in Leslieville where local resident Carolina Huber-Makurat was killed by a stray bullet across the street during an altercation, Friday August 18, 2023.
Photo by Peter J. Thompson/National Post
One would assume that a newspaper like the Toronto Star is interested in reporting on serious threats to the safety of the children in its city. When it comes to those children who live and go to school near supervised injection sites, however, that concern seems to evaporate.
Harm reduction researchers wasted no time last month penning arguments to defend supervised consumption sites after their safety was called into question, following violence at a facility east of downtown Toronto. Clearly, advocates felt under siege after the killing of Karolina Huebner-Makurat, a mother of two felled by gunfire from warring drug dealers just outside the South Riverdale Community Health Centre in Toronto's Leslieville neighbourhood on July 7, and the subsequent arrest of a supervised injection site worker at the centre for aiding and abetting one of those alleged drug dealers in the aftermath.
The Star welcomed these opinion pieces with open arms.
The first harm-reduction-no-matter-the-cost author out of the gate was Madeleine Ritts, from York University's School of Social Work. On Aug. 25, the Star published Ritts' opinion piece: "Don't blame supervised consumption sites for gun crimes — they save lives."
Ritts cautioned readers "not to draw the wrong lessons" from the death of Huebner-Makurat. The quasi-patronizing false equivalency made by Ritts was this: just because one mother has been murdered and supervised consumption sites are now consequently being scrutinized, hundreds of lives would "lie in the balance" if these services were to be lost.
Ritts then classifies parents like me, who live across the street from the South Riverdale supervised injection site and have been raising safety concerns for a long time (only to be ignored), as "opportunistic opponents" — a group "trying to exploit the public's grief to undermine the hard-won shift in support for (supervised consumption site) services."
The murder of Huebner-Makurat was unfortunate, according to Ritts, but closing supervised injection sites would not prevent or deter the gun violence that left a family without a wife and mother.
Just four days after Ritts' opinion piece, the Star published another, with an even more singular focus on guns: "Ending the overdose crisis is not at odds with keeping our communities safe from violence" by Dan Werb, the director of the Centre on Drug Policy Evaluation at St. Michael's Hospital.
Werb starts his argument with a hard-boiled lede, describing a grandmother of three gunned down outside of her home, like Huebner-Makurat, another "blameless bystander." Three months later, another man in his 20s was also shot, with police ultimately concluding both deaths were drug-related crimes.
Then Werb pulls a fast one on his unsuspecting readers: "Given a recent spate of gun violence in Leslieville," he writes, "you'd be forgiven for thinking that the episode I've described above took place this summer. But it does not: these shootings all occurred in the summer and fall of 2016."
For the rest of the piece, Werb essentially repeats Ritts: closing supervised injection sites "would do nothing to end shootings" — after all, there were drug-related shootings before Leslieville's safe injection site opened in late 2017 — but would "undermine efforts to end Toronto's overdose crisis."
The fatal flaw in Werb's argument — if you can set aside the fact that two of the 2016 shootings he cites did not occur in Leslieville — is that the only crime he writes about is gun violence. What Werb (and Ritts) ignore — willfully, it seems — is that the safety concerns being expressed for years about South Riverdale's safe injection site by its neighbours did not include gun violence. Gun violence just happened to get the community's concerns finally taken seriously.
When I pointed this out to Werb on X (the platform formerly known as Twitter), he responded by saying that while gun violence and supervised injection sites may seem unrelated, this was supposedly the argument being used to shut these sites down across the province.
As I detailed in my account of our neighbourhood's battle over the outdoor drug emporium that the South Riverdale site cultivated on the perimeter of its building for years, "The Needles and the Damage Done," published on Aug. 23, the concerns being tabled by residents long before Huebner-Makurat was killed had very little to do with guns and a lot to do with the very mismanaged facility's close proximity (less than 130 metres) to five schools and daycares that house more than 1,000 children every day.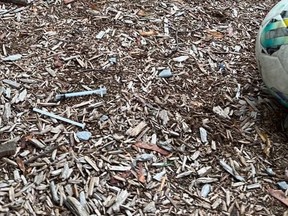 Needles found in the Morse Junior Public School playground in Toronto's Leslieville neighbourhood.
Photo by Supplied
The problem with the arguments advanced by Werb and Ritts is that they rely on research usually done elsewhere; neither seems to have spent much time investigating specific problems with the supervised injection site in Leslieville. They follow the well-trodden path of harm reduction missionaries and completely sidestep concerns for children who live near these sites, focusing instead on broader, borderline irrelevant issues such as gun violence statistics.
To be even more specific, there are two key omissions in the Werb-Ritts approach. First, the crime data captured for a large urban area is not going to reflect what is going on in the immediate vicinity of any supervised injection site. Second, many of the safety concerns raised by neighbours of the South Riverdale safe injection site, prior to this summer's shooting, are not even crimes the police would document these days.
***
As I reported previously about the South Riverdale supervised injection site, the residents of my street, Heward Avenue, decided last spring to document drug-related activity nearby with an online Google Sheets form. Over the course of a month, from late May to late June, our street had tracked 136 activities.
To be clear, this is not normal drug activity for your average downtown corner. It is extremely concentrated, something that even the CEO of the health centre operating the supervised injection site, Jason Altenberg, conceded in a meeting with community residents. Harm-reduction-no-matter-the-cost advocates, meanwhile, dismissed our data as a collection of anecdotes.
The activity most frequently observed was visible drug use at 46.3 per cent. Not far behind were drug paraphernalia left out and, substance abuse requiring medical attention, aggressive language or behaviour and drug selling. With the possible exception of drug dealing, which does not seem to be a particularly high priority for our police force, none of these are really issues that the community can call police about.
Ritts writes that open drug use can be "alarming to many people." I'm not sure whether she's including primary school children who walk by it every day on the way to school or not, but what comes after the open use is perhaps even more alarming, especially for children.
Numerous physical assaults have taken place on the perimeter of the health centre in Leslieville, some in which children were the victims, but also drug-fueled threats. One woman (who was later arrested) promised to burn down a family's house on my street — clarifying that this would be done while the family's children were still inside.
This mélange of what police sometimes refer to as "quality of life issues" (drug paraphernalia, trash, human waste, fights, loitering, lewd behaviour, intoxication, distress, unconsciousness, open drug use and vandalism) and more traditional criminal offenses (drug dealing, violence, assault, break-ins, theft and property damage) are not unique to my neighbourhood in Toronto. Residents of Vancouver's Yaletown filed a class-action lawsuit against a non-profit operating a supervised injection site in the community, as well as the city and the local health authority, back in June. The claim cited the same mix of criminal and non-criminal complaints. The city subsequently announced it would not be renewing the facility's lease.
The response to the supervised injection site in South Riverdale has been less robust. In July, Ontario's deputy minister of health, Dr. Catherine Zahn, told residents that the site would be subject to a "critical incident review." Ontario Premier Doug Ford came out swinging after the July 7 shooting, saying he was going to get to the bottom of things and that his government would be reaching out to those who live around the site.
What I can report is that no one in my neighbourhood heard from anyone at the premier's office until the day "The Needles and the Damage Done" was published. Many residents have been sending emails to Health Minister Sylvia Jones, asking to meet with the team conducting the ministry's review. While the ministry recently announced it will be reviewing all consumption and treatment service sites in the city once it's finished with South Riverdale, the health minister has clearly made a conscious decision to not "reach out" to any of us, as the premier promised his team would. The health minister's silent treatment is not inspiring much faith in the department.
By the time the Ministry of Health embarks on reviews of other supervised injection sites in Toronto, the residents who live near those sites, many of whom are also fed up, will have likely mobilized the way residents of Leslieville and Yaletown did. Residents and business owners near the Leslieville site are planning to file a class-action lawsuit like the one in Yaletown within the next few weeks.
***
Harm-reduction proponents, aside from dismissing community data, have cited police data as proof that supervised consumption sites actually reduce crime nearby. They point to a presentation delivered to Leslieville residents on July 26 by Toronto Police Superintendent Kimberly O'Toole, the unit commander for the area.
Problem: a few hundred people were at the town hall held that day, and everyone I know who was there, including me, has zero recollection of such a presentation by the police superintendent. Just to be sure a bunch of us didn't faint from heat exhaustion during the meeting, I double-checked with O'Toole. She assured me that she made no such presentation.
While I had the police superintendent's attention, I asked her and her second-in-command, Inspector Mike Hayles, to provide me with a breakdown of recent historical crime data in the area. They, in turn, passed my questions on to a Toronto Police Service crime analyst, who produced a few reports. Hayles broke these reports down for me earlier this month.
The data in these reports goes back to January 2018 and lists all the annual occurrences of major crime indicators in the South Riverdale area of Toronto, which includes Leslieville. (Keep in mind that South Riverdale is a large area on the east side of downtown Toronto; the impact of a safe injection site in one small part of that large area would have limited impact on these figures.) The data immediately dispelled the assertion that the neighbourhood safe injection site was a "net benefit" when it comes to crime. It was not.
Crime in South Riverdale has increased since 2018, the first full year the safe injection site was open, though not in a way that is out of line with the increase in population in this area during those years. However, break and enters more than doubled between 2018 and 2021, and auto theft has risen by 70 per cent since 2018.
The data also reveals a rise in overdoses (both fatalities and reversals). In 2020, there were 12 overdoses in South Riverdale. There were 32 in 2021, an increase of 166 per cent. This number rose again slightly to 36 in 2022.
Harm reduction advocates would cite this increase as a reason for needing more supervised injection sites. Skeptics, on the other hand, might point to the same numbers and conclude injection sites aren't working, at least when it comes to their ability to reduce drug use on the street (where most use occurs). And if supervised injection sites are working, are they working effectively enough to justify the threats to public safety that the Supreme Court of Canada wrote in 2011 should not result from harm reduction?
Inspector Hayles also provided recent data on calls to police within a 200-metre radius of the South Riverdale Community Health Centre. One standout statistic he offered was that there has recently been a 60 per cent increase in reports of assault from nearby residents.
The Toronto Police Service prioritizes emergency calls in eight different categories, "priority one" being the most serious. Over the course of this summer, despite the South Riverdale health centre hiring a private security firm to patrol the property seven days a week after the shooting in early July and an increased police presence in the area, the number of priority one calls received within this same 200-metre radius from the centre has radically increased by 900 per cent. Priority two calls shot up by 750 per cent.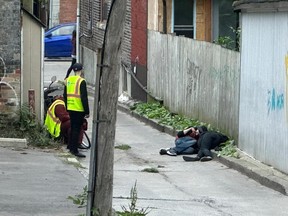 Security staff look on as two drug users lay on the curb in South Riverdale.
Photo by Supplied
***
After the shooting death of Karolina Huebner-Makurat on July 7, the South Riverdale Community Health Centre embarked on a calculated damage control campaign, which I documented in "The Needles and the Damage Done." Part of that campaign was to shift away from community meetings that had been going on weeks prior to the shooting and instead create a formal committee, called the Safer Community Committee.
The residents, including myself, who had initiated meetings with the health centre to present safety concerns, were cynical about the Safer Community Committee for several reasons. First, it was the creation of the health centre's board of directors, and therefore the board would choose who mediated the committee, who sat on the committee and how the committee's findings (which will be non-binding) would be presented.
In the meantime, the health centre also hired a research firm called Public Progress to do public outreach and community canvassing in the nearby area. Public Progress' specialty is emergency housing, but it has also been involved in a handful of consumption and treatment service outlets going back to 2016. In fact, it was a player in the initiation of the first three supervised injection sites that opened in Toronto in 2017, including the one in South Riverdale.
Public Progress had conducted about 200 interviews with residents both at their front doors and on the phone. Its president, Bruce Davis, quickly ascertained that children were a common and particular concern, and so he asked certain residents to connect him with parents of young school-age children so that he could invite them to participate in some discussion groups that took place at the end of August in a Leslieville café.
Davis is a former lobbyist who aided several Liberal Party candidates in a variety of campaigns over the years. He was also a trustee for the Toronto District School Board from 2000 to 2010. In 2003, The Globe and Mail dubbed Davis "the quintessential backroom boy."
Now in his early 60s, Davis asked my neighbour, Andrea Nickel, a parent on my street who has been instrumental in holding South Riverdale accountable on the safety front, to suggest names of parents who might participate in his discussion groups. Andrea did so, but then was told by Davis that her "strong personality" might have a negative impact on the group dynamic. He suggested it might be best if she did not attend (but decided instead to invite the CEO of the health centre, as if he couldn't influence the conversation). Nickel was insulted and, not to be outmaneuvered, sent her husband, who has a different last name.
I know several of the parents who attended these meetings with Davis. One parent told me that Davis mentioned more than once during the meeting that the story about the South Riverdale supervised injection site has "gone national" and that this could have larger political implications if the health centre was not able to satisfy parents.
Another frustrated parent who attended a different meeting said that Davis got an earful. Eventually, Davis conceded that there is an aggressive faction of harm-reduction proponents that needs to be countered if change is going to occur. (When I contacted Davis, he said that he considered the group discussions "closed," so he was not willing to confirm what he said.)
***
Davis was the featured guest when the Safer Community Committee had its third meeting on Sept. 7. The committee originally had 26 members, many of whom were harm reduction advocates. Some were invited for their expertise, while others were appointed as "neighbours" even though they lived kilometres away from the health centre.
Interestingly, by this third meeting, all the overtly pro-harm reduction members whom the centre must have seen as allies, were absent. For the most part, the meeting was attended by nearby residents and business owners, along with a few members of the health centre's board.
Davis kicked off his presentation by describing the report being prepared for his client, which he expects will be made public, as "very tough." He said it will not be easy "for our client to go through it."
While Davis claimed there is "a deep well of support" for the South Riverdale Community Health Centre, this seems to exclude the consumption and treatment services site it houses. He added that neighbours generally expect the centre to "fix the problem."
Davis spent some time talking about the breakdown of the "social contract" between the health centre and its neighbours and that this has resulted in "a lack of trust" felt by the latter.
What he heard the most about the supervised injection site was summarized as "close it, move it and increase security."
What several residents on the committee found frustrating about Davis' report was that it didn't tell us anything new; residents had raised the same concerns to the health centre back in July. Yet, the health centre used the community consultation process to spin its wheels for months. Somewhat taken aback by this response, Davis wondered aloud why residents weren't happy to have their concerns validated by his report.
Davis seemed oblivious to the condescension in what he was saying: that people who live and work in our neighbourhood needed a politically connected outsider with a very sympathetic view of supervised injection sites to tell us how we feel.
Nevertheless, Davis was ready to cue up the slides that outlined his proposed solutions. His belief is that we should all de-emphasize the troubles in the immediate vicinity of the centre. After all, the opioid crisis is more than a few streets can manage, and the health centre is not responsible for starting it. What was needed, according to Davis, was "a whole community response."
Apart from stating the importance of having multiple community and health organizations involved (even though they'd already been involved for weeks), his big idea was that street outreach workers were required.
It didn't take long for the local business owners on the committee to summarily dismiss Davis' deflective it-takes-a-village approach. The chair of the Leslieville Business Improvement Area stated rather bluntly that South Riverdale took on the supervised injection program and that "it's the centre's responsibility" to make the necessary changes "to make it what it should be" and alleviate the safety concerns.
It has been a very difficult time for local businesses, she continued, and a poorly run supervised injection site has not helped. "We're supportive," she added, "but I think it's very important that it's the centre's responsibility."
Another entrepreneur who owns a small business across the street from the health centre next gave his story, taking air out of Davis' proposed solution. This owner moved his business just a few short blocks west from the intersection of Queen Street East and Jones Avenue to Queen East and Carlaw Avenue in early 2021.
During the business' three years at the Queen and Jones location, it experienced, at most, two "snatch-and-grab" type thefts of little consequence. That was it. Within a few weeks of moving a short distance to a new space at Carlaw, across the street from the South Riverdale Community Health Centre, very high people would enter the store, causing daily disturbances.
"We are now having to train part-time summer staff on how to essentially calm down someone who is high on drugs causing havoc in the store," he said. He did not say this happily.
But it gets much worse. His business lost $60,000 in theft and damages since the move. The culprit, who the business owner said was charged and convicted, was "known by everyone around the centre."
The committee's mediator, Dana Granofsky, then steered the discussion towards solutions, which was to be the focus of the next Safer Community Committee meeting, which took place this past Monday. No members came forward, so I decided to speak.
After living across the street from a supervised injection site for six years and spending dozens of hours in meetings trying to make sense of how the ham-fisted management of this facility led to the creation of an outdoor drug den that festered for so long it caused a local mother's tragic death, I said I had come to the reasoned conclusion that dispensing illicit drugs and clean needles out of a brick-and-mortar storefront is a bad idea. It is an especially bad idea when more than a thousand children are housed at the nearby school and daycares, across the street and around the corner.
Drugs beget more drugs. The management at South Riverdale's health centre concede that users tend to prefer to use in a non-supervised environment than a supervised one. Clean needles are handed out every day. The users don't travel very far before using them. If the perimeter of the centre is available, that will do nicely. And the needles often stay on the ground where they were used — somebody else's biohazardous waste problem.
Once there are users outside with clean needles, there are drug dealers. And, as we were reminded on July 7, drug dealers often carry guns.
Community health centres are not equipped to deal with the drug dens inevitably created by supervised injection sites. On paper, they are supposed to work in close collaboration with local police. But that didn't happen here. It was, in fact, the opposite. The health centre instituted a "non-enforcement boundary" because an overt police presence supposedly inhibits clients from accessing supervised injection sites. The relationship with law enforcement was broken for a long time before the shooting.
But even if it wasn't, many of the neighbours' valid safety concerns aren't police matters. Further, prior to the shooting, the area around the centre did not even have its own dedicated neighbourhood officers. The Toronto Police Service does not have the capacity to act as this supervised injection site's private security force.
I also reminded the committee that Bruce Davis had brought up increased security. The private security outfit hired by the South Riverdale health centre — and only for one year — has limitations as well. Just a few days before the start of school, two men were photographed just minutes before 9 a.m. shooting up on the facility's property, right next to a sidewalk that about a hundred children use to walk to school. The lot is small and has two security guards — it is not a lot of ground to keep an eye on.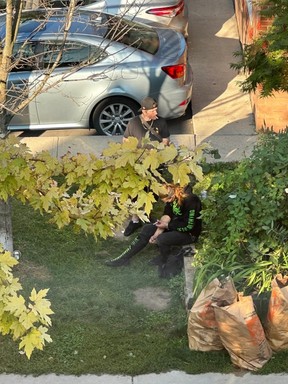 A pair of individuals shoot up on Aug. 31 outside the South Riverdale health centre.
Photo by Supplied
I have also seen at least three videos shot by neighbours showing drug deals transpiring right in front of the centre, while its security guards stand just a few feet away, doing nothing. The drug culture around this building has become so entrenched for so long, it is hard to see things changing if the supervised injection site remains there.
I also raised something Bruce Davis tossed out when he started listing alternate locations for this site other than South Riverdale — a mobile service. A service that would take the needles and the supervision to the users instead of the users coming to the same health centre every day.
After the charges were laid against the South Riverdale harm reduction employee, even our riding's member of Parliament, Julie Dabrusin, a Liberal, started to change her message. Maybe the safe injection site did need to move. And maybe a mobile solution is part of the answer.
It is not the responsibility of Leslieville residents to figure out an alternate solution to replace a brick-and-mortar supervised injection site that is completely incapable of ensuring the safety of its neighbours, something that is baked into its agreement with the province (not a social contract, as Davis said, but an actual contract). However, a service that does not have a fixed address for drug dealers to congregate around sure sounds like an idea worth exploring at this point.
It would mean clients don't need to travel. They can use clean needles where they reside. The needles can be more reliably collected, and presumably less of them will be found in the recently refurbished playground of nearby Morse Street Junior Public School (parents are concerned this well-used space will soon be gated and fenced to prevent drug use when school is closed, which would be a major blow to the health and wellbeing of the neighbourhood children). The users of the South Riverdale supervised injection site mostly live in the same community housing complex, so perhaps it's possible more clients can be supervised at the same time with a mobile service. Fewer people will be unconscious or overdosing in public spaces.
Will closing this supervised injection site and replacing it with a mobile offering solve the opioid crisis? No, but the brick-and-mortar site isn't doing much to stop it either. The difference is that a mobile solution seems a lot less likely to give rise to a disastrous drug den nearby that can't be controlled.
***
At the fourth and supposedly final meeting of the Safer Community Committee on Sept. 18 (spoiler alert: there will be at least one more), a few of the harm reduction allies absent from the previous gathering reappeared. Not only was the consensus now a bit more uncertain, but the committee was essentially split in two.
On one side, you had the residents and business owners around the South Riverdale health centre. On the other, you had the harm reduction missionaries and four members of the health centre's board. Given that the committee's recommendations were going to come down to a vote, I noticed that the mediator, Dana Gronofsky, had moved all four board members from their own separate category into a new "Community Members" category, which presumably gave them voting rights.
A few of us felt that giving the independent health centre's board members voting rights on a committee that was scrutinizing their own safety failures was an inherent conflict of interest, whether they lived nearby or not. The board members are not just regular residents like me. Their names and reputations are tied to the governance of this health centre, they participated in in-camera meetings with lawyers and public relations experts after the shooting on July 7 and they crafted the ensuing public response. The residents on the committee who sought accountability and change were not afforded that opportunity.
Further, Jason Altenberg, the CEO of South Riverdale's health centre, and Sarah Greig, the director of the supervised injection site, have not participated in any meetings since the arrest of the harm reduction employee last month. In their absence, the board members are inevitably left to represent the position of the centre. How could they be both concerned residents and representatives of the centre in this committee without being in a position of conflict?
The board members seemed to think there was no conflict. The mediator they hired, Granofsky, decided not to address it. The problem only resurfaced when it was revealed that one board member, Emily Hill, had provided Gronofsky proposed language for a set of draft proposals no residents saw in advance of the meeting. These proposals would deal with one of the most important issues this committee needs to grapple with: what should happen with this supervised injection site?
Hill's proposal was very self-serving. It suggested that we, as residents, extend more time and trust to her health centre to consult various levels of government to determine what solutions would work best based on "robust evidence" (which is a loaded phrase when it comes to harm reduction, as there is arguably no such thing). The proposal did not acknowledge the findings of the health centre's own community consultation, which is that most people want this harm reduction site moved or closed.
Nowhere in the draft proposals discussed thus far is the essential question posed: should this supervised safe injection site be 60 metres from a school? Whatever the findings of this committee are, it is almost certain that no one will take them seriously.
Harm reduction advocates like Dan Werb and Madeleine Ritts, when confronted with the valid, serious safety concerns of a neighbourhood such as mine, always issue one final plaintive plea before they'll ever admit that children shouldn't be exposed to the disorder that's engulfed this health centre for years. That plea is always the same: "But these sites save lives!"
Yes, these sites do save some lives. There's no reason to suggest that a mobile version of the same services couldn't save lives, either. But at a certain point, the positive aspects of the South Riverdale health centre's relatively small, supervised injection site have to be weighed against the collective damage (physical, emotional and financial) suffered by those who live close by — including the hundreds of children who have been forced to navigate its terrifying drug den over the past five years. As was declared by the Supreme Court in 2011, public health must be balanced with public safety.
And, above all, public health must be weighed against the loss of two young children whose mother fell victim to the violence of that drug den and never came home.
National Post
Derek Finkle is developing a documentary series, The Day Liz Disappeared, based on his book, No Claim to Mercy, to examine the cold-case mystery surrounding the 1990 disappearance of Elizabeth Bain, with a Toronto-based film production company.
The needles and the damage done: Inside our neighbourhood's battle over unsafe injection, crime and murder

Adam Zivo: Supervised injection sites fuel crime unless accompanied by massive police presence