Beat the heat and crowds with a fall visit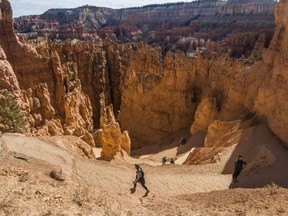 Looking down into the red and beige rock formations of Bryce Canyon National Park in Utah.

Photo by Ernest Doroszuk

/

Toronto Sun
Reviews and recommendations are unbiased and products are independently selected. Postmedia may earn an affiliate commission from purchases made through links on this page.
South Utah has endless possibilities for outdoor recreation with mountains and desert landscapes that anyone of any ability level can enjoy.
Many eye-popping natural wonders are accessible from the side of the highway as there are plenty of places to safely pull over and take in the grandeur right outside your vehicle.
From our newsroom to your inbox at noon, the latest headlines, stories, opinion and photos from the Toronto Sun.
By clicking on the sign up button you consent to receive the above newsletter from Postmedia Network Inc. You may unsubscribe any time by clicking on the unsubscribe link at the bottom of our emails. Postmedia Network Inc. | 365 Bloor Street East, Toronto, Ontario, M4W 3L4 | 416-383-2300
Thanks for signing up!
A welcome email is on its way. If you don't see it, please check your junk folder.
The next issue of Your Midday Sun will soon be in your inbox.
A good place for the adventure to begin is Kanab, centrally located to many attractions. It has lots of great hotel and dining options. In truth, though, the adventure begins during the three-hour drive from Las Vegas, which is the closest major airport, taking you past scenic canyons and endless picturesque desert.
For those who can't be bothered to plan trips and despise guided travel, Kanab's got your back.
You can drop into the well-organized Kane County Information Center and the friendly, knowledgeable staff will match you up with an itinerary in minutes.
The best travel hack to experience south Utah is timing. Early November — the end of the shoulder season — is a great time to visit. The weather is dry, sunny and warm, not nearly as hot and crowded as during the summer. There are plenty of affordable room rates as well.
Zion National Park
If your time is brief, the well-organized Zion National Park can be seen in a day. However, the mountains and canyons inspire frequent stops, making this park worthy of at least a several-day visit.
Zion's East Gate entrance is about a 30-minute drive from Kanab and the highway is lined with canyons and mesas. Be sure to get the annual parks pass, allowing you entry to all national parks for a year.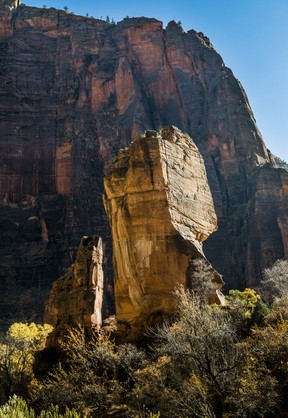 The view from the Virgin River between Big Bend Shuttle Stop #8 and Temple of Sinawava Shuttle Stop #9 at Zion National Park in Utah. Ernest Doroszuk/Toronto Sun
Upon entering the park, you are greeted by a twisted road featuring surreal, conical rocky features and close-by mountains.
This is accessible grandeur, being immersed in rugged beauty is as easy as pulling over along Highway 9, where space allows, then take a scramble up the side of the mountain, or just enjoy the view from the car. This scenery is dream road-trip material. A great place to spend a relaxing day driving along the road back and forth and exploring.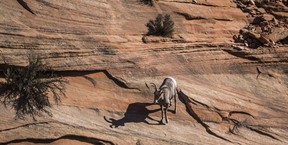 Big Horn Sheep are a common sight along Highway 9 in the east part of Zion National Park in Utah. Ernest Doroszuk/Toronto Sun
The scenery changes as Highway 9 leads into the 1.7-km Zion-Mount Carmel Tunnel that takes you to a cliffside drive offering spectacular views of the mountains across the valley. This a drive worth lingering over, and there are plenty of places to safely stop and take in the views.
After reaching the bottom of the valley, let the Zion Canyon Shuttle do the driving and park your vehicle at the Zion National Park Visitor Center. Cars are prohibited from driving along Zion Canyon Scenic Drive past Shuttle Stop 3 at Canyon Junction.
The relaxing and scenic 45-minute ride ends at Shuttle Stop 9 Temple of Sinawava. There is, of course, the option of disembarking at any of the other stops if time allows. Upon arrival you are surrounded by up-close massive cliffs. You can spend a day simply being in awe of the rugged grandeur rising more than 1,000 feet above you. This is an easy place to simply absorb the views.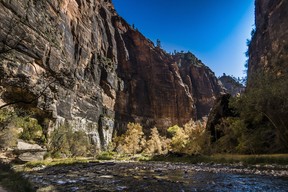 The easy-going Riverside Walk trail which starts at Temple of Sinawava Shuttle Stop #9 at Zion National Park. Ernest Doroszuk/Toronto Sun
This is also the starting point of a nearly effortless stroll through the towering canyons on an easy, wide trail on the Riverside Walk along the Virgin River. The effort to reward ratio is unmatched. Look up and take in the views as you are surrounded by cliffs everywhere you look.
Backtracking on the shuttle to Stop 8 Big Bend, you are treated to soaring views of cliffs near and far. Look up and you might catch a glimpse of one of the world's 400 California condors soaring by. According to the National Park Service website, about 70 condors live wild in Arizona and Utah.
Bryce Canyon National Park
Bryce Canyon National Park allows a different perspective to experience accessible grandeur. Inside of looking up, here you are looking down into the red and beige rock formations that make up the Bryce Amphitheater. The variety of hiking trails makes enjoying the rock formations as easy or as challenging as you wish.
Use the National Parks pass you got from Zion National Park, then get your bearings at the visitors' centre and head to Sunrise Point. A brief stroll from the parking lot offers endless views from the clifftop view of the hoodoos and the reddish rock amphitheatre.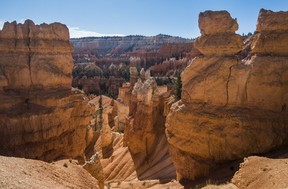 Bryce Canyon National Park is at an elevation of 8,000 feet above sea level. Ernest Doroszuk/Toronto Sun
From here, you have a few options. You can sit on a bench and spend the day relaxing and taking in the scenic vibes — low effort, high reward. Or stroll along the clifftop towards Sunset Point while enjoying the views that stretch to the horizon — relaxing effort, high reward. Better yet, from Sunrise Point, the Queen's Garden trail descends into the scenery below the canyon rim offering a closer look at the rock formations.
If your time is brief, there is no need to venture further into the park, as there is much to see right here. Keep in mind, at an elevation of 8,000 feet above sea level, the air feels thinner and you might have to take it a bit slower.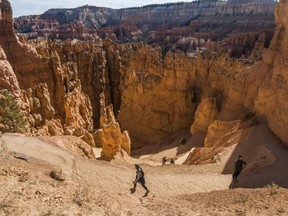 Walk the trails to get a closer look at the Bryce Canyon National Park rock formations. Ernest Doroszuk/Toronto Sun

Photo by Ernest Doroszuk

/

Toronto Sun
If you have time at the end of the day, there are many worthwhile scenic stops along the park. The smaller crowds mean plenty of parking. The final stop is Rainbow Point, and at 9,115 feet above sea level you may huff and puff a little more as you stroll towards the viewpoint.
Coral Pink Sand Dunes State Park
Riding an ATV is a blast, unless it's your first time. At first, fear overtakes fun. My introduction was among the wind-sculpted steep dunes made up of buttery-soft, warm-coloured sand at Coral Pink Sand Dunes State Park, a 30-minute drive from Kanab.
An OHV (off-highway vehicle) is a great way to explore the vast sand dunes spread among 1,500 hectares, more than 800 hectares of which are open to OHVs such as an ATV or dune buggy. You can climb them on foot as well, but your lungs will remind you that you're at about 6,000 feet above sea level.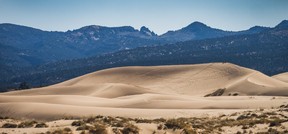 Hop on a dune buggy to enjoy Coral Pink Sand Dunes State Park. Ernest Doroszuk/Toronto Sun
Having just been acquainted with my capable four-wheeler, I had faithfully followed my guide Gordon Baxter — owner/operator of Coral Pink ATV Tours (coralpinkatvtours.com) — up and down the massive dunes. Being a cautious and slow newbie, at one point Baxter got ahead of me. Not seeing the exact path, he took a frighteningly steep dune, I gripped my brakes as I drove to the edge of a drop that seemed impassable. I shut off the engine and froze.
Sometimes you just need to have faith in your guide. Baxter drove back up beside me in his dune buggy and insisted the steep descent would be no problem. I fired up the engine, and took the plunge down the dune as the machine capably floated across the soft sand. I was hooked.
Coral Pink ATV Tours offers a great way to explore the dunes, whether it's on an ATV or dune buggy, as well as sledding on snowboards down the dunes. According to the locals, the dune buggy option is way more fun.
White Pocket
Not in Utah but just inside Arizona there is a desolate area called White Pocket. It's a dreamscape of swirling, striated rock formations. Areas of this stunning beauty are usually either crowded or hard to get to — this place is neither.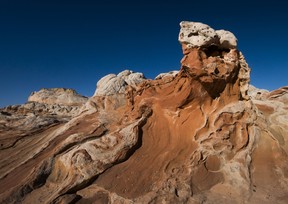 The rock formations at White Pocket, Arizona can be visited from Kanab, Utah. Ernest Doroszuk/Toronto Sun
It's about a two-hour drive along roads that are paved, gravel and ending with deep sand. Brent Johnson, our knowledgeable tour guide with Forever Adventure Tours (foreveradventuretours.com), takes visitors from Kanab in a Hummer, as the area is only accessible to high-clearance four-wheel-drive vehicles. He has a real passion for the area, and knows it well — ask him lots of questions.
In November you might have the place to yourself, as you explore the easily walkable wonderland, a brief sandy trek from the parking lot. The word surreal is an understatement to describe the feeling of lingering among the lines, curves and patterns of this landscape.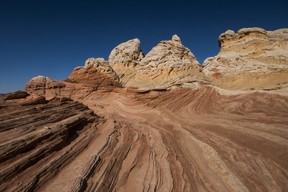 The rock formations at White Pocket were created over time by mineral deposits. Ernest Doroszuk/Toronto Sun
The wavy, swirling, gnarled slickrock created over time by mineral deposits comes in colours of orange, yellow, white and shades in between. This compact area isn't a hike as much as an immersive and interactive art piece with easily walkable gentle slopes. There is no trail, just endless ways to spend a couple of hours effortlessly wandering the whimsical contoured terrain.
edoroszuk@postmedia.com