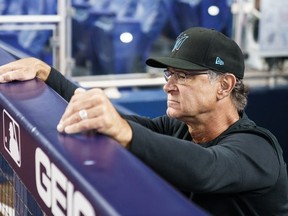 Don Mattingly looks out from the Miami Marlins dugout before the start of a game against the Washington Nationals at loanDepot park on Sept. 25, 2022 in Miami, Fla.

Photo by Bryan Cereijo

/

GETTY IMAGES
The way Don Mattingly was approaching his winter and beyond, the only Bo he was intending to spend time with over the coming months was his Golden Doodle puppy not named after the Blue Jays shortstop.
But after signing on to be the Jays bench coach on Wednesday, the accomplished big-league player and manager can add another Bo to the list, in the form of one of the franchise's young stars.
As the Canadian national soccer teams head to their respective FIFA World Cups, Derek Van Diest is on the scene to cover all the action. Expect expert insights and analysis in your inbox daily throughout the tournaments, and weekly on Thursdays for the rest of the season.
By clicking on the sign up button you consent to receive the above newsletter from Postmedia Network Inc. You may unsubscribe any time by clicking on the unsubscribe link at the bottom of our emails. Postmedia Network Inc. | 365 Bloor Street East, Toronto, Ontario, M4W 3L4 | 416-383-2300
Thanks for signing up!
A welcome email is on its way. If you don't see it, please check your junk folder.
The next issue of Corner Kicks with Derek Van Diest will soon be in your inbox.
And from that point of view, the prospect — and prospects that go with it — were too rich to pass up.
Adding in Vlad Guerrero Jr. further grabbed the attention of the long-time New York Yankees first baseman as did George Springer, Alejandro Kirk, Lourdes Gurriel Jr., Matt Chapman and more.
"You look at the combination of youth and experience and an offence that can throw up runs in a hurry … just the whole package," Mattingly said via video conference, when asked what prompted him to resume his varied and storied career.
"You see a club that has had some success, but they're ready to move on and keep winning," he said. "When (GM Ross Atkins) called, it piqued my interest right away."
That interest became mutual when manager John Schneider was brought into the conversation and Mattingly became even more intrigued. The result brought a steady, proven right-hand man to Toronto for Schneider as he embarks on his first full season in charge. From a franchise point of view, there was a clear desire to add some vast big-league experience to the dugout dynamic.
"Experience and credibility are words that get used a lot in professional sport, but it's hard to quantify how valuable that is," Atkins said on Wednesday. "But it's something that I think will create a calming impact and influence (which will) help not only with performance, but also with accountability, which will be huge for us."
Mattingly also brings an impressive resume, both from a 14-year playing career with the Yankees and then successful managerial stints with the Los Angeles Dodgers and most recently the Miami Marlins, a team he exited following the 2022 season.
That wealth of seasoned work, coupled with an easy-going demeanour, should provide the perfect dugout partner for Schneider, who held the same bench coach role before replacing the fired Charlie Montoyo last summer. Mattingly replaces Casey Candaele, who took over the role on an interim basis when Schneider was promoted.
In an effort to support Schneider, the Jays front office launched an extensive search for a proven bench coach, narrowing the pursuit to four finalists before settling on Mattingly. Atkins was the first to reach out to Mattingly, but stressed that it hinged on the opinion of Schneider.
The clincher came when the manager felt a strong enough connection with a voice that will be critical in helping a young and talented Jays team continue its progression.
"We kept coming back to those individuals who we felt can help us take another step, to challenge one another to be the best we can be, from a staff standpoint to a player standpoint," Atkins said.
"The complement to our staff is a very good one."
Obviously part of the appeal is Mattingly's long road through the major leagues — a combined 3,500 games as a player, coach and manager. That he had managerial success both with the Marlins and the Dodgers heightened his credentials.
While the Jays front office professes the utmost confidence in Schneider — ripping off the interim tag and signing him to a three-year deal in October — it made sense to further set him up for success.
In Pete Walker, the Jays have one of the more accomplished pitching coaches in the game, a roster that also includes regarded staff members Luis Rivera, Mark Budzinski and Matt Buschmann.
To hear Mattingly tell it, the working relationship with Schneider will be a strong one,.
"I think we're going to be great," the 61-year-old said. "I love talking to John. I can tell he's totally organized in what he wants to do and knows what he wants to do and that's huge for a manager.
"He knows I'm there to help him and if he wants an opinion, I'm not afraid to give it to him."
Blue Jays trade Teoscar Hernandez to Mariners

Blue Jays' Alek Manoah says Yankees' Gerrit Cole is MLB's biggest cheater

'I LIKE TO KILL THE YANKEES': Vladimir Guerrero Jr. says he will never play for New York
Through his career, Mattingly has seen plenty. From his six all-star game appearances, to nine Gold Gloves to a 1985 American League MVP award, he's certainly accomplished. Prior to managing the Marlins, he held the same role for the Dodgers, where he captured three division titles. With the Marlins in 2020, he earned National League manager of the year honours.
But his personality is a huge attraction, as well. Someone familiar with the turmoil in the Marlins organization said that Mattingly remained professional through the off-field shenanigans.
Bottom line for Mattingly, however, is precisely the reason he was hired.
"I'm there to win," he said. "I'm chasing it like everybody else. I want to win. The organization wants to win. I think true fans respect that."