Two floors of the former David Spencer, Eaton's and Simpsons-Sears store will be converted to the Spencer Building Carrier Hotel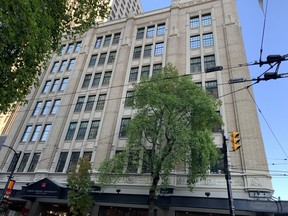 Two floors of the 1926 David Spencer department store building at 515 West Hastings St. are being converted to the Spencer Building Carrier Hotel.
Photo by John Mackie
The Harbour Centre complex at 555 West Hastings St. is already B.C.'s leading Internet connectivity hub. But the data centre is about to get much bigger, with the construction of the Spencer Building Carrier Hotel.
But don't be confused by the name.
Start your day with a roundup of B.C.-focused news and opinion delivered straight to your inbox at 7 a.m., Monday to Friday.
By clicking on the sign up button you consent to receive the above newsletter from Postmedia Network Inc. You may unsubscribe any time by clicking on the unsubscribe link at the bottom of our emails. Postmedia Network Inc. | 365 Bloor Street East, Toronto, Ontario, M4W 3L4 | 416-383-2300
Thanks for signing up!
A welcome email is on its way. If you don't see it, please check your junk folder.
The next issue of Sunrise presented by Vancouver Sun will soon be in your inbox.
"People take hotel and they think, 'There's already a Delta across the street, why are they putting up another hotel?' " said Chris Jones, the facility's director of data centre infrastructure and operations.
"No, we're putting in a hotel for computers."
The construction will be on two floors inside the former David Spencer department store, which is also a former Eaton's and Simpsons-Sears and now is partly occupied by Simon Fraser University.
Two floors of the 1926 art deco heritage structure will be rebuilt for the carrier hotel, which is tech-speak for "a data centre with lots of connectivity in a major city or metro area."
"In the technology sector a carrier hotel goes back to the '90s," explains Jones.
"So you've got the Westin Building in Seattle, One Wiltshire in Los Angeles, 60 Hudson in New York, 151 Front Street in Toronto and Harbour Centre in Vancouver."
The carrier hotel will have 43,000 sq. ft. of space and provide 10 megawatts of "critical power" and a 25-kilovolt "primary electrical service" to Vancouver's burgeoning tech sector.
"We're going to develop all of the supporting infrastructure, both mechanically and electrically, for our future customers," said Jones.
"We will sell to someone who will then install their own servers (to meet) all their own requirements. It could be Netflix or something, saying 'we need two mega-watts of power and 100,000 servers, can we put it in your spot?'
They'll put in their servers to manage their stuff."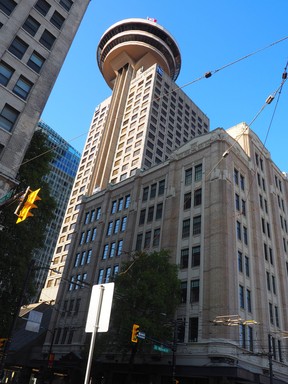 The 1926 David Spencer department store (foreground) is now part of the Harbour Centre complex at 555 West Hastings St., which includes a 28-storey tower (background). Both buildings are partly used as data centres.
Photo by John Mackie
To put this in perspective, "all of the Harbour Centre complex, with everything, including data centre operators, runs about half" the 10 megawatts that will be available in the carrier hotel.
And Harbour Centre is a huge tech hub.
"Harbour Centre is the incumbent primary connectivity hub for Western Canada," said Jones. "Primarily Vancouver, specifically, but we have over 20,000 connected fibres, so you need to connect to somebody, you come to Harbour Centre."
The Harbour Centre complex is owned by Polaris, a Toronto company that has extensive real estate holdings in B.C., Ontario and Quebec. It will operate the Spencer Building Carrier Hotel as a separate business.
The new carrier hotel is also intended to be the Canadian "landing spot" for the Cascadia Fibre Trunk, "a private entity that is running fibre, high-density fibre, from Vancouver down to Seattle."
"It's a pretty important piece, because it's going to bring a significant amount of new fibre that will last for the foreseeable future," said Jones. "The existing fibres between Vancouver and Seattle are getting long in the tooth, they're starting to have issues with age."
The Spencer building opened just before Christmas in 1926 at 515 West Hastings St. The "commercialized gothic" structure was designed by McCarter and Nairne, the architects of the Marine Building.
David Spencer Ltd. was B.C.'s first department store chain. Founded in Victoria in 1873, it once boasted nine outlets around the province.
The Hastings store was sold to Eaton's in 1948. Eaton's moved to Pacific Centre in the 1970s and the site was redeveloped into Harbour Centre, which has a 28-storey tower. Simpsons-Sears took over the department store, then in 1988 Simon Fraser made Harbour Centre its downtown campus. The carrier hotel will not affect SFU.
jmackie@postmedia.com
This Week in History, 1948: Spencer's department store sells to Eaton's

It's still full steam ahead for Gastown Steam Clock maker after devastating fall

Facebook's Meta rebrand does favours for Vancouver's virtual-reality companies
More news, fewer ads, faster load time: Get unlimited, ad-lite access to the Vancouver Sun, the Province, National Post and 13 other Canadian news sites for just $14/month or $140/year. Subscribe now through the Vancouver Sun or The Province.