Durham Regional Police say a woman was found on the roadway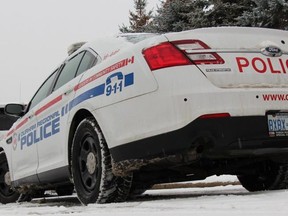 A Durham Regional Police cruiser.

Photo by DRPS

/

Twitter
A 56-year-old man with a suspended driver's licence is accused of running down a woman with a pickup truck and leaving her for dead on an Ajax street last week.
Article content
Durham Regional Police say the victim was found on the roadway near the intersection of Kingston Rd. and Harwood Ave. around 5 a.m. on Sept. 20.
Article content
"Officers attended the scene and located a 57-year-old female suffering from severe head trauma," Const. Nicholas Gluckstein said in a statement Wednesday. "The female was rushed to a Toronto-area trauma centre and has since succumbed to her injuries."
He said investigators reviewed video footage from area security cameras and concluded that a white Dodge pickup truck was allegedly involved in the deadly hit-and-run.
Recommended from Editorial
Man, 58, dies in hospital weeks after Mississauga hit-and-run

Death of pedestrian in hit-run on Sherbourne St. probed as homicide: Toronto Police

Toronto man cuffed after pedestrian killed in hit and run
Article content
The pickup had been travelling northbound when it turned into a plaza, struck the woman and then drove off, police claim.
An Ajax man was subsequently identified as a suspect.
James Patton has been charged with careless driving causing death, leave an accident scene/failing to offer assistance – fatality, public mischief, and driving while under suspension.
"He was released on an undertaking," Gluckstein said.
Anyone with information regarding this investigation is asked to call police at 1-888-579-1520, ext. 5217, or Crime Stoppers anonymously at 1-800-222-TIPS (8477).
cdoucette@postmedia.com
@sundoucette
Article content