Now we know for sure what the next four years have to offer. Yes, Ottawa has a "super mayor".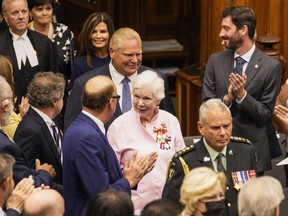 Lieutenant Governor of Ontario Tuesday at Queen's Park in Toronto Elizabeth Dowdeswell, Front, and Ontario Premier Doug Ford enter the legislative chamber before the throne address.

Photo by Andrew Lahodynskyj

/

The Canadian Press
Back in the spring, the Ontario government submitted its budget Did. Voters will know what to expect if Doug Ford and company are re-elected. Mixed in thelyric, "Give us a place to stand... give us a place to grow," it repeated the essence of the budget.
Now we know for sure what is planned for the next four years. More roads, more hospital infrastructure, more long-term care beds, more electric cars. / The battery industry, investments in the north, 'catch-up' funding for education, and various attempts to attract more health workers.
We also know that the Ford government plans to never enforce lockdowns again because of his COVID (or possibly other illnesses). With vaccines, antivirals, rapid tests, and HEPA filters, people are expected to live with the virus. Despite these tools, it's a strange promise to promise a deadly disease - monkeypox and other future plagues aren't even mentioned. No long-term strategy seems necessary. That's public health in Ontari Ali O.
Tuesday's laundry list included something that wasn't there three months ago, thanks to the Ontario Disability Assistance Program (ODSP). It was a small raise for some people. The Tories have now pledged to raise his monthly allowance by 5%, which currently keeps him at $1,169. Inflation was 8.1% in June. In the future, there is an inflation-linked rise plan.
Another addendum was a "bold" pledge to create a "strong mayor" system in Toronto and Ottawa (future extension to other municipalities yet to be determined). ). Tuesday's throne address ties the move directly to Ontario's affordable housing agenda, with the government stating that a strong mayor will "shorten development timelines, standardize processes and increase housing supply." We can work more effectively with states to address barriers in our region."
Even a "super mayor" is unlikely to magically solve the housing and shelter problems in Ottawa or any other city. The concept is really about shifting problems (some of which are the result of local bureaucracy) onto the shoulders of identifiable local politicians. And it's true that this move will give Ottawa voters a pause.. On whose shoulders will this matter shift? The work of Bob Chiarelli, Katherine McKennie, Mark Sutcliffe? And if their vote or veto is more important than that of other legislators, what other authority do they exercise?
But at least for state growth. We have a government blueprint. Rest well. Everyone is fine in Ontari-ari-ari-o.
Sign up to receive daily headline news from Ottawa Citizen, a division of Postmedia Network Inc.
By clicking the subscribe button, you agree to receive the above newsletter from Postmedia Network Inc. You can unsubscribe at any time by clicking the unsubscribe link at the bottom of the email. Post Media Networks Inc. | 365 Bloor Street East, Toronto, Ontario, M4W 3L4 | 416-383-2300
Thank you for registering.
Sending welcome email. If you don't see it, please check your spam folder.
The next issue of the Ottawa Citizen Headline News will arrive in your inbox shortly.