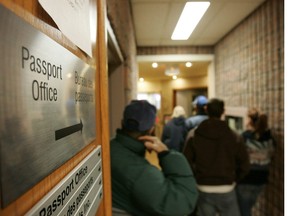 January Passport Office Lineup 12th.

Photo: Ken Wightman

/

London Free Press
Is Prime Minister Justin Trudeau's new task force serious? Or is he just carrying us? He suggests that it looks more like a red tape.
Over the weekend, the Prime Minister announced a task force "to improve government services for Canadians." In the
release, the PMO states: "Canadians deserve high quality and efficient government services that are accessible, timely, and easy to live in. Delays in immigration and passport processing are unacceptable and the Government of Canada will make them as soon as possible. We are urgently working to resolve it. "
There is a lot of confusion right now when it comes to government services. Airport turmoil and an excessive lineup of passport offices are two major examples.
At least I'm glad that Trudeau acknowledged the existence of the problem.
However, the announced task force includes 10 ministers, and the release notes state: A term solution focused on reducing latency, eliminating backlogs, and improving the overall quality of service provided to Canadians.
Sorry, why do we need a task force to speed up these basic tasks again? What are they going to do — do they have a meeting to discuss the reports they plan to write, and then a meeting to discuss the reports?
Civil servants are already in the business of providing these services. I just had a problem somewhere.
The mistakes we're witnessing shouldn't have happened in the first place, but now it's the manager's job to pick up the game and clean up the log jam.
MTF sounds like something to extend the holdup.
Do you believe that the thousands of senior bureaucrats in the departments responsible for these services have no clue as to how to solve these problems? If so, it's a problem and you should be crazy.
Only a few calls from the minister are actually needed to make it clear to the bureaucrats that these delays are unacceptable and that fixing them should be a priority. ..
That's how it works in the real world.
From the newsroom to the noon inbox, Toronto Sun's latest headlines, stories, opinions and photos. By clicking the
sign-up button, you agree to receive the above newsletter from Postmedia Network Inc. You can unsubscribe at any time by clicking the unsubscribe link at the bottom of the email. Postmedia Network Inc. | 365 Bloor Street East, Toronto, Ontario, M4W 3L4 | 416-383-2300
Thank you for registering.
A welcome email has been sent. If you don't see it, check your junk folder. The next issue of
Your Midday Sun will arrive in your inbox shortly.