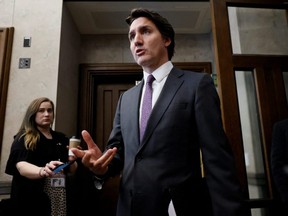 Prime Minister Justin Trudeau speaks to media in the House of Commons foyer on Parliament Hill in Ottawa, Wednesday, Feb. 1, 2023.

Photo by Blair Gable

/

REUTERS
The Trudeau government's now-aborted attempt to ban legal guns used by lawful hunters, farmers, ranchers and sports shooters is a textbook example of why it is not worthy of the trust of Canadians.
In November, without prior warning, it introduced a list of guns it intended to ban during a parliamentary committee — after it had completed hearing witnesses — that was considering Liberal legislation with a primary purpose to freeze handgun sales. That list contained guns the government classified as assault-style weapons, given that there is no legal definition of assault weapons in the criminal code.
From our newsroom to your inbox at noon, the latest headlines, stories, opinion and photos from the Toronto Sun.
By clicking on the sign up button you consent to receive the above newsletter from Postmedia Network Inc. You may unsubscribe any time by clicking on the unsubscribe link at the bottom of our emails or any newsletter. Postmedia Network Inc. | 365 Bloor Street East, Toronto, Ontario, M4W 3L4 | 416-383-2300
Thanks for signing up!
A welcome email is on its way. If you don't see it, please check your junk folder.
The next issue of Your Midday Sun will soon be in your inbox.
But it also included hundreds of conventional long guns used by more than two million legal gun owners.
Conservative, NDP, BQ and even some Liberals MPs, along with Indigenous groups and organizations promoting the safe and lawful use of guns, warned the government about what its amendments would do, but to no avail.
Public Safety Minister Marco Mendicino responded to the criticism that "the government has no intention — no intention whatsoever — to go after long guns and hunting rifles. And this is simply Conservative fearmongering."
A month later, Prime Minister Justin Trudeau said the opposite in a year-end interview with CTV News.
"Our focus now is on saying OK, there are some guns, yes, that we're going to have to take away from people who were using them to hunt," Trudeau said.
"But, we're going to also make sure that you're able to buy other guns from a long list of guns that are accepted that are fine for hunting, whether it's rifles or shotguns. We're not going at the right to hunt in this country. We are going at some of the guns used to do it that are too dangerous in other contexts."
On Friday, the Trudeau government flip-flopped again and withdrew the amendments, essentially conceding that the Conservatives weren't "fearmongering" about the issue and that the government's many critics from across the political spectrum were right.
There's no guarantee, of course, that the Liberals won't attempt to do the same thing again in future, given their apparent obsession with going after legal gun owners, as opposed to urban street gangs shooting up Canadian cities using illegal handguns smuggled in from the United States.
LILLEY: Facing anger in Liberal — and other — ranks, Trudeau pulls his gun ban, for now

Liberals withdraw controversial amendment to guns bill