Hannah Doucet's project, now featured in the National Gallery of Canada, began more than a decade after her Disney wish trip.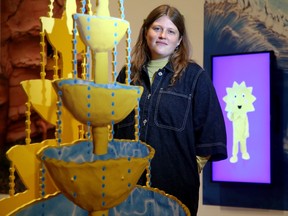 Hannah Doucet was one of three winners of the New Generation Photography Award, which are now exhibited at the National Gallery of Canada.

Photo by Julie Oliver

/

Postmedia
Reviews and recommendations are unbiased and products are independently selected. Postmedia may earn an affiliate commission from purchases made through links on this page.
New Generation Photography Award exhibition<
Gallery C218, National Gallery of Canada
Tickets and info at gallery.ca
Visual artist Hannah Doucet was 10 years old when she went on a trip to Disney World with her family.
Article content
It wasn't a typical family vacation – the adventure was the result of a wish granted to her by one of the agencies that specialize in fulfilling the dreams of critically ill children. At the time, Doucet had been through two years of treatment for lymphoblastic lymphoma.
Article content
Now, 20 years later, Doucet is in good health and has been revisiting the experience through her work, which led to her being named one of three winners of this year's New Generation Photography Award. The annual prize rewards outstanding work by Canadian artists aged 35 and under working in the photographic arts.
An exhibition at the National Gallery of Canada features artwork by the three 2023 New Generation winners. The others are Toronto-based queer artist Wynne Neilly and Vancouver's Gonzalo Reyes Rodriguez.
Doucet's project, A Wish Stays With You, began more than a decade after her Disney wish trip. She became fascinated by the "cultural complexity" of wish fulfillment, and travelled back to the magical kingdom to capture the images that anchor her work.
"I was really struck by the idea of fantasy and illness co-existing in these spaces at Disney," the Winnipeg-born, Toronto-based artist explained during a recent interview in the gallery's exhibition space. "It led me on this exploration of corporate philanthropy and its intersection with illness, specifically pediatric illnesses, and the ways that the mechanisms of capitalism intersect with childhood illness.
Article content
"Wish-granting is a benevolent, good thing, but it's also a corporate industry that intersects with the absurdity and nefariousness of capitalism."
Several photos were shot at the Give Kids the World Village, the Disney-adjacent non-profit resort where sick kids and their families stay during their wish trips. Doucet describes it as an "off-brand Disney space" that isn't quite as perfect as the happiest place on Earth.
"Things aren't kept up in the same way. They don't have the budget," Doucet says, pointing to the rusting edges and subtle deterioration depicted in her photos. "Something like this wouldn't fly at Disney because they're very careful about the way everything is presented."
Doucet also uses video, in one case subverting the notion that a happy mascot makes everything okay. In costume as a cheerful, yellow sun character, the footage shows her waving, bowing and blowing kisses, gestures that seem welcoming at first but with repetition take on a different tone.
"I was thinking about the performativity of Disney where these mascot characters are constantly engaging with visitors," Doucet says. "The first time it feels magical but the next time they're doing the same thing over and over. It becomes almost creepy, like 'What do you want from me?'"
Article content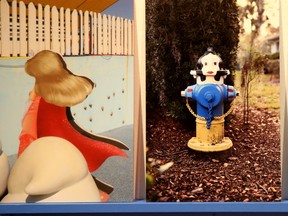 An example of Hannah Doucet's work.

Photo by Julie Oliver

/

Postmedia
Also going through her mind was the toxic positivity that pervades the wish-granting process.
"The idea that happiness is going to make you better, or if you just have a good attitude, you'll get through, bugs me," she says. "Were the kids that I have known who died just not happy enough?"
At the centre of the room is one eye-catching, interactive installation, a whimsical representation of a wishing fountain that accepts wishes from members of the public via their smartphones. A QR code on the wall (or an NFC tag hidden in the sculpture itself) takes you to Doucet's website, where you can toss a "gem" into the fountain and submit your own wish anonymously. But instead of your dream coming true, you receive someone else's wish.
"I was thinking of the reciprocal act of wishing," said Doucet of the piece. "Instead of it being this capitalist mindset that I make a wish and get a thing, it's creating a community of wish-makers. Nobody's wishes are getting fulfilled but it's like this community-building exercise that is anonymous."
She's received hundreds of wishes over the past year, ranging from silly requests such as bringing back a certain flavour of Kraft dinner, to big dreams like finding world peace or solving the climate crisis.
Article content
"It's been really cool for me," Doucet said. "I don't get any information about who's submitting the wishes but I get them. It's been amazing to see what people want, from really political, world-changing ideas to really personal and specific things."
Curator of the exhibition, Andrea Kunard, who's also the gallery's senior curator of photographs and chair of the New Generation jury, was impressed with all three winners' work, and drew attention to Doucet's ability to present a serious issue in a playful way.
"She's trying to make sense of what happened to her as a child, and remembers these moments in the past but she's doing it in such a way that invites the viewer into a journey that explores the whole corporate culture that surrounds this very serious issue, childhood illness," Kunard said.
"She presents it in this very colourful, playful way, her images are really interesting and her videos are incredibly well done. She's an amazing artist."
The exhibition is on view until Jan. 7.
lsaxberg@postmedia.com
Related Stories
Angelina Hunter Trio drops 'milestone' vinyl album

Ottawa performance among tour dates postponed until next year by ailing Bruce Springsteen
Article content