As of Thursday, it was still unknown when about 100 Ottawa-Carleton District School Board routes and about 60 Ottawa Catholic School Board routes would return to service.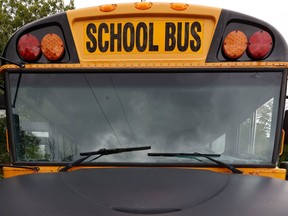 The Ontario Student Transportation Authority manages school bus transportation for the two English-language school boards in the Ottawa region.

Photo by Tony Caldwell

/

POSTMEDIA
As Ottawa students finished the third week of school, hundreds of them in the west end were still without bus transportation.
Families were left scrambling after school buses serving about 7,500 students in Ottawa's two English school boards were cancelled only days before the start of the new year. Many still don't have bus transportation. As of Thursday, it was still unknown when about 100 Ottawa-Carleton District School Board routes and about 60 Ottawa Catholic School Board routes would return to service.
Meanwhile, the board of the Ontario Student Transportation Authority, which manages school bus transportation for the two boards, is scheduled to meet Monday night. The meeting is not open to the public, but an update is to be released mid-week.
Here's a look at what it will take to keep school buses rolling.
Q: What is OSTA?
A: OSTA was formed in January 2007, when the transportation departments of the OCDSB and the OCSB were combined to form the consortium. At that time, OSTA became an independent, non-profit organization with its own staff and operations.
OSTA receives student transportation funding from Ottawa's two English-language school boards, the Ottawa-Carleton District School Board and the Ottawa Catholic School Board. Transportation funding is allocated from part of the education budget. The school boards receive their funding from Ontario's Ministry of Education.
OSTA has a board of directors, which includes trustees, a senior business manager and the directors of education from the two school boards.
Q: How much money does OSTA get to do the job?
A: Last year, for all operations, OSTA received about $81.5 million. Under a new provincial funding model, it will receive $75 million, CEO and general manager Vicky Kyriaco told OCDSB trustees last week.
"So there is definitely a funding gap between what we received — which was still a deficit — and what we are receiving now, which has just increased that funding gap," she said.
OSTA also has contractual obligations and is required to provide adjustments to fuel prices. While the ministry funds yellow buses and mini-buses, it does not fund vans. That funding comes from another bucket of funding, Kyriaco told trustees.
"Even if we wanted to go to minibuses so that we would get the funding, we don't have operators right now that have minibuses. That transition cannot be made because the funding formula has changed," she said.
Q: $75 million is less than $81.5 million. What's going on?
A: In June, OSTA identified a shortage of funds due to new contract renewals, increasing fuel prices and difficulties in retaining drivers.
To address the shortfall, the Ministry of Education committed additional one-time funding of $1.8 million. The two boards have also pledged additional funding to ensure that small-vehicle transportation for students with special needs continues, said Sharlene Hunter, a spokesperson for the Ottawa Catholic School Board.
The additional funding needed from each school board has not been determined, as it is based on actual costs. That may vary, given the volatility of fuel prices.
According to the Ministry of Education, funding is adjusted to reflect the market price of fuel for each school year. The new actual costs provided to the boards will be revealed later in the year.
There's a new transportation funding model in place this year. It will prioritize needs-based criteria to ensure that Ontario students have equal access to transportation services regardless of their distance from schools, Hunter said.
To achieve this, the government will provide "transition support" to the two Ottawa boards this school year, which will help maintain stability and consistency. The combined funding for Ottawa Catholic School Board and Ottawa-Carleton District School Board for 2023-24 will exceed $75 million, she said.
The province is spending $111 million more in student transportation funding for this school year alone, said Grace Lee, a spokesperson for Education Minister Stephen Lecce. The Ministry of Education has increased wages to recruit and retain school bus drivers and ensured additional compensation per route is incorporated into the funding framework, she said.
"Above and beyond the overall increase in funding and wages, our government provided an additional $1.8 million in funding specifically to Ottawa school boards to ensure stable and reliable student transportation for local families," Lee said.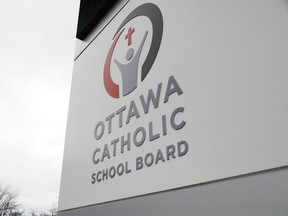 As of Thursday, it was still unknown when about 60 Ottawa Catholic School Board routes would return to service.

Photo by Jean Levac

/

Postmedia
Q: Is there anything in the new funding framework that will offer an incentive for bus drivers to stay on the job?
A: The framework integrates the Driver Retention Program, a retention and recruitment bonus, under the new "school bus driver component" of the Student Transportation Grant. It will continue to provide funding of $2,000 per route in bonuses for school bus drivers, the province says.
Q: Is the Ministry of Education obligated to provide bus transportation?
The Ontario Education Act includes some regulations that came into force on Sept. 1, 2015. One of them states that the education minister "may pay all or part of the transportation costs for a pupil admitted to a school if the pupil's parents or guardians reside in Ontario."
The regulations further states that the minister "may make an agreement or agreements with a corporation, commission or person for the transportation of pupils."
Neither of these say the province must pay for transportation — and that is in conflict with the Charter of Rights and Freedoms, said Monika Ferenczy, an education consultant and assessor who argues that students should have an enshrined right in legislation to get to school.
Most other provinces have moved to a French/English school system. "Ontario is an outlier in this regard," she said. "We need to find efficiencies and duplication. The transportation model needs to be reimagined."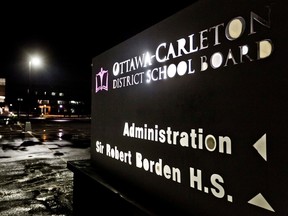 As of Thursday, it was still unknown when about 100 Ottawa-Carleton District School Board routes would return to service.
SunMedia
Q: Are there more school bus cancellations in Ottawa than elsewhere?
A: About 75 per cent of all reported daily school bus cancellations across the province involve the OCDSB and the OCSB, the Ministry of Education says.
Ottawa is not the only school district grappling with bus cancellations, although it was one of the hardest-hit communities this fall, said Nancy Daigneault, executive director of School Bus Ontario, an association representing the owners of school bus fleets.
"Many other jurisdictions, however, are experiencing cancellations and delays. Renfrew has quite a few cancellations, whereas they didn't in previous years," Daigneault said. "Significant delays of up to 60 minutes are also hitting Toronto and some parts of the GTA, like Peel and York region. Thunder Bay is also dealing with cancellations."
Bus operators can't be forced to sign contracts if the contract conditions don't suit them, and bus drivers are not obligated to work at the wages offered. Driver shortages appeared before the COVID-19 pandemic and have become worse. This year has featured the perfect storm of higher costs, including a competitive job market and increased fuel costs.
OSTA negotiated contracts this year with nine of 10 bus companies serving its two school boards, but was not able to renew a contract with Premier Bus Lines, which had served 36 routes. The lost routes affect about 3,000 students.
Q: What's next?
A: At this point, the gap between what boards are spending on transportation and what they're receiving has not been made public. The Ottawa Catholic School is using funds from reserves and increased revenue from growth, Hunter said.
A third-party review is to look into the situation with the aim of providing a financially sustainable plan that aligns with the new funding framework. Details of the review, include who will head it, have not yet been announced.
"We have been increasing funding to the two school boards," Carleton MPP Goldie Ghamari said.
She added she hoped the review would go deeper into OSTA's finances, why rural routes weren't prioritized and why parents found out about route cancellations only days before school started.
"Ultimately, this has been about making sure that children can get to school," Ghamari said. "I hope everyone can get together to resolve this."
Our website is your destination for up-to-the-minute news, so make sure to bookmark our homepage and sign up for our newsletters so we can keep you informed.
Police board expected to approve $115.4-million contract for new south facility

https://ottawacitizen.com/news/local-news/police-board-expected-to-approve-115-4-million-contract-for-new-south-facility