These ideas are designed to help Dad sit back, relax and enjoy his day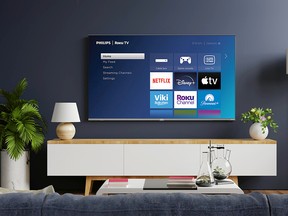 Dad's man cave just got an entertaining upgrade! Philips Roku TV, 55-inch starting at $498, roku.com
Reviews and recommendations are unbiased and products are independently selected. Postmedia may earn an affiliate commission from purchases made through links on this page.
Father's Day lands on June 18, and in your search for a gift, may I suggest forgoing the silk tie and car-washing kit? Ditto presents geared to the DIY dad, and the dad in the kitchen. Such presents are, of course, perfectly acceptable, but hear me out: most fathers could use a break from endless chores. That's why I've focused on Downtime Dad. That's the guy who just wants to peacefully recline in his man cave on his pillowy La-Z-Boy. And so, here are fun, unique and relaxing gifts that dad won't have to break a sweat to enjoy.
Now sit dad in his favourite armchair, hand him his gifts and leave him alone — that'll make him the happiest pappi on the block.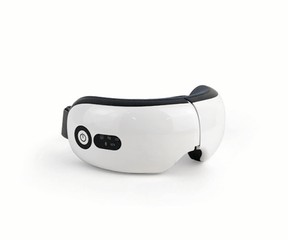 Relieve eye strain and headaches while napping. Climatech Eye Massager, $149, sleepcountry.ca
All eyes on dad
For the dad whose eyes are glued to a screen (or who reads a lot), there's instant relief from strained eyes. This Star Wars-looking technology is galaxies away from dainty eye creams and jade rollers. The Climatech Eye Massager ($149, through Sleep Country), uses warmth and vibration massage to relieve headaches, insomnia and eye strain. Using air-compression technology, kneading, trigger-point therapy and air-percussion massage, this tool gives dad the gentle touch he needs. The built-in heating pads, meanwhile, provide a soothing adjustable temperature to stimulate blood circulation around the eyes, reducing puffiness, dark circles and under-eye bags.
A man-cave must
Upgrading dad's entertainment will ensure he watches the best movies, games and programming while hunkered down in his man cave. With 4K Ultra HD QLED display and Dolby sound (that means richer colours, greater contrast and theatre-like sound), the Philips Roku TV, that starts at $500 for a 55-inch screen, provides a cinematic experience that will have him roaring and cheering during sports games, belly laughing at his favourite comedy or tearing up at a romantic history film. The Philips Roku TV (coming to retailers later this month so preorder it now) offers super easy-to-use screen programming and a wide selection of free and paid streaming channels to settle dad in for some screen downtime. Tip: Add a hot-air popcorn maker and kernels along with this gift and maybe, just maybe dad will let you into his cinematic world.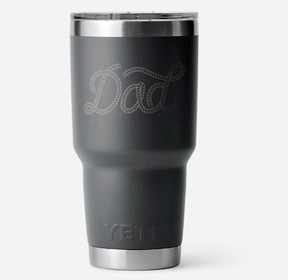 Dad's best friend during his morning hot coffee or afternoon cold bevvy on the dock. Father's Day Rambler 887 ml Tumbler, $60, Yeti.ca
Keeping his cool
With summer around the bend, one of dad's best downtime pals can be a drink tumbler. But not just any regular plastic cup, give him one that will keep his coffee hot in the morning and his beverage cool during a sunny afternoon. This special Father's Day Rambler 887 mL Tumbler ($60, Yeti.ca), will get him through the day and night. Constructed out of kitchen-grade stainless steel with a double-wall vacuum installation, the materials work together to protect the drink to keep it hot or cold. The magnetic slider lid and tumbler are dishwasher safe for easy cleaning and the magnet on the MagSlider lid adds an additional barrier of protection for keeping drinks contained and preventing heat or cold from escaping. Bonus: The larger size ensures good hydration and less trips for refills.
Do you have a decor dilemma or want to give feedback? Follow and contact Karl on Instagram, @Karl_Lohnes