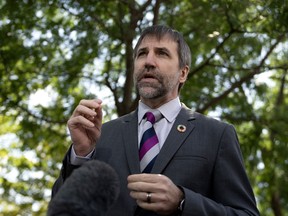 Minister of Environment and Climate Change Steven Guilbeault speaks with media outside the United Nations, in New York, Wednesday, Sept. 20, 2023.

Photo by Adrian Wyld

/

The Canadian Press
Federal Environment Minister Steven Guilbeault is expected today to stop a study of the Rouge National Urban Park that was launched after Ontario Premier Doug Ford opened nearby protected lands to development.
Guilbeault says in a statement obtained by The Canadian Press that he is indefinitely suspending the study in response to Ford announcing last week that he is cancelling plans to develop parcels of the Greenbelt.
Part of the Greenbelt in question is adjacent to the park in eastern Toronto and Guilbeault says the study was to assess the environmental effects of development next to sensitive lands after Indigenous people and the general public expressed concerns.
Guilbeault said when he first announced the study that Rouge National Urban Park is home to 42 species at risk, including the bank swallow, the red-headed woodpecker and the monarch butterfly.
Ford announced Thursday that it was a "mistake" to remove 15 parcels of land from the Greenbelt, and he pledged to return them.
Guilbeault's statement says the federal government looks forward to more details of how Ford will reinstate all protections of Greenbelt lands.