Gary Arnold, 54, faces seven charges stemming from the abduction of James and Sandra Helm on Sept. 27, 2020.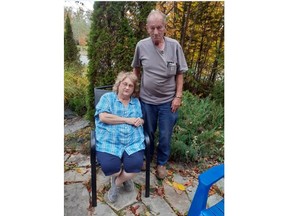 James and Sandra Helm of Moira, N.Y., are seen being held captive in Quebec in 2020, in this court handout image received January 17, 2023.

Photo by Handout

/

THE CANADIAN PRESS
A Quebec man on trial for the kidnapping of a couple from Upstate New York who were smuggled into the province and held captive was heavily involved in the plot, the prosecution said Thursday in its closing arguments.
"We submit to you that Gary Arnold knows a lot. He knows everything about what's going on," Edith Lafontaine told the jury, saying the kidnapping and extortion plot was well planned.
Sign up to receive daily headline news from the Montreal Gazette, a division of Postmedia Network Inc.
By clicking on the sign up button you consent to receive the above newsletter from Postmedia Network Inc. You may unsubscribe any time by clicking on the unsubscribe link at the bottom of our emails or any newsletter. Postmedia Network Inc. | 365 Bloor Street East, Toronto, Ontario, M4W 3L4 | 416-383-2300
Thanks for signing up!
A welcome email is on its way. If you don't see it, please check your junk folder.
The next issue of Montreal Gazette Headline News will soon be in your inbox.
Arnold, 54, faces seven charges, including kidnapping, unlawful confinement, extortion and conspiracy, stemming from the abduction of James and Sandra Helm on Sept. 27, 2020.
Arnold testified earlier that he was threatened by a man known simply as "Big" to do various jobs in September 2020, such as dropping off phones, sending text messages and picking up catheters for an unknown woman. But Arnold said he never met the Helms and knew nothing of the plot.
Lafontaine told the jury that a flurry of phone calls and text messages using prepaid phones linked to Arnold and three other people who were charged in connection with the kidnapping suggests he clearly knew what was going on.
"We submit to you this is not a regular amount of communication between the same four people," Lafontaine told the jury. "The only reason they would talk so much together is if they are planning something, and they are."
The Crown has said the couple were kidnapped as leverage in a bid to recover 50 kilograms of cocaine or $3.5 million cash from their grandson Mackenzie, who had been arrested in Vermont on Sept. 21. A total of 10 calls were made to the couple's son, Michael Helm, seeking ransom.
The trial heard the couple were brought into Quebec by boat through Akwesasne before being taken to a cottage in Magog, about 125 kilometres southeast of Montreal. They were freed two days later by a Sûreté du Québec SWAT unit.
Lafontaine noted that Sandra Helm identified Arnold as one of the people inside her home the night she and her husband were taken and that Arnold's phone had been detected near the couple's home in Moira, N.Y., around the time of the abduction. And after realizing Sandra Helm needed catheters, Arnold was caught on video picking some up inside a hospital in Valleyfield, she said.
Lafontaine said Arnold played a key role because of his contacts on the Akwesasne Mohawk reserve from a previous conviction for smuggling cigarettes. "Mr. Arnold has the boat, he has the route and he has the knowledge," she said.
Earlier, Arnold's lawyer, John T. Pepper, told the jury that his client feared for the safety of his family and followed orders due to threats, suggesting the Crown did not prove his client knew about the abduction. Arnold testified he had swapped his phone with one of Big's employees right around the time the couple were kidnapped.
"Arnold didn't kidnap, didn't confine, he didn't in any way, shape or form attempt to extort anything," Pepper said. "He was threatened to do what he had to do."
Lafontaine questioned why he didn't go to authorities if his family was in danger.
"Ask yourself if that's what a reasonable person would do," she said. "If you were a white man, in your early 50s, you're a farmer living a simple life with your partner and your two children and you get a threat with reference of a body bag, what would you do?"
The jury will begin hearing final instructions from Superior Court Justice Michel Pennou on Monday before they are sequestered sometime on Tuesday.
Arnold was warned man behind kidnapping was 'well connected,' court told

I never set foot in Magog, man accused of kidnapping N.Y. couple testifies