Denmark and Ukraine like him, India not so much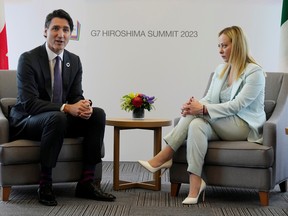 Prime Minister Justin Trudeau meets with Italian Prime Minister Giorgia Meloni in May, 2023. The visit didn't go well.
Photo by THE CANADIAN PRESS/Adrian Wyld
First Reading is a daily newsletter keeping you posted on the travails of Canadian politicos, all curated by the National Post's own Tristin Hopper. To get an early version sent directly to your inbox, sign up here.
TOP STORY
It's frequently said that Canadian foreign relations are not in great shape. It's a criticism made of most Canadian governments – at least, all of the ones since the 1960s. But if it cuts deeper against the Trudeau government, it's partially because they promised they were really good at this. Trudeau famously celebrated his 2015 election by promising the world that "Canada is back," and some analysts even called him a "democratic super weapon."
So here's a quick review of how that's gone. We'll start with the good news …
BETTER
UKRAINE
Ukraine is the world's only country whose relationship with Canada is exponentially better than it was in 2015 (although a note that this newsletter was written before this happened), and all it took was an all-out Russian attempt to destroy the former's existence. Military and economic support for Ukraine is pretty uniform among Canada's various federal parties, but the Trudeau government has managed to put Canada among the world's largest contributors to Ukraine's war against Russia. As of the latest count by the Kiel Institute for the World Economy, Canada was the sixth largest contributor to Ukraine among sovereign nations, and the eighth largest supplier of military aid.
ROMANIA
Several of the entries below will focus on the fact that Canada refuses to export its plentiful stores of natural gas, even when otherwise proud nations beg us for it. But the Trudeau government is A-OK with sharing our nuclear bounty with the world, and Romania is quite pleased with a deal announced just this week that Canada will be helping to finance the construction of two CANDU-6 reactors to help the eastern European nation shut down its coal plants.
DENMARK
The Trudeau government negotiated a decisive end to the Whisky War, a conflict between Denmark and Canada over the ownership of Hans Island, an uninhabited, treeless piece of land located midway between Nunavut and Greenland. The so-called Whiskey War referred to the practice of each nation's armed forces to make occasional visits to the island in order to hoist their flag and leave a bottle of whiskey as an assertion of sovereignty. Anyways, the island has a border through it now, meaning Canada technically shares a land border with an E.U. nation now.
Hans Island, a beacon of hope to a troubled world.
Photo by Toubletap/Wikimedia Commons
ABOUT THE SAME
GERMANY
German Chancellor Olaf Scholz made a rare state visit to Canada in 2022 with the explicit intention of begging Ottawa for some of its plentiful natural gas. After Russian supplies of fossil fuels were shut off by the Ukraine war, an energy-starved Germany was left to roam the world for replacement sources while simultaneously firing up some of its mothballed coal plants.
Trudeau rebuffed Scholz, told him there was no "business case" for gas, and then made him go to a field in Newfoundland where he said Canada eventually planned to build a hydrogen plant. But the Trudeau government also threw billions upon billions of taxpayer dollars at Volkswagen, so we're probably even.
JAPAN
Japan also made a special trip to Canada in search of gas, with similar results. There was also that time in 2019 when Japanese Prime Minister Shinzo Abe came to Ottawa and Trudeau accidentally called him the leader of China. But while Japan isn't getting Canadian natural gas, they are importing millions of tonnes of Alberta ammonia, which helps their coal plants run cleaner.
Geoff Russ: A Conservative revolution is coming to B.C.

'Oo, I'm so scared': A Canadian house responds to Ottawa's pledge to make it affordable
THE UNITED STATES
It would take a Biblical-level cockup for Canada to cause any meaningful damage to its relationship with the United States – and vice versa. But that's not to say that Ottawa hasn't needlessly annoyed the Americans a few times in recent years, most notably on the subject of COVID policy. An extended ban on U.S. cruise ships in Canadian waters – made long after most of the major concerns about the pandemic had been addressed – was enough to prompt a bipartisan delegation of Alaska politicians to complain to Washington that not only was Canada's move "unexpected — it is unacceptable — and was certainly not a decision made with any consideration for Alaskans or our economy. We expect more from our Canadian allies." Ottawa's insistence on the glitch-prone ArriveCan app for foreign travellers would prompt very similar statements from Republican and Democratic representatives in the contiguous United States.
IRAN
If Trudeau detonated Canada's relationship with India in order to curry favour with expat communities (as has been alleged), Iran was Harper's version. In 2012, Harper severed diplomatic relations with the Islamic Republic of Iran. Not for anything the Iranians had done to Canada in particular, but because they were a state sponsor of terror, an avowed enemy of Israel and a "threat to global peace." The Liberals may have criticized that decision, but they haven't reversed it. In 2018, a majority of the Liberal-dominated House of Commons rejected any effort to restore ties with Tehran.
WORSE
INDIA
If India really is ordering hits on people in Surrey, that would be a sore point with any Canadian government. But the Nijjar affair is but the whipped cream topping on the Trudeau government's utterly disastrous mismanagement of Indian relations.
Indo-Canadian relations were actually pretty good when Trudeau took office; Indian Prime Minister Narendra Modi made a wildly successful visit to Canada in 2015, and he even seemed to become personal friends with former Canadian Prime Minister Stephen Harper. But trust between the two nations has been in free-fall ever since Trudeau's disastrous 2018 visit to the country; Trudeau's elaborate wardrobe caused eyerolls among Indian progressives, and sounded alarm bells among Indian conservatives that he was not a trustworthy steward at keeping expatriate Sikh extremism in check.
CHINA
At the start of Trudeau's tenure the odds were good that Sino-Canadian relations were probably going to be entering a new golden age. Trudeau's father Pierre had been a full-blown People's Republic of China apologist, and Justin's first visit to Beijing in 2016 had verged on the servile. Trudeau presented his daughter Ella-Grace to Chinese media and declared "the friendship and the openness towards China that my father taught me, I'm certainly hoping to pass on not only to my children but to generations of Canadians in the future."
But then Beijing arbitrarily detained two random Canadians. The PRC detonated a COVID vaccine deal seemingly to punish Ottawa, setting back Canada's mass-vaccination plans several months. Chinese authorities were caught allegedly opening secret police stations on Canadian soil. And there's the whole "foreign interference" thing.
RUSSIA
Russia has a pretty negative relationship with most of Planet Earth right now, so it's not at all surprising that Canada's relations with Moscow is also at an all-time low. One of the weirder aspects of the Russo-Canadian relationship is how both countries have been drafting duelling lists of "sanctioned individuals." Russia started by banning the Trudeau cabinet from travelling to Russia, then the rest of Parliament – and then they just started adding the names of random Canadian celebrities and pretty much any Canadian journalist who had ever badmouthed them in print, including about half a dozen National Post contributors.
VENEZUELA
Surprise! Even though Trudeau's critics are known to compare his interventionist economic policy to that of Venezuelan strongman Nicolás Maduro, Canada-Venezuela relations have definitely deteriorated since 2015. Since 2021 Canada has been a member of the Lima Group, a coalition of mostly South American and Central American countries that have essentially declared Venezuela a rogue gangster state. As such, the Canadian embassy in Caracas has "temporarily suspended operations," according to Global Affairs.
SAUDI ARABIA
A 2018 blowup with Saudi Arabia is usually offered as the test case for how a sanctimonious foreign policy can go off the rails. In 2018, Global Affairs Canada uploaded a post to social media demanding that Saudi Arabia "immediately release" several human rights activists in its custody. Canada officially deplores all kinds of things about the Saudi government, but the phrase "immediately release" triggered someone in Riyadh – they suspended diplomatic relations, froze trade deals, called home Saudi students and even forbade the state airline from flying to Toronto. It wasn't until last May that the two countries restored diplomatic relations.
Canada is gravely concerned about additional arrests of civil society and women's rights activists in #SaudiArabia, including Samar Badawi. We urge the Saudi authorities to immediately release them and all other peaceful #humanrights activists.

— Foreign Policy CAN (@CanadaFP)

August 3, 2018
THE PHILIPPINES
This is a weird one and it's not really Trudeau's fault, but in 2019 a few dozen Canadian shipping containers filled with garbage briefly became a national scandal in the Philippines. They were shipped from Vancouver using forged documents and ended up impounded in a Manila port, where they remained for several years in a puddle of their own garbage juice. Canada reportedly dawdled on taking them back, until then-Philippine president Rodrigo Duterte threatened "war" and started sending back the containers himself with instructions for Canada to "eat" them.
ITALY
There has been no apparent collateral damage done to the Italian-Canadian relationship since 2015, but Italian Prime Minister Giorgia Meloni is definitely not a fan of the incumbent Canadian government. In May, Trudeau was delivering a joint press conference with Meloni when he slipped in a mention that "Canada is concerned about some of the positions Italy is taking in terms of LGBT rights" and said he looked forward to explaining to Meloni some of the "democratic principles that the world needs." At issue was a recent Italian court decision regarding the registration of same-sex couples raising children; whereas both members of a couple had previously been registered as parents, now it was only to be the child's biological parent. Meloni later said Trudeau had fallen for "fake news" that this was a plot by her government to erode LGBT rights, and the exchange prompted one Milan tabloid to put Trudeau's blackface portrait on its cover with the caption "this buffoon wants to teach us lessons."
IN OTHER NEWS
Some provincial politicians have been demoted for bad behaviour, although one of the cases is much more mysterious than the other. Kaleed Rasheed, Ontario's minister of public and business service delivery (that's a real ministry), resigned over allegations that he took a trip to Las Vegas with a prominent developer. They may even have gotten massages at the same time. The weirder case comes from B.C., where MLA Adam Walker resigned from the province's governing NDP caucus over what his bosses have described only as "serious and concerning issues" (although they clarified the issues weren't sexual and nature). Notably, only a few days before this happened, Walker got into a fight with a deer. After the MLA saw a fully antlered mule deer attacking his yellow Labrador, Walker spent 20 minutes tackling the animal to the ground.
As anyone who's been on a surgery wait list can tell you, Canadian medicare is not in the habit of ponying up for treatment in the United States if it takes too long (and about 2,000 to 3,000 Canadians die each year while on such a list). But National Post contributor Jamie Sarkonak identified one very specific case in which it is now policy (at least in Ontario) for the provincial health service to pay for surgery in the U.S. An Ontarian identified only as KS wanted a rare procedure wherein doctors construct a vagina in addition to leaving the patient's penis intact. Such a procedure is only available in Austin, Texas (and it costs about $100,000), but the province's Health Services Appeal and Review Board recently ruled that the Ontario Health Insurance Plan must pay for it lest they be violation of several laws, including a recent federal prohibition on so-called "conversion therapy."
Get all of these insights and more into your inbox by signing up for the First Reading newsletter here.