Non-Canadian comedians didn't typically have ready impressions of the Canadian prime minister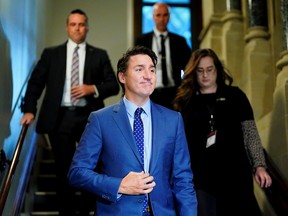 Prime Minister Justin Trudeau arrives at a caucus meeting on Parliament Hill in Ottawa on Wednesday, Sept. 27, 2023.
Photo by THE CANADIAN PRESS/Sean Kilpatrick
First Reading is a daily newsletter keeping you posted on the travails of Canadian politicos, all curated by the National Post's own Tristin Hopper. To get an early version sent directly to your inbox, sign up here.
TOP STORY
Article content
As news of another Trudeau government scandal swept international headlines, it was also finding ready mention in comedy podcasts, parody news sites, and satirical videos across the Anglosphere.
Article content
For most of Canadian history, it was a given that the identity and reputation of the country's prime minister was unknown to the world's non-Canadian satirists. There are no Mort Sahl routines about John Diefenbaker or Peter Sellers impersonations of Lester Pearson — and the one time Saturday Night Live parodied a Canadian prime minister, it was Canadian cast member Mike Myers doing Jean Chrétien.
But that's all changed under the incumbent Trudeau government. Foreign comedians (even those addressing mostly foreign audiences) are routinely getting laughs out of jokes about Canadian politics.
At the beginning of Justin Trudeau's premiership in 2015, his high international profile spurred the occasional foreign joke about his unusually good looks or perceived arrogance.
At the 2016 White House Press Correspondent's Dinner, U.S. President Barack Obama cracked a joke about being told that the new Canadian prime minister had replaced him as the world's progressive darling. "I said Justin, just give it a rest," he said.
Article content
When a fictional Trudeau featured in a 2017 episode of the British sitcom The Windsors, the entire joke surrounded the characters' attempts to bed him.
But the floodgates opened starting in 2018, when Trudeau made an abortive trip to India characterized by his over-the-top Indian wardrobe. This was then followed by revelations during the 2019 federal election that Trudeau had repeatedly been photographed wearing blackface.
South African-born Daily Show host Trevor Noah has done Trudeau-specific segments on the show about half-a-dozen times, and even included an entire Trudeau monologue in his 2022 comedy special I Wish You Would.
"My favourite Trudeau scandal by far is where he went on a trip to India and then became Indian," Noah said.
Related Stories
Terry Glavin: Better vetting won't stop the Trudeau clown show

Comedian Rob Schneider cancels trip to Canada over Nazi fiasco
In a 2019 Daily Show segment about Trudeau's blackface scandals, Noah noted the "commitment" of Trudeau having applied black makeup to his face, legs and even arms in one instance. "The whole day were you leaving makeup on doorknobs?… If he touched (other white people) he'd leave a black handprint on them?"
Article content
Another Daily Show alumnus, the U.S. comedian Hasan Minhaj, devoted a 2019 episode of his Netflix show Patriot Act to the topic of Canada and Trudeau — and began it with a series of clips showing Trudeau dancing Bhangra interspersed with footage of a lookalike competing on the Afghanistan reality show Afghan Star.
"That last one wasn't Trudeau but you believed it!… You were like, 'Aw yeah, I guess he can sing Afghan love ballads,'" Minhaj told his audience.
Minhaj would later note that his interview with Trudeau for the show was completed just before the blackface scandal broke, leading to accusations that he had somehow glossed over it. "I didn't know; I can't just do interviews like, 'What is your name, what do you do and how much shoe polish do you own?'" he explained on The Late Late Show.
Among the top videos on the YouTube site of New York comedian Nimesh Patel is similarly an improvised take on the blackface/brownface scandal. "I'm not Nimesh Patel, I'm actually Justin Trudeau; the brownface takes a while to wipe off," Patel tells a crowd at Manhattan's Comedy Cellar.
Article content
Article content
Addressing the Canadians in the audience, Patel tells them "you guys have been real smug these last few years because we had Donald Trump as president, so I'm glad you got knocked down a peg."
Just last year, another New York-based Comedy Cellar regular, Andrew Schulz, devoted an entire five minutes to roasting the Canadian prime minister at a show in Canada — yielding a video that's now pushing two million views on YouTube.
"Yo Punjabis, be honest; when Trudeau did the Punjabi-face, what was more offensive? That he put on the turban or that he made y'all dark skinned?" said Schulz, before launching into a string of jokes about Trudeau's recent put-down of the Freedom Convoy protests — and the popular rumour that he's the secret love child of a certain Caribbean dictator.
"His dad would be so embarrassed … because Fidel Castro was all about protest."
Article content
IN OTHER NEWS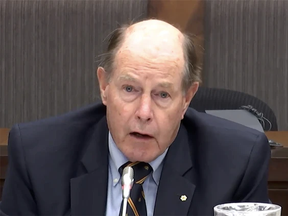 We're out of money. At least, that was the gist of recent committee testimony by former Bank of Canada governor David Dodge. Borrowing costs are rising, per-capita productivity is dropping, and Dodge said that Canada is going to need to start cutting spending and slashing deficits sooner rather than later. "Governments cannot borrow their way out of these difficult choices," he said.
Photo by PHOTO BY PARLVU.PARL.GC.CA
Prime Minister Justin Trudeau initially refused to apologize or take responsibility for last week's incident of the House of Commons applauding a Nazi (but did end up offering "unreserved apologies" on behalf of Parliament Wednesday). Before that happened, though, Health Minister Mark Holland seemed to suggest to reporters that if Trudeau apologizes on behalf of Canada, then the Russians win. "It seems to me that we're all extremely zealous about continuing to pursue this," he told reporters, before saying that Canada should instead be zealous about "fighting autocracy" and "defending democracy."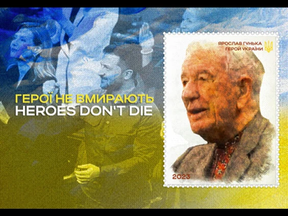 This is a fake stamp circulated by Russian government propagandists purporting to show a Ukrainian stamp honouring Yaroslav Hunka, the ex-Nazi that Ukrainian President Volodymyr Zelenskyy unwittingly applauded on Friday. The manufactured pretense for the Russian invasion of Ukraine is that the country is a neo-Nazi state that needs to be destroyed, so it's obviously been catastrophically bad PR for Zelenskyy that his visit to Canada had him accidentally hobnobbing with an actual honest-to-goodness Nazi.
Photo by PHOTO BY @RUSSIANEMBASSY/X
Get all of these insights and more into your inbox by signing up for the First Reading newsletter here.
Article content