Concussions are one of the most serious injuries in hockey, especially for underdeveloped brains.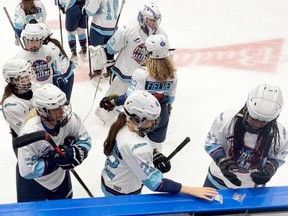 In this image taken from video, members of the Florida Alliance prepare for their hockey game against England at the International Peewee Tournament at the Vidéotron Centre in Quebec City on Sunday, Feb. 12, 2023.

Photo by John Wawrow

/

AP
Postmedia may earn an affiliate commission from purchases made through our links on this page.
Every year, half-a-million kids lace up their hockey skates in rinks across the country. But for all the faceoffs taken, passes made and goals scored, injuries remain part of the game, with concussions arguably one of the most serious, especially for underdeveloped brains.
Ranked just below rugby when it comes to documenting the highest number of concussions in youth sports, bodychecking was identified as one of the leading causes of head injury among hockey players. So it was no surprise when a decade ago it was banned for all 14-year-old and under (U-15 or Bantam) players. But young hockey players are still getting head injuries, which led a team of Canadian researchers from the University of Calgary to look at other variables that may factor into concussion risk, like sex, weight, level of play and player position.
Using data collected from a study of 4,418 hockey players ages 11 to 17 from British Columbia and Alberta that spanned five seasons and included players from all levels of play, including leagues that both permitted and prohibited bodychecking, the researchers examined the number of concussions that occurred during games and practices.
Of the more than 4,000 players (including girls playing on girls-only teams and teams with boys and girls playing together), 617 reported having a concussion, the majority of which occurred in games — which is consistent with previous studies. What was unexpected, however, is that a higher proportion of females participating on female-only teams suffered concussions as compared with females playing on predominately male teams — even though there's no bodychecking in women's hockey.
"Our results suggest that, relative to male players, females had a 79-per-cent higher rate of game-related concussion and a two-fold greater rate of game-related concussion with greater than 10 days of time-loss," the researchers said. "Females also had over a two-fold greater rate of practice-related concussion than males."
By signing up you consent to receive the above newsletter from Postmedia Network Inc.
Thanks for signing up!
A welcome email is on its way. If you don't see it, please check your junk folder.
The next issue of Headline News will soon be in your inbox.
Peter Smith, who coached the McGill University women's hockey team for 20 seasons and was assistant coach on the Canadian women's teams who won gold in the 2006 and 2010 Olympic Games, knows a thing or two about women's hockey. He says some of his players have had career-ending concussions, despite the fact that concussion knowledge, prevention and treatment has come a long way since his early days behind the bench.
It's a similar scenario south of the border with the NCAA reporting that women's varsity hockey has the highest rate of concussions among 16 male and female collegiate-level sports, despite body checking being prohibited.
Adrienne Crampton is the associate director of Business Development at Healthy Brains, Healthy Lives in Montreal. Concussions forced her early retirement from the McGill Martlets and led to her pursuit of a PhD in concussions and mild traumatic brain injury. She welcomes more research into why female athletes are at greater risk for concussion. Intuitively, based on her knowledge in the field and in the sport, she has a few ideas as to the reason behind this phenomenon.
"Big hits still happen in women's hockey, yet very few women are taught how to give and take a hit," Crampton said.
She mentions that among various other factors, differences in anatomy between both sexes could be a factor, including smaller neck girth, which may make it harder to stabilize the head during body-to-body contact. There's also less education in girls' hockey around how to effectively give and take a hit, which can increase the risk of injury, including head trauma.
Despite this sex-based gap in concussion knowledge, the University of Alberta researchers couldn't be clearer in their assertion that prohibiting body checking in youth hockey remains the right decision when it comes to reducing the risk of head injury in young hockey players.
"The substantial evidence showing significant reductions in injury risk following policy disallowing bodychecking provides further support that the greatest public health impact specific to youth ice hockey is realized through disallowing bodychecking," the researchers said.
And contrary to the argument that waiting too long to implement bodychecking will result in more injuries when players are bigger but less skilled at using their body to move someone off the puck, there's no evidence that a late introduction to bodychecking resulted in more injuries.
Also debunked is the idea that player weight (within the same age group) increased the risk of concussion, with smaller players more likely to be concussed than their larger teammates.
"Based on the evidence, restricting youth ice hockey leagues based on age and weight to reduce concussion risk like some American football leagues have performed may not be warranted," the researchers said.
As for player position, goalies were the least likely players on the ice to have a head injury, with statistics suggesting all other positions were of equal risk.
One risk factor, however, remains consistent among all ages, sizes, sex, playing position and sport, and that's if you've had a previous concussion, you're more at risk for another.
"Those with a previous injury and concussion history had higher rates of game-related concussion, which was also well supported by previous youth ice hockey studies and across sports," the researchers said.
The best approach is to strive for fewer concussions, which was the focus of the 6th annual International Conference on Concussion in Sport and their latest Consensus Statement. The document outlines prevention strategies, including supporting prohibiting bodychecking in all youth and most adolescent hockey leagues. It also suggests mouth guards be mandated for this same age group, citing a 28-per-cent reduced rate of concussion when worn.
Every little bit counts when it comes to making it safer to pull on a hockey jersey, including changes to the game and equipment. Kids play hockey to have fun, not sit on the sidelines.
Fitness: Wearable technology has come a long way

Fitness: More women are working out at middle age and beyond

Fitness: Science defends the exercise habits of weekend warriors