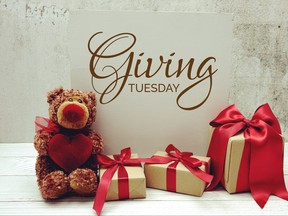 Photo by may1985

/

Getty Images
Reviews and recommendations are unbiased and products are independently selected. Postmedia may earn an affiliate commission from purchases made through links on this page.
It's the holiday trilogy; Black Friday followed by Cyber Monday. And now Giving Tuesday, taking place Nov. 29. The three do officially kick off the season, but it's Giving Tuesday that really needs to be put on top of everyone's wish list, especially during these tough, economic times, when we're all told to give more, when we all seem to have less.
What is this special day? It's actually a worldwide campaign that started ten years ago and today, encompasses more than 85 countries worldwide, with the simple messaging that, if we can all just give a bit, many will get a lot. And the giver will get the most in terms of joy during the holiday season.
As the Canadian national soccer teams head to their respective FIFA World Cups, Derek Van Diest is on the scene to cover all the action. Expect expert insights and analysis in your inbox daily throughout the tournaments, and weekly on Thursdays for the rest of the season.
By clicking on the sign up button you consent to receive the above newsletter from Postmedia Network Inc. You may unsubscribe any time by clicking on the unsubscribe link at the bottom of our emails. Postmedia Network Inc. | 365 Bloor Street East, Toronto, Ontario, M4W 3L4 | 416-383-2300
Thanks for signing up!
A welcome email is on its way. If you don't see it, please check your junk folder.
The next issue of Corner Kicks with Derek Van Diest will soon be in your inbox.
In Canada, the movement was started in 2012, and has raised millions towards a plethora of charitable causes as well as help for non-profits, both nationally and locally.
"Giving Tuesday is the world's largest generosity movement," notes givingtuesday.ca, on this grassroots operation that is, essentially, based on kindness, and the simple idea of a day that encourages people to just "doing something good. Make someone smile, help a neighbour or stranger, show up for an issue you care about, or give some of what you have to those in need."
"In a recent Ipsos poll conducted by CanadaHelps, 22% of Canadians said they plan to access charitable services to meet essential needs like food and shelter in the next six months, up from 14% in January," said Jane Ricciardelli, acting CEO of CanadaHelps, co-founders of GivingTuesday Canada, in a recent media release. "At the same time, 20% of Canadians said they expect to reduce their charitable donations this year, creating a perfect storm of increasing needs and declining resources."
Here's the thing: It doesn't really matter what you can give, but consider giving if not money but acts of niceness, especially when there's scientific evidence that proves giving back is, well, good for you: It helps one feel better and happier, especially when we freely choose to give.
And there are so many charities in need: research shows organizations that support vulnerable Canadians, including the hungry, the homeless, people with disabilities, and the elderly, are at a crisis point when it comes to donations. Food Banks in particular have been hard hit, with word that people who used to donate now need the services of food banks themselves.
According to research from the Food Banks of Canada (foodbankscanada.ca), food bank visits have increased by 35% since 2019, with 1.46 million visits to food banks in March 2022 alone. "With the cost of food, rent, gas, and other essentials at a 30-year high, families across Canada are struggling," notes the organization's website. "Food banks are being stretched to their limits — just as families need them more than ever."
Eating healthy is coming with a bigger price tag: Essentials like pasta, flour, cooking oil and cereal are seeing increases of between 25-30% more. A small shopping list of food essentials would cost around $39.85 – now that same list, according to Food Banks Canada, costs $50.83.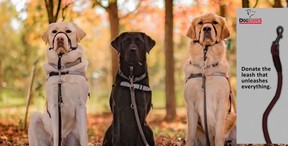 – supplied
suplied
Food Banks of Canada joins an ever growing line-up of organizations in need of assistance – and many are getting creative in doing so. Donations to Dog Guides of Canada, for example, will be matched by local businesses, and donations of $20 or more allows the giver to suggest a name for one of the future Dog Guides who will be trained in one of the organization's seven programs. "It makes an enormous difference in the life of a fellow Canadian," says a Dog Guides of Canada spokesperson in a recent email. (dogguides.com/donate/giving-tuesday.)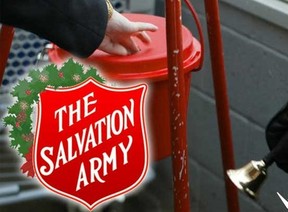 – supplied
Photo by supplied
Organizations like the Salvation Army's whole basis is in giving in order to help others, especially when you consider it's the largest non-governmental direct provider of social services in Canada, offering support to the most vulnerable. This iconic organization, with its recognizable kettle, recently launched its 132nd annual Christmas Kettle Campaign – its largest public fundraiser of the year supporting 2.6 million vulnerable people in 400 communities across Canada. "When you give to The Salvation Army, you are giving hope today by investing in the future of marginalized and overlooked people," notes salvationarmy.ca.
Charities, businesses, and change-makers all over Canada have created their own campaigns to inspire generosity for their causes and communities. Many companies have created their own, unique ways of giving back – several food delivery companies, for instance, are partnering with various charitable organizations with a percentage of orders going towards those particular causes. Local animal charities -like the totally volunteer-driven Etobicoke Humane Society, in Toronto, for instance – have partnered with companies that will match donations for the care of vulnerable animals.
It's important to recognize that, in these tough economic times, it will be difficult to give. But you still can – in a random act of kindness, helping a senior, paying a coffee forward, or just smiling at someone who needs validation that the day will be great one. And just keep the giving going.
That's what Giving Tuesday's all about.