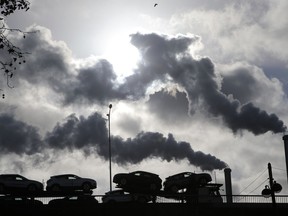 FILE - Smoke rises from a factory as a truck loaded with cars crosses a bridge in Paris, on Nov. 30, 2018. President Emmanuel Macron is to unveil France's approach and means to meet its climate-related commitments within the next seven years as a special government meeting is taking place on Monday Sept. 25, 2023.

Photo by Michel Euler

/

THE ASSOCIATED PRESS
PARIS (AP) — President Emmanuel Macron was preparing to unveil Monday how France plans to reduce greenhouse gas emissions and meet the country's climate-related commitments within the next seven years.
France has committed to reducing its emissions by 55% by 2030 compared to 1990 levels, in line with a European Union target. To get there, the country must go "twice as fast" as the pace of its current path, Macron said in an interview that aired Sunday night on national television channels TF1 and France 2.
Details of his government's new plan are expected after he meets with key ministers at the Elysee presidential palace on Monday afternoon.
Macron announced Sunday that the country's two remaining coal-burning plants would cease operating and be converted to biomass energy, which is produced by burning wood, plants and other organic material, by 2027. The coal plants currently represent less than 1% of France's electricity production.
The two plants were initially set to close by last year, but the energy crisis prompted by the war in Ukraine and the shutdown of French nuclear reactors for various problems led the government to delay the decision.
France relies on nuclear energy for over 60% of its electricity _ more than any other country.
Another challenge, Macron said, is to boost electric vehicle use in the country. "We must do that in a smart way: that is, by producing vehicles and batteries at home," he said.
The French "love their car, and I do," the president added, acknowledging the public reluctance to switch to electric vehicles with higher purchase prices than combustion-engine cars.
He said the government would adopt a state-sponsored system by the end of the year to allow households with modest incomes to lease European-made electric cars for about 100 euros ($106) per month.
By 2027, "we will get at least 1 million electric vehicles produced (in France). That means we are re-industrializing through climate policies," he said.
Macron announced earlier this year a series of incentives to support innovative industries and transition towards greener technology. They include tax credits in production areas such as batteries, electric cars, and hydrogen and wind power, as well as accelerating authorization for industrial projects.
French Prime Minister Elisabeth Borne said earlier this month that France would invest 7 billion euros more next year in the country's energy and climate transition compared to 2023.
Environmental activists have criticized France's policies as not being ambitious enough.
The French president "still hasn't realized the scale of the climate emergency," Greenpeace France said in a statement.
"If he were truly ambitious and a forerunner, Emmanuel Macron would also have announced dates for phasing out fossil oil and gas," Nicolas Nace, the organization's energy transition campaigner, said.
"Great, he made the exact same promise five years ago," Yannick Jadot, a French member of the European Parliament's Greens alliance, told news broadcaster FranceInfo news. "Let's go for it, sparing no efforts. Let's invest, let's take social measures so that the most vulnerable, the most fragile, get out as the big winners of the climate transition," he added.
Elsewhere in Europe, British Prime Minister Rishi Sunak announced last week that he's delaying by five years a ban on new gas and diesel cars that was due to take effect in 2030, watering down climate goals that he said imposed "unacceptable costs" on ordinary people.
___
Follow AP's climate and environment coverage at https://apnews.com/hub/climate-and-environment