The Parti Québécois holds second place provincially with 22 per cent support, followed by Québec solidaire at 17 per cent, a poll shows.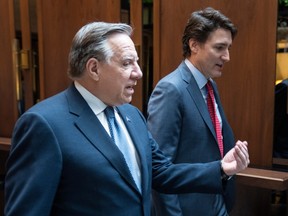 Quebec Premier François Legault (left) and Prime Minister Justin Trudeau chat while walking to a meeting in Montreal in 2022.

Photo by Paul Chiasson

/

The Canadian Press
Premier Francois Legault's Coalition Avenir Québec has dropped seven points in popularity since last October's general election and is staring at a possible defeat in a highly scrutinized byelection next Monday, a Léger poll conducted for Québecor suggests.
Meanwhile, a parallel survey suggests the federal Liberal Liberals under Prime Minister Justin Trudeau continue to see their support crumble — even in the perceived stronghold of Quebec — to the benefit of Pierre Poilievre's Conservative Party of Canada.
Article content
Article content
Provincially, the CAQ, which garnered 41 per cent of the ballots cast in the last general election, polled at 34 per cent in the latest survey, a drop of three points since last month. Despite having just three members in its caucus, the Parti Québécois continues to hold second place provincially with 22 per cent support, followed by Québec solidaire at 17 per cent, the Quebec Liberal Party at 14 per cent and the Conservative Party of Quebec at 12 per cent.
The CAQ won its first mandate in the 2018 election with 37 per cent of the vote.
The findings of the survey for the Quebec City area, where a byelection will be held Monday in the riding of Jean-Talon to fill the seat vacated by the CAQ incumbent, contain far more daunting numbers for Legault and his party.
The poll found the CAQ have dropped 10 points in the region since last month to 23 per cent, leaving it trailing the PQ by seven points. The provincial Conservatives were in third place with 21 per cent, one point ahead of Québec solidaire. The Quebec Liberals, who held the riding of Jean-Talon from its creation in 1966 until 2019, polled six per cent.
By signing up you consent to receive the above newsletter from Postmedia Network Inc.
Thanks for signing up!
A welcome email is on its way. If you don't see it, please check your junk folder.
The next issue of Headline News will soon be in your inbox.
Article content
Article content
The CAQ's drop has been attributed by some observers to be the result of local anger over the party's decision to renege on an election campaign promise to build a highway tunnel between Quebec City and Lévis.
Nationally, the Léger survey produced similarly bad news for the federal Liberals led by Trudeau. The poll confirms the findings of other recent surveys that suggest the Liberals' slide in popularity across the country is continuing and now stands at 29 per cent — 12 points behind the Conservative Party of Canada. Jagmeet Singh's New Democratic Party polled 18 per cent, unchanged from last month
An examination of the Liberals' position in Quebec, perceived as a stronghold for Trudeau, suggests a shift in support away from the Bloc Québécois (29 per cent, a drop of seven points since last month) and the Liberals (also 29 per cent, a drop of one point) to the federal Conservatives (23 per cent, an increase of five points).
The survey found also that nationally, 26 per cent of respondents felt Conservative Leader Poilievre would be best suited to be prime minister, six points ahead of Trudeau, although that support dropped to just 16 per cent among Quebec respondents.
The online poll was conducted Sept. 22-25 and surveyed 1,046 Quebec adults. Questions on federal parties were posed to 1,652 Canadian adults. While no margin of error can be assigned to an online poll, a similar sampling would have a margin of error of 3.06 per cent 19 times out of 20.
Related Stories
Tom Mulcair: Is a surprise in store in the Quebec City byelection?

More than one in five electors cast early vote in Jean-Talon byelection

CAQ has paid a price for reneging on Quebec tunnel project, poll suggests
Article content
Article content