With the change in seasons, it's time to get your pretty on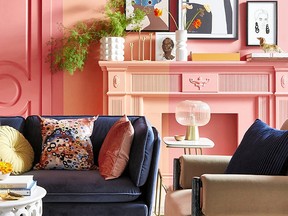 Decor accessories like rugs, lamps, paint and art are easy ways to incorporate the pretty colours of spring into your living area. Of note is the pink glass table lamp available at HomeSense for $40.
Photo by HomeSense
Reviews and recommendations are unbiased and products are independently selected. Postmedia may earn an affiliate commission from purchases made through links on this page.
We often think that using pretty colours such as baby blue, pink and yellow should be reserved for babies' rooms, summertime cottages and girlie-girlie apartments.
In any room's design there's always a place for accents of prettier colours. It may not be the main colour throughout the room, but a touch of it helps to freshen up a space and give it new life (think spring). Imagine soft mint green linen bedsheets poking out from under a more neutral duvet cover, a soft washed pink linen napkin on an all dark grey and white table top (very sophisticated), or even a pale blue painted ceiling in an all white guest room.
Using spring colours in unexpected ways can help to freshen your home without breaking the bank. I've broken down three ways to incorporate soft pastel colours throughout the home. Get your pretty on!
MAKE A STATEMENT
Painting a mantel, trims and mouldings with warmer pastels (such as pink, lavender and pale orange) makes a fearless and bold statement. This will create a fun, whimsical environment in older homes that have lots of interesting trims and moulding. Painting them is an easy way to make them stand out. Painting those same elements in cooler pastels (such as green or blue) calms a room and sets a tranquil tone. Cooler colours tend to work best in south-facing rooms where the warm sunlight helps to balance the cool colours inside.
Tip: Be sure your colour gets picked up in other room accessories like pillows, a drape or upholstery fabrics. And don't be afraid to add an opposite colour (for instance, if painting the trims of a room in pale pink, add soft teal green) to help give a happy juxtaposition to the room's look.
ADD TO NEUTRALS
Adding soft colours to light-toned neutrals like taupe, grey or beige creates a tranquil interior. Painting the wall behind your bed (or even just framing around your headboard) with a soft colour such as green or lavender will make a calming statement and add a new colour without a lot of effort or commitment.
An easy way to add subtle pastels is through tabletop accessories such as water jugs, mugs, platters and lamps. If your decorating includes darker tones, you can still add pastels. The sweetness of a pastel colour gets taken away when adding it to a room with very dark colours like black, espresso brown or dark green, and gives new life to a daunting space. In an all-dark stone bathroom, adding soft mint towels helps to freshen and brighten up a heavy, serious space.
Tip: Neutral colours tend to be murky (imagine mixing a dollop of grey or brown into a can of pure cream paint to take away its definitive colour), so do the same with pastels — if painting a pastel wall in an all-neutral room, add a few drops of brown or grey to that colour. This trick will ensure a less-jarring, tranquil looking room.
ADD PASTEL PUNCH WITH RUGS AND ART
Love an all-neutral room (who doesn't?) and want to add pretty, soft spring colours? Add them in artwork and rugs. A gallery of pastel artwork helps brighten dark hallways or staircases and one very large piece of art (big art is all the rage these days) will make a big statement, while offering your desired colour palette. Pastel coloured art is easy to find in vintage, charity shops and yard sales (all those great pastel oil paintings from the 1980s are surfacing — they just need an updated frame to bring them up to date). Rugs, to me, should be treated similar to art. They add colour on the floor (the "fifth" wall) and can introduce much-needed pattern or colour to a room. Choose your favourite pastel art, match those colours in a rug and you will add a springtime punch to any room.
Tip: Art and rugs should be either the first thing you purchase for the room, or last. If you have your art and rugs, use them as a jumping-off point to decorate a room. If you are adding them later, then use them to balance a room for colour and pattern.
Do you have a decor dilemma or want more decor inspiration? Follow Karl on Instagram at @Karl_ Lohnes.