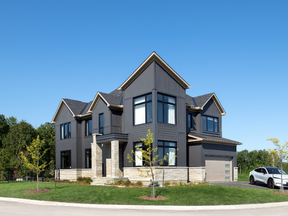 The Minto dream home is part of the $3.2 million grand prize package in the CHEO Dream of a Lifetime lottery.
Photo by Gordon King Photography
Reviews and recommendations are unbiased and products are independently selected. Postmedia may earn an affiliate commission from purchases made through links on this page.
Moody, majestic and masculine: With this year's Minto dream home, designer Tanya Collins is going out with a bang.
After six years designing the interiors of the grand prize home in the annual CHEO Dream of a Lifetime lottery, which launched on Sept. 6, Collins has decided it's time to pass the torch and this year's home will be her last.
Article content
"It's a good time to pass on the reins to someone else," she says. "It's been a great run."
Article content
Collins took over the interior design of the dream homes in 2018 and since then has presented prize homes that ranged from Art Deco to Mediterranean coastal, Bohemian, mid-century modern desert and quintessential Parisian apartment. While the styles were all different, all were light and airy.
This year's home is a departure.
"Last year was definitely more feminine and this is just the polar opposite of that," she says. "Everything's got solidity, whereas last year was a little more refined."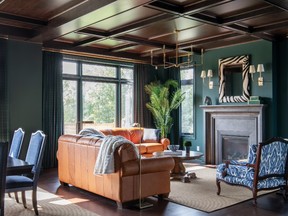 Designer Tanya Collins has opted for dark and moody in this year's lottery home, inspired by American fashion designer Ralph Lauren and adopting a British equestrian theme.
Photo by Gordon King Photography
The theme this year is British equestrian — the home is fittingly called the Equestrian — bringing in deep, rich walls, dark woods, lots of layers, coffered ceilings, elaborate trim and chunky furniture.
"It's definitely moody," Collins says. "This has a Ralph Lauren inspiration, I would say — luxurious, sophisticated, classic, very British."
She uses a tight colour palette — camel, navy, dark green, rich burgundy — saturating walls, ceilings and furniture. "It's all that classic men's wear palette," she laughs.
But while the feeling is deep and rich, there are plenty of windows to brighten the spaces.
Article content
The 4,383-square-foot floor plan is based on a Minto design from the builder's Toronto portfolio, called the Evergreen 3. Karen van der Velden, Minto Communities Ottawa's product development manager, chose it because it was something new for the Ottawa market, and made a few tweaks to turn it into a CHEO lottery home.
"The style of it with the roofline was really interesting and I thought it was a great fit."
Built once again in Minto's Mahogany community in Manotick, the home is a side-entry layout and positioned so that it captures the southern sun along the length of the home, where the front door and most of the windows are located. And set on a cul-de-sac lot that will have no neighbours along that sunny side (or in the rear, for that matter), the home is poised to soak in lots of natural light.
A street-facing corner of the home presents almost like the prow of a boat, creating an angular "turret" that adds definition and interest to the roofline. Much like the moody interior, the exterior is predominantly dark, done in an ironstone grey composite siding called Celect, in a board-and-batten style, with a sand-coloured stone skirt and fascia, and black windows.
Article content
Van der Velden expects to introduce a version of the floor plan to Mahogany.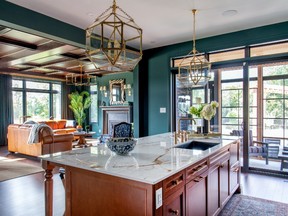 The open-concept main floor includes the kitchen, living room, dining room and easy access to the three-season screened porch.
Photo by Gordon King Photography
The four-bedroom home boasts a main-floor office, open-concept kitchen, living room and dining room, a screened three-season porch, three full bathrooms and two powder rooms, a climate-controlled wine cellar, media room, private primary suite deck, geo-thermal heating and cooling, solar panels with battery storage and an outdoor kitchen.
Main-floor walls are a deep green called Night Watch (Dulux), complemented by kitchen cabinets in an almost-black navy called Polo Blue. Collins, who designed the kitchen, which was provided by Laurysen Kitchens, then lightens the space with a birch island in a cinnamon glaze, Cosentino Dekton Awake counters with orange veining that also travel up the back wall to form the backsplash, and brass mesh inlays in upper cabinets "just to give it a little bit of luxury."
Another unexpected touch is extra-tall pantry and mud room doors in mullioned glass, which Collins has done to provide separation but still bring in light.
The rich tones continue both upstairs and down, with the basement also done in the Night Watch green of the main floor and upstairs bedrooms done in burgundy, caramel and granite. The four bedrooms include two that share a jack-and-jill bathroom and a third with its own ensuite. The primary suite, meanwhile, is all about pampering, with a king-size leather bed (all furnishings are provided by La-Z-Boy), a private deck, a combined makeup station and bar with mini fridge — "You can get your drink and go out to the deck and sit," Collins says — and a sumptuous ensuite that van der Velden revised to make it dream home-worthy.
Article content
"I think it's got the longest vanity we've ever done," at about 14 feet, van der Velden says. "I'm really excited about that ensuite."
Along with the long vanity, a standalone tub takes centre stage under a trio of windows while marble-like oversized tile covers the length of the shower wall.
"It feels like an old luxury hotel," Collins says.
She feels it's a good home to wrap up her dream home designing run. "It's very different, it's definitely dark and a departure from what we've presented in the other five years … I'm very proud of how it came together."
If you go
What: Minto dream home in the CHEO Dream of a Lifetime lottery
Where: 364 Flare Grove, Manotick
When: Tuesday to Friday, noon to 8 p.m.; Saturday and Sunday, 10 a.m. to 6 p.m. Closed Mondays.
Virtual tour: Expected on the lottery website by the end of September
Tickets: $100 each or 3 for $250; 50/50 tickets, which can be purchased if you have a lottery ticket, are $10 each, five for $25 or 15 for $50. There are also packages that combine lottery and 50/50 tickets.
Where to buy: dreamofalifetime.ca or by phone at 613-722-5437 or 1-877-562-5437. You can also purchase at the dream home, but no cash or cheques taken.
Deadlines: Early bird deadlines for various prizes are Sept. 29, Oct. 27 and Nov. 17. Final deadline is Dec. 15.
Article content