Battery power is becoming an essential element in making renewable power a 24-hour option, even when the sun doesn't shine or the wind dies down.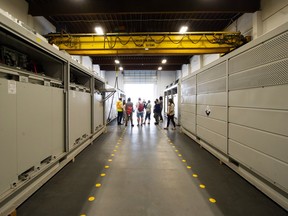 Invinity Energy Systems offices in Vancouver.

Photo by Arlen Redekop

/

PNG
Vancouver company Invinity Energy Systems is betting big on the utility-sized batteries it is building inside a factory located in a former machine shop with high ceilings and overhead cranes on East Pender Street.
Each of the shipping container-sized batteries has the capability of providing electricity for 15 to 20 houses when the sun goes down on solar panels or when breezes stop turning wind turbines.
Start your day with a roundup of B.C.-focused news and opinion delivered straight to your inbox at 7 a.m., Monday to Friday.
By clicking on the sign up button you consent to receive the above newsletter from Postmedia Network Inc. You may unsubscribe any time by clicking on the unsubscribe link at the bottom of our emails or any newsletter. Postmedia Network Inc. | 365 Bloor Street East, Toronto, Ontario, M4W 3L4 | 416-383-2300
Thanks for signing up!
A welcome email is on its way. If you don't see it, please check your junk folder.
The next issue of Sunrise presented by Vancouver Sun will soon be in your inbox.
Paired with renewable power systems, batteries become the intermediary needed to turn intermittent energy sources into reliable electricity, and they are becoming a bigger factor in the explosive expansion of renewable power development.
Renewable energy expert Martin Ordonez at the University of B.C. referred to such large batteries as "absolutely mandatory" for utilities across North America to hit net-zero goals for power production.
Ordonez, a professor and Canada research chair at UBC, as well as CEO of Future Power Inc., wouldn't comment on Invinity's specific technology, but said, "There's no way we're going to have 100 per cent electrification" without batteries.
As with electric vehicles, lithium ion batteries have so far dominated the utility market, but Invinity executive Matt Harper said his company is betting that its vanadium flow batteries are a better fit for renewable power.
"Where we see these being deployed, for the most part, is in jurisdictions where there is a huge uplift in the amount of renewable power being generated," said Harper, the company's chief commercial operator and co-creator of its technology.
So not necessarily B.C., for now at least, but California, Australia and Alberta, Harper added.
Recently, the company shipped 38 of its standard 230-kilowatt-hour units to comprise an eight-megawatt battery for a grid-connected solar farm near Lethbridge, Alta. Completed units on the factory floor Thursday are destined for an off-grid resort in California so it can run on 100-per-cent solar power.
"We're also producing stuff here that we're shipping all over," added Invinity CEO Larry Zulch.
On Thursday, Invinity was given a vote of confidence by B.C.'s Centre for Innovation and Clean Energy, a joint venture between the provincial and federal governments and Shell Canada, with a $500,000 contribution to help expand its production capacity.
"What we're contributing to is (Invinity's) next-generation process that they are prototyping," said Todd Sayers, deputy executive-director of CICE.
The agency looks at Invinity as creating jobs with a made-in-B.C. idea, Sayers said.
Harper, an engineer management expert, has spent the past 15 years working on turning the electrochemical properties of vanadium, a fairly common metal with few uses outside of hardening steel, into utility-scale batteries.
For batteries, vanadium is dissolved in sulfuric acid to form an electrolyte fluid that is capable of holding a charge, Harper said.
So in Invinity's battery modules, the vanadium fluid is pumped through a converter, which they refer to as a cell stack, hence the term "flow."
On one side, the fluid is pumped from one tank to pick up a charge from the power source, typically an array of solar panels or wind turbines, and is pumped into a second tank.
Then, when when the sun goes down or the wind stops blowing, the charged fluid is pumped through the other side of the cell stack to discharge its stored electricity out into a power grid.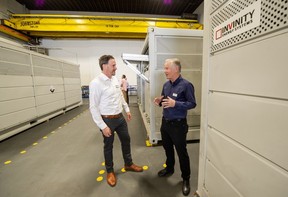 Invinity Energy Systems Chief Commercial Officer Matt Harper (left) and Chief Executive Officer Larry Zulch in Vancouver.

Photo by Arlen Redekop

/

PNG
Harper said the cycle is different from other batteries, such as lithium ion, that operate on cycles that require them to charge fully, then discharge fully, and wear out over hundreds or thousands of cycles.
"Because we store the energy as liquid, and because that liquid is where the charge and discharge reaction happens, we don't get that degradation," Harper said. "So we can charge and discharge the batteries every day for decades."
Harper initially founded the company Avalon Battery in Vancouver to refine the vanadium flow process that his engineers were working on. In 2020, they merged with a U.K. public company, RedT, to form Invinity.
Besides Vancouver, the company now has production centres near Edinburgh, Scotland, and Asia.
In Vancouver, between production staff and research and development, Invinity has about 70 people turning out their battery units, which comprise six battery modules fitted inside custom-built steel frames configured like standard 20-foot shipping containers, which makes them highly portable.
And while Invinity sees its bigger markets being elsewhere for now, experts in B.C. believe the province will eventually need a lot of utility-scale battery options to back its own ambitions to electrify industry.
"Electricity makes up about 19 per cent of the energy that B.C. uses — 70 per cent it is still fossil fuels," said Evan Pivnick, clean energy program manager at the non-profit Clean Energy Canada. "That (70 per cent) is in our industrial processes, that's in our transportation."
In B.C., renewable independent power producers, mostly run-of-river hydroelectric plants and wind farms, have relied on B.C. Hydro's reservoir system as the backup for the intermittency of their production.
B.C. Hydro itself has started considering utility-scale storage as the technology has matured and has used them in a couple of projects, one on Haida Gwaii and another near Hope, said spokesperson Kevin Aquino in an emailed statement.
Pivnick said in B.C., utility-scale batteries won't necessarily all be used on the grid. Individual mine sites or industrial plants will likely want to use them to back up their operations during power outages to replace diesel generators.
"Grid-scale batteries are just on the cusp of having their sort of day in the sun," Pivnick said.
depenner@postmedia.com
twitter.com/derrickpenner
Dan Fumano: B.C.'s up-zoning plan could have unintended consequences: Metro Vancouver staff

B.C. to require licence for asbestos abatement contractors by 2024
Spring subscription sale: Our in-depth journalism is possible thanks to the support of our subscribers. For a limited time, you can get full online access to the Vancouver Sun and The Province, along with the National Post and 13 other Canadian news sites, for just $40 for one year or $1 a week for 52 weeks. Support our journalism by subscribing today: The Vancouver Sun.