"The Ottawa police continues to harass (Mohamed Mohamed) to obtain evidence for future and unknown criminal charges," the claim says.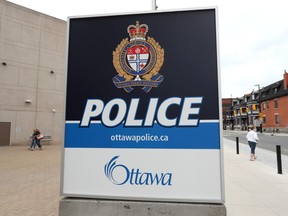 Ottawa Police Service headquarters on Elgin Street.

Photo by Tony Caldwell

/

Postmedia
Mohamed Mohamed, a former cocaine dealer, has launched another lawsuit against the Ottawa police: this one a harassment claim.
Mohamed, 38, was leaving his brother's home in September, when an officer pulled him over to check if he was following his bail conditions, according to the statement of claim.
He was arrested for breaching a curfew condition and held in a cell for the night even though he hadn't breached any release conditions.
Prosecutors withdrew the charge in bail court the next morning.
"The Ottawa police continues to harass (Mohamed) to obtain evidence for future and unknown criminal charges," says the claim filed by his lawyer, Diane Magas.
The police are accused of using the Highway Traffic Act with an improper motive: notably to question him about matters unrelated to the traffic stop.
The claim says various Ottawa police officers stopped Mohamed several times for improper purposes that were not rationally connected to the Highway Traffic Act.
Police are also accused of failing to take reasonable measures, "or any measures whatsoever," to see if there have been grounds to detain him.
Since the "unlawful arrest," Mohamed says he has suffered much anxiety, and, because Ottawa police have "shown a wanton and outrageous disregard for his Charter rights," he'll be seeking punitive and exemplary damages, the statement of claim says.
The Ottawa Police Service has have not yet filed a statement of defence.
It's the second lawsuit Mohamed has filed against Ottawa police.
He first filed a lawsuit after a July 2019 drug raid at his apartment that was later ruled unlawful by a judge. In that case, the prosecution abandoned the cocaine case after details about missing money — $50,000 — and a mystery handgun came up in court.
In that lawsuit, the former drug dealer accuses one or two Ottawa guns-and-gangs unit detectives of stealing $50,000 from his apartment, and he wants his money back. One or both officers are also accused of planting a handgun on the way out.
The detectives are accused of lying at trial "to ensure a conviction and to hide the fact that they (or one of them) planted a handgun during a July 18, 2019 raid," according to the statement of claim filed in 2020.
That civil suit has been slow-going because Det. Kirk Gidley has not shown up for examination for discovery to answer questions. He was a no-show twice and instead sent a note from a psychologist saying he couldn't testify.
Magas has filed a motion for a court order to force the on-leave detective to show up to testify.
In the filings, Magas noted that Gidley, while on leave couldn't show up to testify but did manage to play a show. (Gidley is a guitarist in a popular thrash-metal band.)
The other detective named in the $850,000 lawsuit — did show up.
Detectives Gidley and Michael Saunders are accused of unlawful detainment, unreasonable search and malicious prosecution.
"There appears to be no valid reason for the defendant Gidley to refuse to be examined for discovery," defence lawyer Diane Magas said in a recent motion to force him to testify.
The detectives have denied the allegations in a statement of defence.
A statement of defence filed by the Ottawa Police Services Board says the detectives in question never entered Mohamed's apartment, so there was no way either of them stole money or planted a handgun.
The raid at the apartment by Gatineau tactical officers was at the request of the Ottawa police guns-and-gangs unit. The search warrant, issued by an Ottawa justice of the peace and endorsed by a Gatineau judge, was later ruled invalid by another judge who ruled that police acted on mere suspicion and didn't have reasonable and probable grounds.
At Mohamed's drugs-and-guns trial, tactical officers testified that two plainclothes Ottawa police detectives entered the small, unfurnished apartment after they cleared it twice and found no gun. The tactical unit was waiting for an elevator in the hallway and was surprised when they heard an unidentified Ottawa detective yell: "Have you seen the gun?"
Officers had found cocaine, crack, scales, a small knife and some cellphones, but no gun.
Officer Nicholas Monette was closest to the apartment door and walked back to see what the detective was talking about.
"I asked him, 'What did you say?' And he says, 'Have you seen the gun?' As he's saying that, he's standing in the bedroom, the room that me and (officer Daniel) Gagné cleared, and he's looking on the floor at a pistol," Monette testified.
Monette and Gagné testified they properly swept the room twice and didn't find the loaded gun. Monette recalled their double-check during testimony: "Then I rolled it, meaning I had to physically walk around the room to make sure there was nothing I could miss."
After being called back to the apartment, Monette said he spotted the gun as soon as he stepped inside the unit. He testified two Ottawa detectives were standing over the gun, with one officer to the left of it and the other to the right, court heard.
None of the tactical officers who testified knew the identities of the two Ottawa detectives they say entered the unit after them.
Gidley previously testified that he and Saunders were not alone in the building's hallway for the two hours before tactical officers arrived. He testified that there were a bunch of Ottawa cops on the 15th floor.
On the stand, Gidley had a hard time recalling them, mentioning only two by name, and said he wasn't 100 per cent sure. He had estimated there were up to seven other Ottawa officers besides him and Saunders.
The detectives already knew Mohamed wasn't in the apartment because he had been arrested earlier in a first-floor laundry room.
Gidley's police notes don't mention any other officers on the 15th floor, including Saunders. He testified he definitely wasn't alone, saying other officers "came up to assist me for officer safety reasons."
His testimony about the presence of other officers was also at odds with police department records. An Ottawa police sergeant confirmed to court that no Ottawa police officers other than Gidley and Saunders set foot on the 15th floor. It was after that admission that Justice Richard Meredith asked the prosecutor: "Where does that take us?" "It takes us with a ghost and a gun and a release order for Mohamed Mohamed … in light of what's transpired," prosecutor Jennifer Morin replied.
It's not the first time Gidley has been accused of stealing cash from a private residence while on duty. The Ottawa Crown Attorney's Office dropped another cocaine-trafficking prosecution after Gidley was accused of stealing $25,000 in a police operation billed as a drug raid. In that case last year, the prosecutor gave plenty of warning that the case could collapse if Gidley didn't show up to testify.
He didn't. The Crown had to drop the case because Gidley, the exhibit officer, was a key witness. The police evidence room recorded only $3,300 seized, and that cash was returned to the accused drug dealer after the charges were dropped.
Mohamed has been a longtime police target, most notably when he was prosecuted for a 2016 gangland killing. He was acquitted by a jury two years later. He was also acquitted earlier this year in a guns-and-ammunition case.
Police urge vigilance after two cases of indecent exposure in Barrhaven

OPP charge 21-year-old from Ottawa in Pembroke double homicide