Candidates now 'are often shopping for jobs' and calling the shots.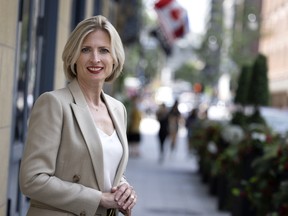 "The market today is unpredictable, completely erratic," said Elisabeth Starenkyj, co-president of La Tête Chercheuse, a Montreal talent search firm. "Candidates know that they are extremely sought after. They can pick and choose."

Photo by Allen McInnis

/

Montreal Gazette
Technology head-hunter Chris Nanni has seen firsthand the impact Quebec's enduring labour shortage is having on wages in his chosen field.
"Salaries have exploded over the last couple of years, especially in Montreal," Nanni, a 10-year veteran who works as practice lead for the GuruLink recruitment firm in Quebec's biggest city, said in an interview. "The jump has been quite insane. Three years ago, a good senior engineer was making $130,000-150,000 in base salary. Now if you talk to someone, they're looking for at least $170,000 in base salary just to consider making a move."
Sign up to receive daily headline news from the Montreal Gazette, a division of Postmedia Network Inc.
By clicking on the sign up button you consent to receive the above newsletter from Postmedia Network Inc. You may unsubscribe any time by clicking on the unsubscribe link at the bottom of our emails. Postmedia Network Inc. | 365 Bloor Street East, Toronto, Ontario, M4W 3L4 | 416-383-2300
Thanks for signing up!
A welcome email is on its way. If you don't see it, please check your junk folder.
The next issue of Montreal Gazette Headline News will soon be in your inbox.
Nanni cites the case of a senior software engineer at Montreal's Lightspeed Commerce "who was making about $150,000 in base salary, plus package. I got him an interview with another company, which made him a $180,000 offer — more than what he was looking for. Within a few days, he turned around and got another offer elsewhere at $200,000. The other company couldn't match that, so we lost him. All of that took two weeks, which is pretty normal these days."
It's a good time to go job-hunting in Quebec, where job vacancies now exceed the number of people unemployed, according to the most recent data compiled by the provincial labour ministry.
A record 254,475 positions stood unfilled in the province during the second quarter of 2022, Statistics Canada's seasonally unadjusted data show. Compared with last year's second quarter, job vacancies in Quebec are up 31 per cent.
Quebec's vacancy rate also reached a new high in the second quarter, rising to 6.4 per cent on an unadjusted basis from 5.8 per cent three months earlier, according to Statistics Canada. Payroll employment growth in Quebec is the fastest in Canada, the provincial labour ministry said prior to the election campaign.
Demographics are the biggest factor driving Quebec's sizzling job market, according to 24-year head-hunting industry veteran Normand Lebeau.
"There aren't enough candidates for the number of jobs that will be available," Lebeau, who heads the Montreal office of the Mandrake executive search firm, said in an interview. "Up until about five years ago, economic growth dictated what kind of business we were going to get. Now it's all about the labour pool."
That demographic imbalance is driving recruiters — and employers — up the wall.
"The market today is unpredictable, completely erratic," said Elisabeth Starenkyj, co-president of La Tête Chercheuse, a Montreal talent search firm. "Candidates know that they are extremely sought after. They can pick and choose."
Adds Julie Laurin, head of consumer goods recruitment at the St-Amour agency: "Candidates are often shopping for jobs. They'll go through multiple job processes simultaneously and get multiple offers. They're not loyal to a process, they're loyal to the outcome."
Laurin says she knows of at least four people who recently accepted job offers in the supply chain and logistics industry — only to change their mind before they were due to start because they had since found another position elsewhere.
Xavier Freeman, chief executive of Montreal-based insurance software startup YouSet, remembers a candidate who recently applied online — before backing out of the hiring process a mere two days later because they had already found a job elsewhere.
Another potential recruit, who applied for a position as a software engineer, told YouSet he was going through the same process with "10 to 20 other companies," said Freeman.
"The fact someone is able to do that says a lot about the current market conditions," said Freeman, whose company is looking to hire people for engineering, marketing and insurance positions.
As a result, employees "no longer have any restraint in asking for what they want," said Starenkyj. "There is no filter anymore. Employers can get asked anything. If they want to succeed in hiring people, they have to meet these demands."
It's not just salaries that are going up. Perks, too, are getting bigger — starting with additional paid vacation time and the right to choose when to come into the office.
"Teleworking is a constant request that candidates make," said David Dion, founding partner at Montreal-based recruiter Groupe RP. "People want to go to the office when they feel like it. Employees like to have access to an office but don't want to be forced to go there every day."
Head-hunter Ambre-Océane Lavesque recalls the case of a computer developer recently hired by an unidentified Canadian telecommunications company. Although the employee, who lived a 90-minute drive from the office, had signed on with the understanding that he would work remotely all the time, he was subsequently asked to come into the office once a month.
"That was a deal-breaker," said Lavesque, head of the talent attraction and retention business unit at Anywr, a Paris-based recruitment agency that specializes in immigration and the relocation of expatriate employees. "Three weeks later, the person had left the company."
Besides teleworking, benefits packages nowadays routinely include items such as gym membership cards, money for the home office or a health allowance, say recruiters such as Laurin, Nanni and Starenkyj. Some companies have also begun offering unlimited vacations, as well as the possibility of working abroad a few weeks of the year.
"More so now than ever, candidates are asking for more things," says Laurin. "People are emboldened. They know that they have the bigger end of the stick."
Quips Nanni: "If you've been with the same company for three years, you're now underpaid. The best way to get a raise today is to change your job."
Winners in the quitting/swapping game
A Montreal data analyst with 18 months' experience, specializing in business intelligence, accepted an offer to work elsewhere and informed their superior. The employer responded with a counteroffer that boosted the employee's salary from $60,000 to $90,000. The employee stayed put.
A Montreal-based executive was recruited by another company for a senior management position. His new employer even announced the hiring in an internal e-mail to company employees. Barely two weeks before the executive was due to start in his new role, he contacted the company to say he was turning down the position because he had found a new job opportunity elsewhere.
A candidate for an executive position went through the entire interview process with a company, which made him a job offer that gave him everything he wanted. Instead of signing with the company, the candidate told his prospective employer he had decided to change careers completely and become an entrepreneur.
ftomesco@postmedia.com
Boosting immigration to 80,000 'not desirable, and it won't happen': Fitzgibbon